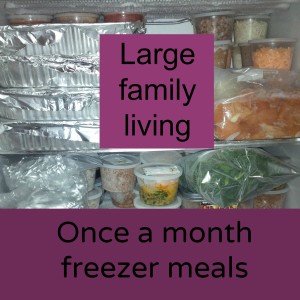 Monday, we went through how we cooked up and distributed the meat.  Today we will be doing the chicken.
I already had it cooking in the oven and letting it get nice and tender. It makes it so easy to just use your hands to make it shredded.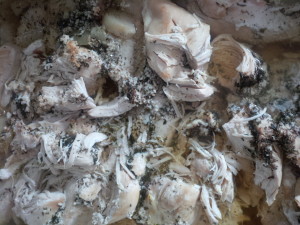 I shredded the chicken and set it in a separate bowl until I could get at it.  I took the broth, strained it, and poured it into quart mason jars.  I then froze these for soup later on this month.
I then sorted my raw chicken before I stared mixing and making meals.  I bought big packages of chicken breasts, thighs, and drumsticks.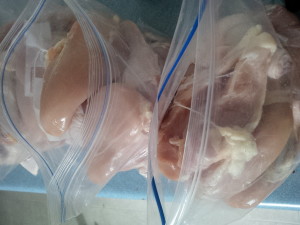 I sorted them into 6 equal bags for the meals.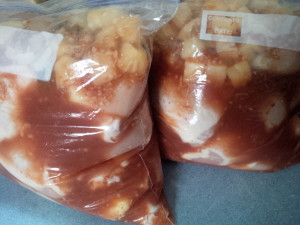 I then mixed up some sauce for pineapple salsa chicken. This has a great combination of sweet and spicy flavors. Click here for recipe.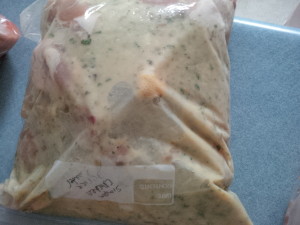 I also made up chicken on rice made simple.  You add 2 cups uncooked rice to this and then just let it cook.  It tastes very good and is simple.  Like the name implies (smile).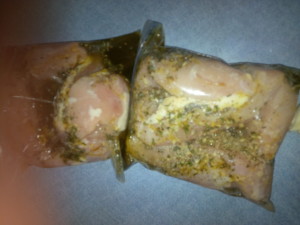 I made up some chicken to marinate with Italian dressing.  This is great for cooking up or grilling. We put it over salad or with pasta and fettucine sauce.
The next meal, required raw chicken as well.  It is for southwestern chicken bacon wraps.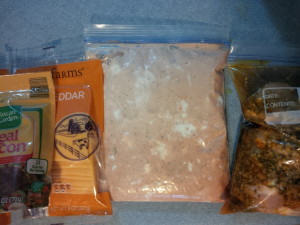 I used my tape to put all of the ingredients together.  The chicken, cheese slices, bacon bits, and the salsa/sour cream/ranch mixture.  You put on tortillas.  We almost always have those on hand so I didn't freeze them.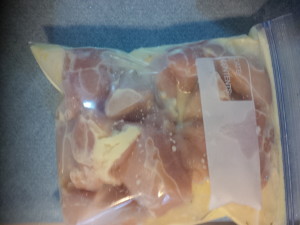 I then had another recipe for a crispy chicken wrap club sandwich.  Instead of worrying whether I would have eggs on hand, I whisked some eggs and milk for a coating and put in with the cut up chicken.  When the time comes to make this, I will just have to coat them with some coating.  Flour will work if I have nothing else.  Then fry in some oil.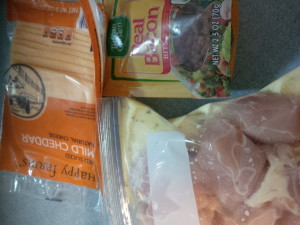 I taped all of the ingredients together: chicken, bacon, and cheese.  Serving it in wraps.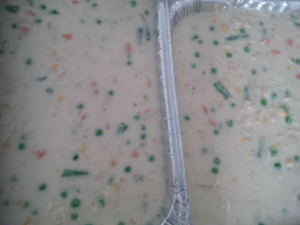 I then made 2 chicken pot pies for meals.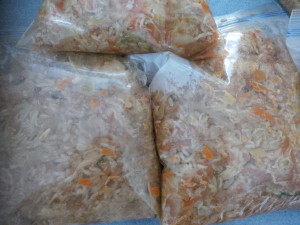 I then went for something a little different, we made Asian wraps.  At one time we had boughten these at the store, I decided to make our own.    I can make a big batch up and freeze them.  I serve them over lettuce leaves.  Very yummy.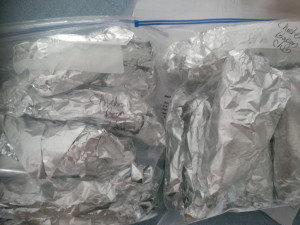 I wanted to make up some premade wraps.  For an easy heat up sandwich on the weekends.  I mixed in the following:
shredded chicken
bacon bits
shredded cheddar cheese
ranch
I rolled this mixture up in a tortilla and wrapped them in foil.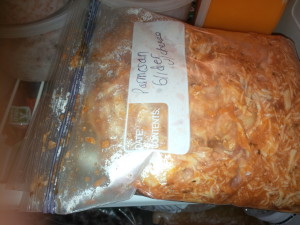 For another easy sandwich idea, I made Parmesan chicken sliders.  This was very easy to put together and we actually ate it this weekend after church and it was good. Make sure when you freeze it you include your provolone cheese slices and buns for serving.  Tape them all together and you won't be tempted to grab it for another meal. You can heat this up in a crockpot and assemble your sandwiches as needed.
Wrap up, we assembled the following freezer meals:
2 quart jars of chicken broth
2 bags of salsa pineapple chicken
2 bags of chicken on rice made simple
2 bags of italian chicken for grilling over salads
2 pans of chicken pot pie
1 southwestern chicken wrap meal
3 bags of asian wraps
2 bags of parmesan chicken sliders
1 bag of shredded chicken, bacon, cheese, ranch wraps
several bags of shredded chicken for various meals including: Tostadas, chicken and gravy, chicken noodle soup, etc.
Now that my freezers are stocked, I feel like I have much more time to do other things instead of making dinners each night.  This helps the weekends, when I am tired not be tempted to go out and eat.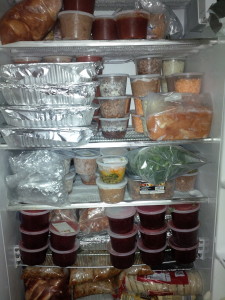 Keeping it real…………………………….
All this prepping and preparing took its toll on my kitchen.  I didn't take my own advice that says, "clean as you go!"  I washed the dishes as I completed each meal, but that was about all.
Here are some after photos: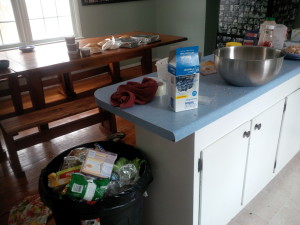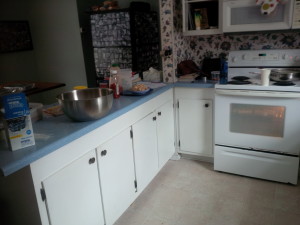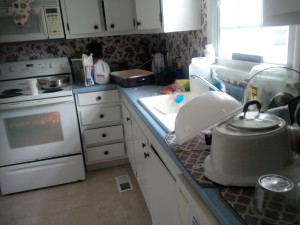 Hope that you plan some freezer meals this month to save yourself some time and money.
Be blessed.