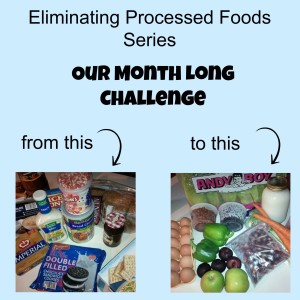 I will continue next week in this series on how we make the switch from processed foods to whole foods but I want to take a break and give you our weekly food menu to see how we implement changes.
Week 1 eliminating processed foods menu
Sunday
breakfast: breakfast burritos—we went with these because Sunday mornings are busy getting everyone ready for church.  I usually make these and then take them with us in the car for the 40 minute drive.
***I made these last month and kept them in my freezer.  I did make them with store bought tortillas which I will switch to a whole wheat with less than 5 ingredients next month.  We did use breakfast sausage–which I won't use next month just  turkey bacon bits that we have been making.
lunch:  peanut butter and honey sandwiches-since we are at church for usually about 2 hours and I don't allow them to snack during that time, by the time church is finished they are famished.  I bring peanut butter and honey sandwiches all packed in a cooler to be eaten on way home.  I also pack their water bottles, whatever vegetables we have cut up, and some easy fruit like grapes, bananas, or cut up apples.  My husband and I can munch on fruit or veges on way home but still be hungry for dinner.
***I used store bought peanut butter because we had that in the pantry, but I will be making my own next month when I am out.  Bread was store bought as well, we try and get the lesser ingredients natural one Koplingers at the bread store and freeze it for the month.
dinner:  easy chicken and rice casserole—I make this in the crockpot before we leave for church, then we can eat an early dinner. I used my homemade dried soup mix instead of canned with this.
Monday
breakfast: homemade yogurt and granola
lunch: munchie plate full of finger foods– peanut butter and crackers, cucumbers and carrot,watermelon and grapes, smoothies, cheese cubes
***again store bought peanut butter, because in pantry and crackers because I have saltines still in pantry.
dinner: chicken nuggets, -What I will change in this recipe is the bread crumbs.  I will be making my own in food processor with some day old homemade bread, when I am out of the canned stuff in my pantry.
sweet potatoes with dab of butter and sea salt,  broccoli steamed, and watermelon
Tuesday
breakfast: pancake muffins–we did use REAL maple syrup this month, little more costly but if we do muffins then we can use sparingly.
lunch:  chicken and rice soup–with leftover chicken and rice from dinner sunday.
**I did use processed american cheese but next month when I am out of the stuff I have on hand I will be making my own—excited for that:)
dinner:lentil rice casserole, chips and salsa, watermelon
Tonights dinner I had to make in the crockpot because I had errands to run, works wonderfully.  I did use tortilla chips–I think the only other "better" option would be to make my own from whole wheat tortillas and then bake them?!?!!?  Not sure will work on that.  Salsa we have discovered how easy it is to make salsa.  Love it!!!
Wednesday 
breakfast: oatmeal
lunch: munchie lunch–hummus and pita chips, cucumbers and carrots, grapes
dinner : mexican haystacks
We had guests over this day and it worked out well to make a big batch of mexican haystacks.  That way if you have anyone that doesn't particularly enjoy something they can choose it or leave it.  It is a good, cheap large family/friend meal:)
***Our local grocery store had grapes on sale for $1.99 for a bag of them, which is cheaper than anywhere else.  They taste amazing.  I had boughten 10 bags of them, came home washed them and laid them on a cookie sheet and put in the freezer. When frozen put in plastic baggies.  These are delicious to snack on.  We serve a few with lunch.
Thursday
breakfast: breakfast burritos
lunch: peanut butter and honey sandwiches, cucumbers and carrots, watermelon
**this was store bought peanut butter and bread–just until we use it up.
dinner:  leftover lentil rice casserole on whole wheat tortillas and topped with lettuce,salsa, shredded cheese, and sour cream.
***This was a great, filling meal.  Completely meatless but with all of the vegetable toppings my husband said it filled him well.  I was out of sour cream so I substituted homemade plain yogurt for it.  I will probably avoid sour cream and just use yogurt because it has calcium in it and no "extras."
Macaroni and cheese—we did not use chicken bouillon from store, I used our homemade "healthy" version.
***this had velveeta cheese, leftover nacho cheese from the haystacks and was made with white flour noodles.  I would like to use whole wheat in future and again, make my own velveeta cheese.
Friday 
breakfast:  oatmeal
lunch and dinner:  taco chili haystacks
We had another large family over to visit this day and I needed to feed a big crowd–think 20!!!! I made a big batch of the taco chili with my dried beans that I cooked and froze, I used bulgar burger with my hamburger to stretch the meat.  Taco seasoning and Ranch mix both were homemade.
I made a big pot of brown rice, and had toppings like lettuce, onions, green peppers, mild pepper rings, salsa, shredded cheese, and sour cream—again using my nonfat yogurt.  I did have a bottle of ranch and some corn chips to add on top.  These are definitely not whole foods and I can improve upon them, in time.
Saturday
breakfast:  egg, bacon, in a muffin cup
lunch:  leftover chili mixed with leftover macaroni and cheese—this made a yummy chili mac for lunch.  Worked out well because I kind of "overcooked" the macaroni and when mixed with the chili it tastes fine:)
dinner: beef shish kabobs,  grilled zucchini, watermelon, and radiatore salad.
**dinner was good except for the radiatore noodle salad.  I need to make it with whole wheat pastas and real chicken pieces, not lunchmeat.
Snacks for the week:
It depended upon the day whether we had snacks or not.  I am TRYING to get away from doing 3 snacks a day.  We are down to one at night time and one sometimes in the afternoon.  Usually it is the little ones that need something to keep their tummies good until dinner.
We have been having popsicles every night.  We are usually outside swimming or playing and popsicles kind of work nicely for a treat after a fun day of playing.  As the weather changes, we won't be having popsicles and I look forward to doing things like popcorn again.
But when we have guests, which we did this week, popsicles are ALWAYS an afternoon treat.
Each day, I made sure to have a plate of vegetables cut up on the counter.  Produce is in season right now, so we can get cucumbers by the bushel, sugar snap peas, and carrots are on the counter pretty much all day.
I made a homemade trail mix and snack mix for the children.  They are getting better acquainted with it, but they are not highly enthusiastic to it.  In time, if I offer a little bit each day.
Drinks
We keep it simple with water for most all of the day.  The little ones get diluted 1/2 and 1/2 apple juice and water for breakfast each day.  The two year old gets another sippy filled with this in the day too.  We serve milk if we have it at dinner time.  Mostly they drink water.
Myself, I have a love of coffee going on.  I will drink my water throughout the day–I put in a peppermint tea bag to keep it flavored, but coffee is a flaw in my life.  I am just making my first batch of kombucha tea and am so excited to be able to share about it in the next few weeks.  I would ultimately like to replace my coffee with kombucha tea.  One of my goals.
Wrap up:
Fresh fruit and vegetables are a plenty around here at this time. I try and focus on buying lots of them and serving them each day.  We usually buy 2 watermelons a week since they are cheap this time.
This week processed foods are:
peanut butter
store bought bread
tortillas
coffee and creamer
velveeta type cheese
tortilla chips
corn chips
ranch
white pasta
lunchmeat
If I missed any, I apologize.  I will work to eliminate these as well.
Keep looking for part 4