This was the very end of my month for groceries.  I had a frozen lasagna and pulled that out to bake it for dinner.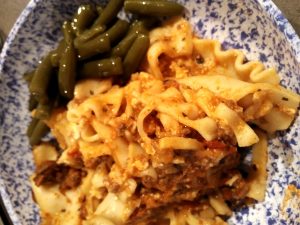 I served it with some green beans.  I forgot how nice it is to just take out a frozen dinner and bake it–no fuss..  This was good for two meals.
Then we wanted to make these pumpkin pudding dessert cups that we had eaten years ago.  So we made them in phyllo cups.  Very easy to make and they all enjoyed eating them.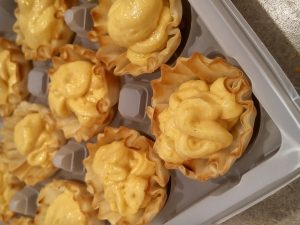 Then we had plenty of pudding mixture leftover so we decided to make a pumpkin trifle out of the leftover pumpkin cookies we made last week–they were getting a little stale and the pudding mixture and some candy Butterfinger pieces.  It was good.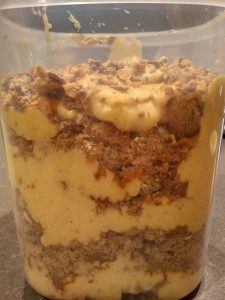 Then I picked up some nacho chips and we had nachos for a meal.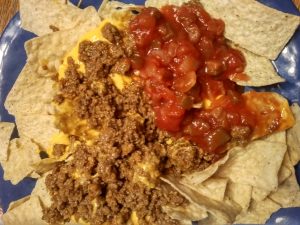 We then made a pot of cheeseburger soup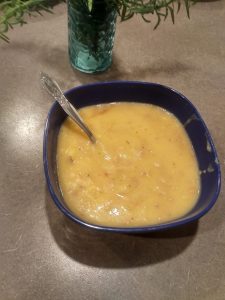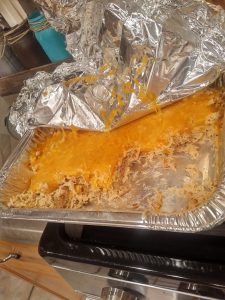 We served it with chicken ranch sandwiches.  My girlfriend said they were called "crack chicken"  I didn't understand why, until we tried them:) They were good.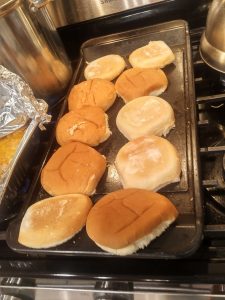 I then had a meal already prepared for my day of shopping. It was chicken chunks and I put some boxed stuffing over top with a cream soup base.  I served it with some cous cous, broccoli, and cottage cheese.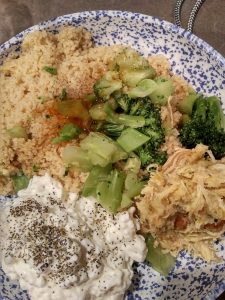 Then I did shopping the next day, but we opted to order take out and bring it home. My family enjoys Hot Dog World–so we got that. Nothing beats a Carolina Hot Dog:)  I also tried their taco salad and that was very good.
Now that I have all of my food for the month, I am going to do something different that I haven't done in a few years—I am going to make all of my meals for the month and then freeze them—no worries about what to make, it will already be done:)  Keep watching to see how I do…..have a blessed day!