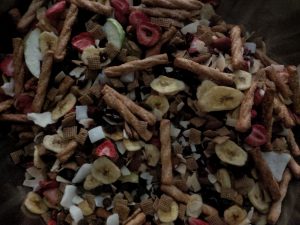 We make a garbage bag snack mix typically during the summer months to take with us when we go out.  It is filled with cereal, cheesy crackers, cheesy chips, and fun things for the children to eat.  I stretch the good stuff with fillers such as cereal, crackers, etc.  The problem is…….I really like it too:)
I decided to make my own, just for Mom mix.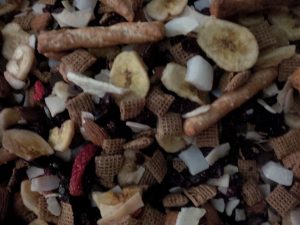 This is made with:
whole wheat chex cereal
honey wheat pretzel sticks
dried coconut
thai coconut—it is freeze dried, which makes it crispier
freeze dried strawberries
banana chips
cranberries
dried pineapple
almonds
semi sweet chocolate chips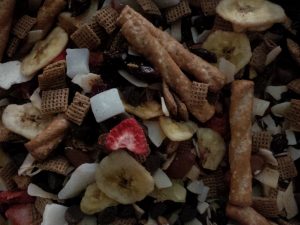 I love it. I keep it stored in freezer bags, hidden inside my freezer:)  The only problem is that the strawberries, which are freeze dried are a little softer. Not a big issue, they taste fine, we just can't keep things in the regular pantry down south because of the humidity.  They aren't mushy, just softer than the crisp of ones sitting on a shelf.
Make this and hide it from your children:)  Well you can share with them too, I just prefer to have something just for Mom once in a while.  Enjoy!!!