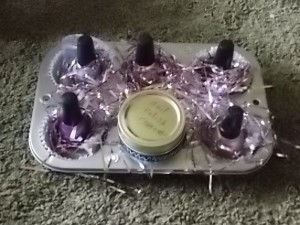 Teenage girls seem to be the easiest to make gifts for.  Especially if the girl is into makeup and spa items.  Then this gift is perfect gift to make.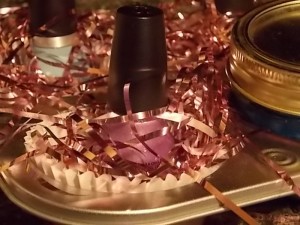 We bought a muffin tin and put a cupcake liner inside.  We then hot glued nail polish into the liners and stuffed foil confetti strips around the polish
We saved one of the holes for a homemade nail polish remover jar.  We cut a sponge into a strip as high as the jar and wrapped it around in a circular snake pattern and put into the jar.  We then poured nail polish remover into the jar.  You can stick your finger into the hole to remove polish.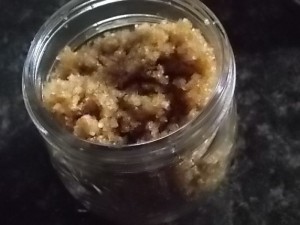 We made a raw sugar hand and foot scrub to go along with the polish.  Take 1 cup of raw sugar and add 2 T coconut oil.  Mix around and place into a container .
 To have the smoothest hands or feet apply this with wet hands and rub .   I usually purchase a peppermint foot scrub during the summer months to remove all that yucky heel hardness and that still doesn't seem to work 100%.  This my friend is amazing.  Try it, you won't believe at how much better your feet and hands feel.  I absolutely love it and recommend it to everyone.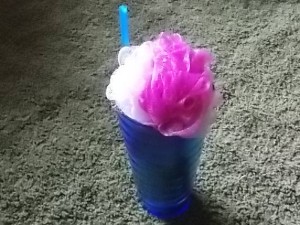 We put the sugar scrub in a jar and placed it into this cup.  Topped it with a bath pouf and a straw.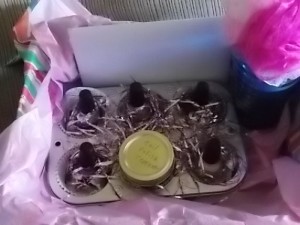 This was a hard item to package without spilling things, so we took a cardboard box lid and covered it with wrapping paper on the bottom.  We lay tissue paper inside the lid and put the gifts on top.  
 Simple and easy.