The weekend, we should all live for it.  One thing I look forward to is that Daddy is home with us and he usually makes breakfast.  For me, having 10 children, I have found it almost impossible to be able to make any kind of breakfast with having so many little ones.  I highly rely on cold cereal.  I am getting better and have started making eggs and oatmeal during the week.  But my first choice is cold cereal.
When the weekend comes, Daddy loves to make eggs from our chickens.  He says there is nothing like farm fresh eggs for omelets.  Here is his easy version of making omelets.
Take your eggs, we use 3 in a childs omelet and 5 for an older childs omelet.  Crack them into a mixing bowl and mix.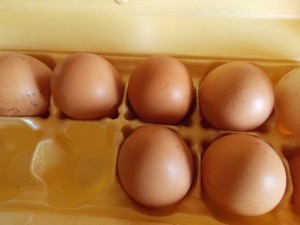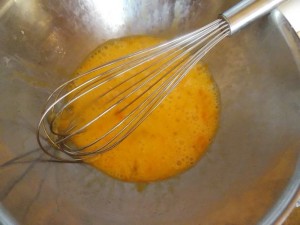 Spray your frying pan with nonstick cooking spray and pour your eggs into that.  Cook until the bottom half of your eggs is set.
While that is cooking, you can get your toppings ready.  We like bacon bits, chopped lunchmeat ham, and some peppers and onions.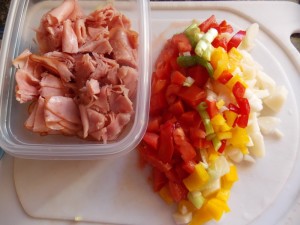 After your bottom is set, place your pan under the broiler in the oven on high for a few moments.  It will cook the top layer of eggs to help speed up the process of making these.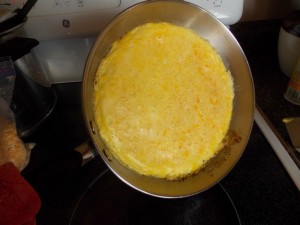 Then it is time to fill them.  On half of the omelet place the desired ingredients.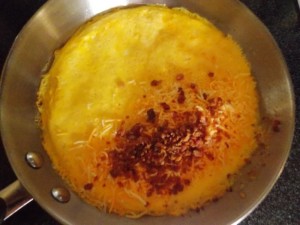 This one is for an older child, with the pepper jack cheese and diced peppers.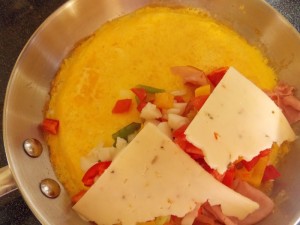 Carefully loosen the bottom of one half of the omelet, and flip it over to the other side.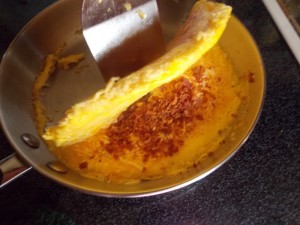 Can you do it without breaking the omelet?  Took me lots of practice, but with many mouths to feed, it became second nature.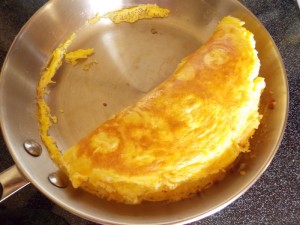 Nice and fluffy and delicious.  Plus it didn't take much time at all.
Oh wait, you need to make 10 more honey before you are done.  We keep them on cookie sheets in the oven to stay warm.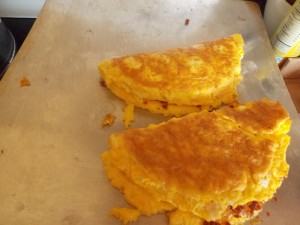 Here is a sampling of the toddlers plate:
blueberries
apple butter on homemade bread
omelets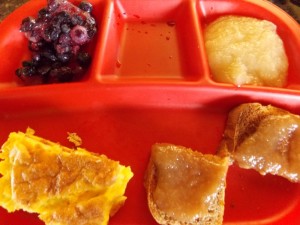 Here are the 6 plates we have to make for each meal.  The older children can make their own.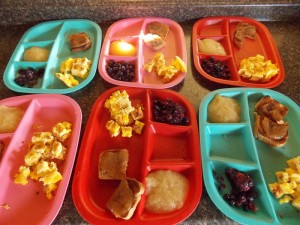 Enjoy your weekend.  Go have some family time.