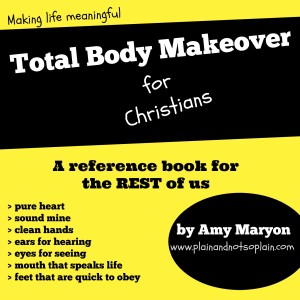 I remember being a new Christian and people telling me that I should pray for  my ears to become open to hear what it was God was speaking to me.  It seems I was taught through many classes and people to just listen to this book or this speaker and I would become stronger in my faith.  So I bought many books and listened to many different speakers.  The books were good and I had a bookshelf full of them.   I learned many truths about the bible and learned how to apply them to my life.  Did you know that they have books about every topic under the sun?  Need to be delivered from a demon? There is a book for that.  Want to be happy?  There is a book for that.  Want to learn self-control?  There is a book for that.  Want a better marriage?  You guessed it, there is a book for that as well.
Now,  I don't knock the world of books—I wrote my own and think they are beneficial.  But where I think you can go wrong as a Christian is when you place the majority of your time, reading other people's explanations instead of reading directly from God's word.
"Faith cometh by hearing, and hearing by the word of God"
Romans 10:17
It doesn't say that you faith comes by life experiences or by other people's experiences.  It says that your faith comes by hearing the WORD OF GOD.  That can ONLY come from the bible.
You should be spending SOME time each day, reading God's word.  It isn't about how much you read, it is just reading SOME of it.  You can read 1/2 of a chapter and get more out of it then by reading 3-4 chapters of a bible.  The key is to READ  it.  How else are we supposed to grow if we don't go directly to the source that can provide life unto us?  Sure we can learn lots of truths and practical ways from other people's books. What is beneficial in these books is sometimes the authors own experience going through these struggles and how they broke free from them and that can be encouraging.  I myself, will share my book of how I overcame some major struggles in my own life.  Number one being "taking offense."  I think that is a HUGE problem in the Christians life.  I think everyone can be much better off by NOT taking offense at things.  But, you aren't going to grow much in your relationship with God if you don't read what it is He is saying to you.  My book will help you get over some fleshy areas, but Gods' word can do multitudes more than a book written by a human.
By increasing our faith, we can increase the "anointing" that is given by God.  That anointing is what will help us over come things in life.  That is when healings happen, when addictions are freed, when miracles are performed, when God speaks to us and we hear, when prayers get answered, and when finances increase.  Anointing is the Holy Spirit living within us so that we can do the impossible by the power of God.  We can't do things on our own, it is allowing God to do the work through us.  We are just a tool that God uses.  When we are lined up with Him, he is able to anoint us and use us to do the work here on earth.
Now He who establishes us with you in Christ and has anointed us is God, who also has sealed us and given us the Spirit in our hearts as a guarantee
2 Corinthians 1:21-22.
Another point of reading Gods word is summed up in the book of Matthew 13:14-17
In their case the prophecy of Isaiah is being fulfilled, which says, 'YOU WILL KEEP ON HEARING, BUT WILL NOT UNDERSTAND; YOU WILL KEEP ON SEEING, BUT WILL NOT PERCEIVE;FOR THE HEART OF THIS PEOPLE HAS BECOME DULL, WITH THEIR EARS THEY SCARCELY HEAR, AND THEY HAVE CLOSED THEIR EYES, OTHERWISE THEY WOULD SEE WITH THEIR EYES, HEAR WITH THEIR EARS, AND UNDERSTAND WITH THEIR HEART AND RETURN, AND I WOULD HEAL THEM.' "But blessed are your eyes, because they see; and your ears, because they hear.…"For truly I say to you that many prophets and righteous men desired to see what you see, and did not see it, and to hear what you hear, and did not hear it.
The bible is clear that many people desire to have God's truth come to pass. How many of us want God's promises to happen?  I believe all of us do.  But it is only going to happen, once our faith is strengthened.  We have to have the faith that says when we read's Gods word it is true.  The problem is we don't believe any of it can happen.  Our faith is diminished and we start making excuses for why this or that doesn't work.  We aren't allowing God to do what He says we will do.  When we read the bible, we start diminishing away the truth by it instead of taking it as fact.
I was reminded of this while I was reading in the book of Romans about sinning.
In Romans 3:23 it was talking of the Law of Moses–which is the past….for all have sinned and fall short of the glory of God.   It doesn't say "all sin."  It says "sinned."  He is talking of the past.
I stopped there because I have always heard Christians quote this verse frequently.  Especially when someone is sinning in the church.  "Well, we all sin and fall short of the glory of God."  But if you keep on reading there is so much more to the story.  It is like they use it to excuse away sin.
In verses 6:12 it says:  let not sin reign in your mortal body to make you obey its passions.  In verse 14 it says: For sin will have no dominion over you, since you are not under the law but under grace.
If you keep reading in chapter 6 it says : "are we to continue in sin so that grace may abound?  No way!! How can we, who are dead to sin-through death of Jesus, still be dead?  We walk in newness of life.
We are united in death.  United in the resurrection.  Our old self was crucified with Him.  We are no longer enslaved to sin.  If we died with Christ than we believe that we LIVE with him.  Christ's died, rose from the dead, and will never die again.  Death has NO dominion over Him.  Death he died, he died to sin, once for all, but life he lives, he lives to God.
We must consider ourselves dead to sin and ALIVE to God in Christ Jesus.
We were once slaves of sin (verse 6:17) but NOW are obedient from the heart to His teachings.
6:23 states: Wages of sin is death but free gift of God is eternal life in Christ Jesus our Lord.  We have been set free from being a slave to sin—we are now  slaves of God.
We shouldn't be slaves to sin anymore.  Then why is it there are so many church going Christians who struggle with bondage to things?  Do they not truly "hear" what it is the bible says—–THAT THEY ARE NO LONGER SLAVES TO SIN.     We ARE NOT in the FLESH but in the SPIRIT.  The SPIRIT of GOD DWELLS inside  of you.    We are HEIRS of CHRIST.  The bible says that if we live according to the flesh, that we will die (Romans 8:13).  But by the SPIRIT you put to DEATH all the deeds of the body then you will LIVE.
The bible is clear that we seek to make for ourselves teaching that is in our eyes good.
For the time is coming when people will not endure sound teaching, but having itching ears they will accumulate for themselves teachers to suit their own passions, and will turn away from listening to the truth and wander off into myths.

2 Timothy 4:3-4
Turn to God's word and learn from His words . Plain and easy.  They are written so that ANYONE can learn from it.
Whoever has ears to hear, let him hear

Mark 4:9
Click here for FREE download of my book