When I first became a mother I had an older wiser woman tell me to get down on my child's level often. But as a mom of many I realize the reality of much to do in a days time. It is very easy to forget what my most important jobs are.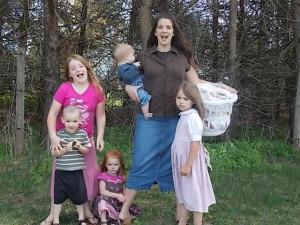 If you want to connect, really connect with your child, get down on their level. While talking to them look into their eyes so that they know all your attention is on them. Listen to what they have to say. If it is a crawling baby, get down and crawl around with your baby, nothing worse than seeing mom walk off to no mans land and not being able to catch her.
When walking with your child, if not absolutely necessary, don't keep their arms pulled up into the air for long periods of time. I think that if I had to constantly look up or keep my arm extended up while holding someone else's hand, it would become tiresome.
Do something out of the ordinary to surprise your small children, throw on some music and start dancing for half an hour with them. Grab a piece of paper and draw a picture for them–you don't have to be an artist, make it fun.
If you have a fussing baby, walk them outside for a moment, just a change of scenery will brighten their day.
When my children goto bed each night, I want them to lay in bed thinking about the fun they had that day. I don't want them to remember all of mom's crabby moods. I want them to think about the picture I drew, or the flower we picked, or the bug we looked at.
As always remember this little life has been handed to you, it is your job to nurture and help it grow. Take the time to stop and enjoy with them just being a child. See the blessings that the Lord will bring forth by
taking those few extra moments with them.
John 15:12
This is my commandment, That ye love one another, as I have loved you.