If you need a great dish to bring for a potluck or if you just want to WOW your family with your culinary skills, then this is one to consider!!  Swedish meatballs homemade are amazingly simple and taste wonderful.  I normally do not make them with ground pork but opted to for this recipe and the results were delicious.
You can serve these plain right out of your serving bowl or cook up some egg noodles to serve them over.  Either way, they are delicious.
For this recipe you will need:
1 onion diced
1 lb ground beef
1 lb ground pork
1/2 cup bread crumbs
2 large eggs
1/4 tsp nutmeg
1/4 tsp salt and pepper
For the sauce:
4 cups beef broth
1-16 ounce container of sour cream
thickening agent– choose what is in your pantry

1/2 cup potato flakes
1 can cream of mushroom soup
2 T cornstarch mixed with 1/4 cup water
2 T flour mixed with 1/4 cup water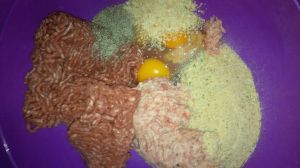 Place all your ingredients into your mixing bowl.  I just love my purple plastic bowls from the Dollar store, thank goodness for fall colors.
Mix all of your ingredients together and shape them into balls.  I used a cookie scooper to get the same shape.  I then put them in my glass baking dish and froze them.  I wasn't going to make them that day and wanted them to stay firm.  The next day, I took them out of the freezer and put them into my oven uncovered at 400 for 30 minutes until browned.
I poured my beef broth in the baking pan and let that cook for another 20 minutes. I checked my meatballs to be sure they were cooked and then finished off the sauce.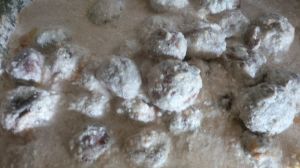 I whisked in sour cream and potato flakes.  Covered it with tin foil and let it cook at 325 to blend all the flavors for 15 minutes and then served it.  Delicious!!
Serve plain or over top of egg noodles.  Make this ahead of time and freeze the meatballs in plastic baggies.  Then when you want to make them, just pour it into your baking dish and cook.  Takes less time.  Enjoy!!