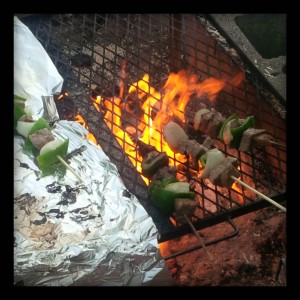 This is very easy to make and cook over a fire.  We buy beef roasts, whichever is on sale that month and chop it up into three different meals.  Here we cut chunks for shish kabobs.
I marinate the meat in a separate bag with 1/2 bottle of italian dressing.
In another bag I cut up onions, green peppers, and mushrooms and pour the other 1/2 of italian dressing in bag.
We let this sit over night in the refrigerator.
Cook over an open fire,or grill if you have one.
If you are worried about not cooking the meat properly, you can parboil the meat in a pot with water until almost cooked.  Then you can cook over an open fire for that good BBQ taste.