We all need more hours in our day.   Preparing and serving meals takes up much of that time.  Soup is a great time saving meal, that is enjoyed by all.  I love having a big pot of soup simmering on the stove all day, served with a nice fresh loaf of homemade bread–unfortunately today was not a homemade bread making day, so we served it with crackers, still just as good.  You can modify this depending upon the size of family you are serving.  This makes one large pot, enough for our dinner plus lunch the next day.
Start by peeling and dicing  10 lbs of potatoes.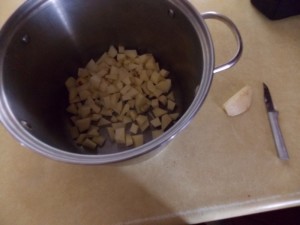 When your hand has fallen off, from peeling and dicing all of those:)its time to move on.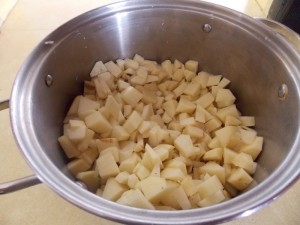 Add a package of bacon bits to your pot, you can also fry up a package of bacon, but I am looking at the ease right now.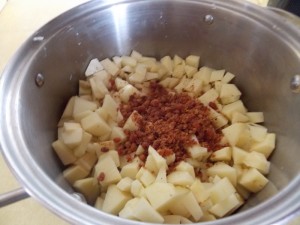 You can then add some diced onions, I didnt have any on hand, but did have some dehydrated ones that will do the trick.  We added 2 Tablespoons, or you can dice up a whole onion, depending upon what your likes are.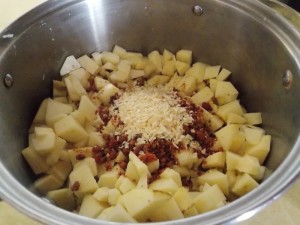 Fill your pot almost up to the top with water and add some chicken bouillon to taste.  I added about 6 Tablespoons, but you can add however much your family enjoys.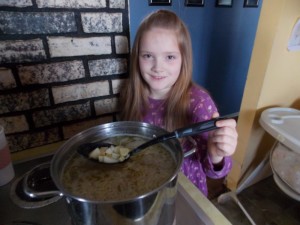 Cook on medium heat until all your potatoes are tender.

Then it is time for your thickener.  I like to use instant potato flakes, baby rice cereal(yes if you have lots of leftovers from babies like we do) or today I am using leftover mashed potatoes that I have previously frozen.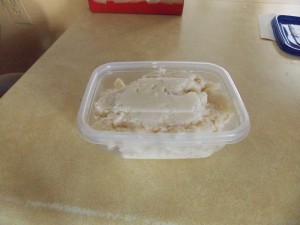 Place it in your pot and slowly stir away.   It should start to thicken in the next few minutes. Start by adding about 1/3 of the box of instant potato flakes, baby cereal or 2 cups of mashed potatoes.  Then as the soup thickens you can add more depending upon how your family likes it.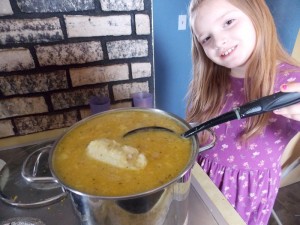 After it is all heated and thickened, add a 16 oz container of sour cream and stir.  Don't boil the soup any longer or the sour cream will separate.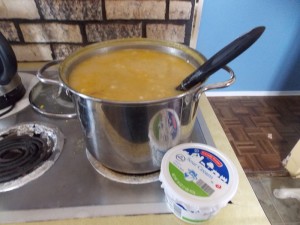 Ladle into soup bowls and garnish with green onions.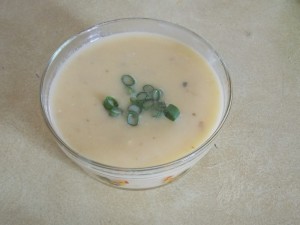 Here are the "lower half" children's soup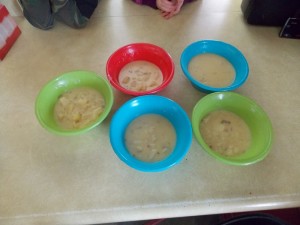 Our children really like saltine crackers crushed into their soups.  But with 6 little ones all crushing crackers at the table, it can get very messy real quick.
Here is what we do to solve that.  Take a package of crackers.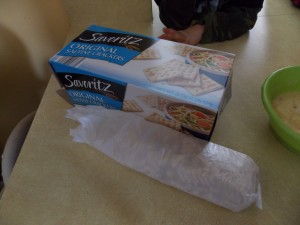 Let your children help crush the crackers inside the package.  Be careful not to break the wrapper.
Pour on top of the soup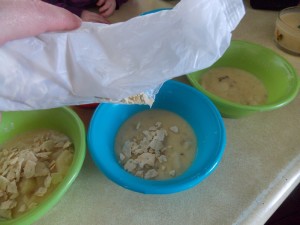 Is this cool enough to eat yet Mom?