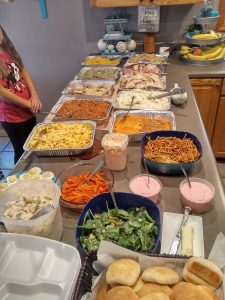 Thanksgiving every year is ONE BIG GIANT FEAST!  I mean everyday is a giant feast it seems  when you have a large family, but Thanksgiving especially is.   I think I am getting wiser each year: learning to make things simple, learning what to make and what not to make,  and how to spend the LEAST amount of time in the kitchen BEFORE and AFTER.
Here are some tips I have learned and put into practice for our large family on how to make this special day a little easier and  more enjoyable:)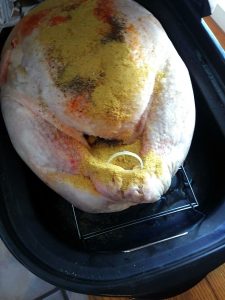 Starting with the turkey……………Over the years I have done turkey after turkey after turkey.  Have I told you that I don't particularly care for turkey?  Well anyways, everyone else does so I do it.  I have done it where I had it thawed completely days before and pulled all the insides out and then cooked it.  Then there was the year I forgot that they leave stuff inside of it and cooked it anyways.  Then there were a few years where I didn't get it out on time and I cooked it with the stuff inside of it?!!?The last statement happened most of the time.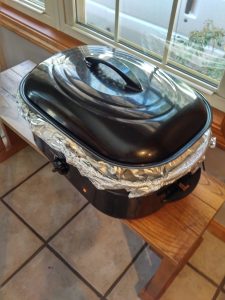 I  have come to realize that a successful juicy turkey cooks slowly, on lower heat, and covered tightly with minimal checkings. I like to cook mine in a roaster or crockpot—if I can get away with a smaller one, on a lower setting and for a longer time.  I like to start mine the day before and turn it on low and cook over night.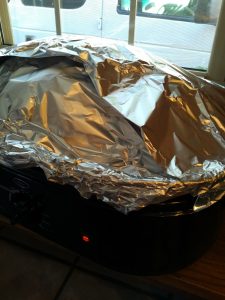 I sprinkle chicken bouillon powder, pepper, minced onion, and seasoning salt on top, cover it with foil and let it cook.  AND YES I cook it from a frozen state.  With all of its inside intact.  It tastes exactly the same, I promise.  So much easier without all that yuck prepping:)  Try it next year, no one will notice:)
As the turkey is cooking here are all the sides we made: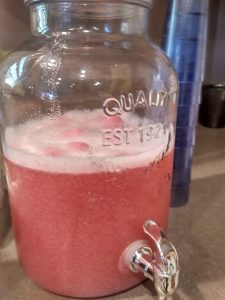 We normally get some 2 liters of soda and this year we made pink party punch.  It is our family favorite and we use it quite regularly.  It was a nice treat.
Then we had a ham. I found a boneless large ham at Walmart and we heated it in the crockpot.  It was our NUMBER ONE choice of meat this year.  We decided that since most everyone prefers ham, next year we will just make a ham and no turkey!!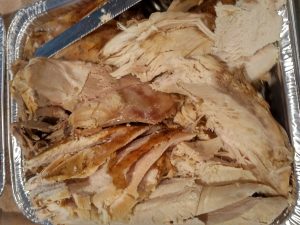 Another thing I do for the turkey is to take the meat off the bones while it is still warm.   This helps you be able to get all of it with no cutting. It just pulls off the bone. If you cooked it long enough, it will fall off.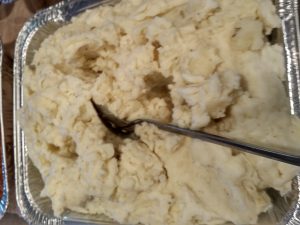 We did mashed potatoes. This year I did about 3/4 of a bag of potatoes and that seems to be a good sized number for us.  A whole bag of potatoes usually gets wasted so I will definitely be just doing this amount next year.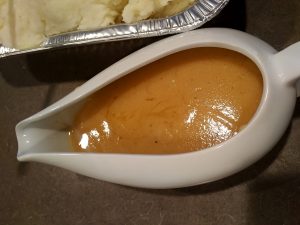 Gravy made from the turkey drippings and thickened with flour.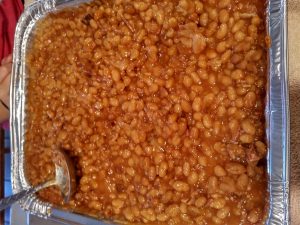 I bought a can of baked beans at Sams Club and added onion, bacon bits, and brown sugar.  Only about half of this got eaten.  Next year may be different especially if we have only ham.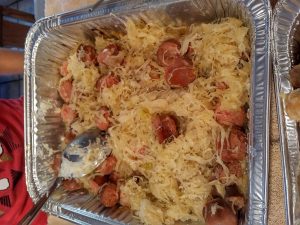 I had some sauerkraut and kielbasa that I made in my once a month cooking this past month.  This was a nice addition to the meal.  Notice that I put everything in tin foil pans.  This makes clean up so much easier.  No washing!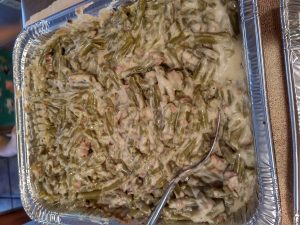 Green bean casserole.  I have a few that love this dish.  I realize that 3/4 of the pan gets thrown away. Next year, I will make a very small amount of this dish, even though it is delicious, I just don't have enough that love it. I used a large  can from Sams.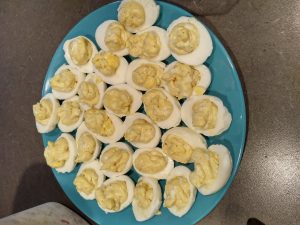 a as I like to call them. I did about 1 1/2 dozen eggs hardboiled for this.  This seemed about right for our meal.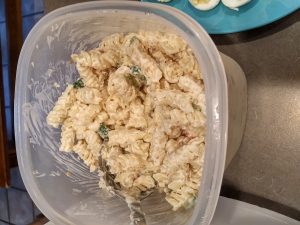 Macaroni salad is a favorite that goes with the ham and baked beans.  I only did once box of noodles, next year I need to make two as this is a favorite.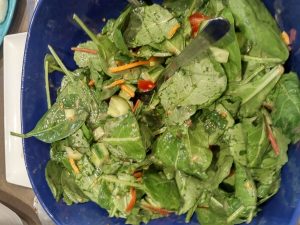 I made this salad for me—-leafy green lettuce, chopped up tomatoes, cucumbers, and green onions.  Topped with coconut sesame thai dressing.  So yummy!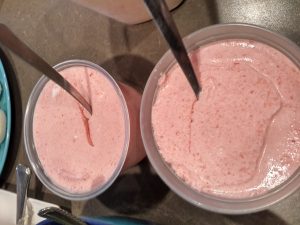 Strawberry pear jello.  This we have been making for years. I made it in small deli containers this year instead of a big bowl. That way I pull out a container for leftovers and don't have to look at a big jello bowl all week:)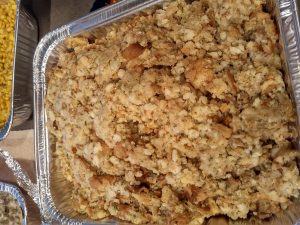 Stuffing—usually I end up making a stove top bowl, and a homemade bowl.  This year I bought two boxes of Stove Top, one bag of stuffing crumbs, and I crumbled up one loaf of bread and left it out overnight to get stale.  I added some more chicken bouillon, minced onions, and the amount of water needed.  Everyone like it.  This will be how I make it each year.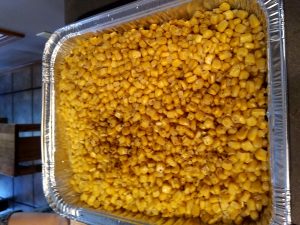 Corn…….corn is something they always ask for and NO ONE eats;)  I bought a large can from Sams and no one touched it. So I put it in the freezer for a lasagna meal night.  I will not make this anymore.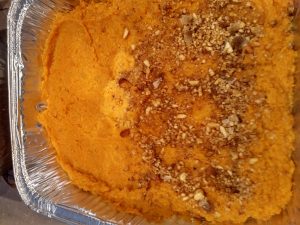 Sweet potato casserole.  This I make for myself and a few children.  I put the leftovers in small deli containers and freeze it for a quick meal for myself later on. 
Macaroni and cheese—I cooked two boxes and poured enough that would fit into this pan and the rest I put in a plastic bag.  I baked the pan and saved the bag for leftovers.  This was the perfect amount for our family.  Every young child loves this.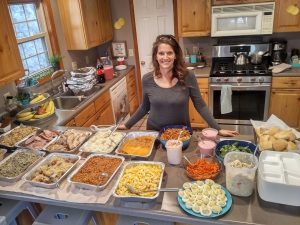 I also buy nice sturdy divider plates for dinner.  That way nothing  "touches" and no one complains. There is only clean up from the spoons and silverware.  Very nice!  All the big pans from cooking have been done a long time ago.  Each side is covered with tin foil and labeled with a marker so we can easily identify it.
This year what I did differently upon advice from a friend was to buy some rolls from Sams Club.  They were in the freezer section–yeast rolls—30 rolls for $5.  I don't remember the name but they were delicious.  I bought two bags and we had plenty for dinner, sandwiches, and leftovers.  I will keep this for sure next year.
I didn't take any pictures of the desserts. I had big plans to make a variety and then I decided to keep it simple.  The variety is for me.  Everyone else likes staples, I don't need to eat an entire pie:)
We made pumpkin pie, apple pie, and chocolate pie.  Jadyn and Brooklyn made a specialty pie this year. Jadyn did a no bake chocolate peanut butter pie and Brooklyn made a cream cheese, cool whip, oreo pie.  Both were very delicious and very rich.
This was Thanksgiving at our home this year.  Simple, basic, yet delicious.  I was very thankful for my two new refrigerators this year.  Normally I have had to use coolers to keep stuff cool or put everything in ziploc baggies when we finished eating.  But this year I was able to stack things and have plenty of room.
We have had a wonderful year with many things to be thankful for.  I pray your year has been the same:) Have a wonderful blessed day!