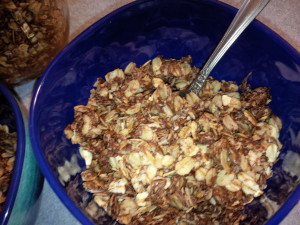 I have never been a huge fan of breakfast foods, I just don't care for them.  When I embarked on losing weight, I decided to eat a bowl of oatmeal for breakfast each day.  I didn't particularly care for it, just knew it was good for me.  It would fill me up enough that I wasn't hungry until lunchtime most days.  It worked.
Then I was talking to my friend and she said she makes chocolate granola.  I thought chocolate granola??  Is that even healthy to eat for breakfast? (smile)  After looking through the ingredients and realizing what went into the granola, I knew it was a good healthy choice and something I wanted to try.
I am sure glad that I did!! This has become my most favorite breakfast foods of all time!!! I started out by eating it with some cut up fruit.  I diced up some apples, bananas, and added cranberries.  It was yummy.   No milk, I like mine plain.  The other children like it with milk and say it tastes like chocolate cereal.  That will work.
It is very easy to make and economical too.  You can substitute most of the ingredients for whatever you have on hand.
8 cups oatmeal
2 cup shredded unsweetened coconut
1 cup flax seeds
2 cup chopped nuts –I use pecans
1 cup cocoa powder
2/3  cup melted coconut oil
1 teaspoon vanilla extract
2/3 cup maple syrup
1/2 cup brown or raw sugar or honey
1/2 cup mini chocolate chips–just for added yum!
In a small pot melt the coconut oil.  Add the cocoa powder, syrup, and sugar.  Mix well, remove from heat, and add the extract.  In a large bowl combine the oats, flax seeds, coconut, and nuts.  Pour the chocolate mixture over the oats and mix thoroughly.  Keep stirring until well combined.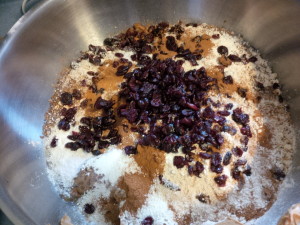 Place on 2 large cookie sheets and put in the oven on 325 for about 15 minutes.  Carefully stir the granola and bake 15 more minutes.  It will start to brown and then you know it is done.  Take it out and let it sit for a few moments.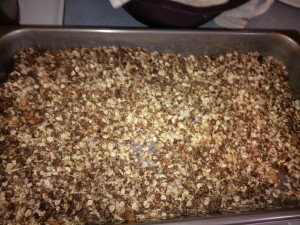 When almost cooled, sprinkle in the chocolate chips and stir carefully.  This will allow them to melt just a tad.  Let cool completely and then store in an airtight container.
This would be great over top of yogurt too!!! Enjoy!