Good Monday morning!  I hope you are all up and well rested from your weekend.  I'd love to say that I have woken up all well rested and feeling on "fire" for my Monday, but in reality I am tired.  We have had a busy weekend.  It has been an enjoyable weekend, but a busy one.  Of course, I could lament how tired I am and how much I have had to do, but then it would just feed into negativity.  Negativity is not something I want a part of my life.  It brings you down.  It makes you feel worn, exhausted, and not very motivated to do good things in this life.  So I stop. I focus on the positives and ignore the tiredness:)
Some foods we made for this weekend for the first time were sausage balls.  I had never had them before and two people had told me about them.  I decided to try them.  Tasted like a sausage biscuit with cheese.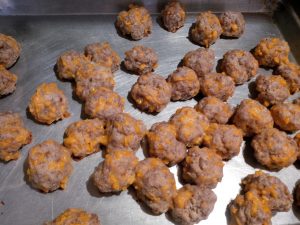 We also made some blueberry scones.  They were both good treats to keep and reheat and serve as needed.  Thanks Alice for the ideas!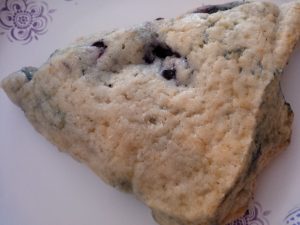 This weekend we went to the Shadrachs Christmas Lights Show.  It is a drive through light display that we attend every year.  You tune your radio to the music and then enjoy the many wonderful light displays that blink according to the music.  It takes about 45 minutes to drive through it.  We love it!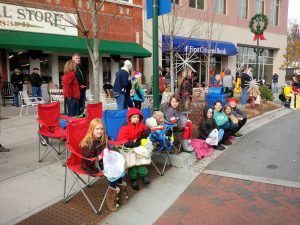 Saturday we did our local parade. Another tradition we do and it is a good memory for the children.  This year was cold.  My toes and fingers were numb!  Normally we start by wearing our coats and then can take them off, but not this year.  The local groups always provide plenty of Santa hats and candy for the children.
Then we went home to decorate our trees.  My daughter bought two trees this year for us to decorate.  One for upstairs and one for downstairs.  We let each child take a turn putting the star up.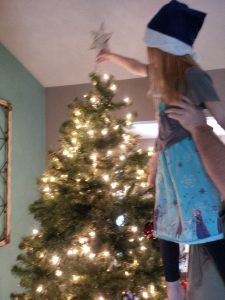 This year was Madelyn and  since we had two trees, Stephen got to do one as well.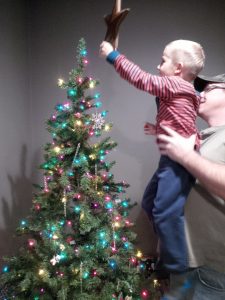 I tell my children after they put the star up that it is going to be another 10 years before you put the star up again:)  Unless someone forfeits their turn:)  Now that we have two we can get through the line much quicker.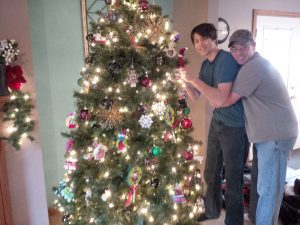 It took about 15 minutes to put on the ornaments.  Big group………goes fast!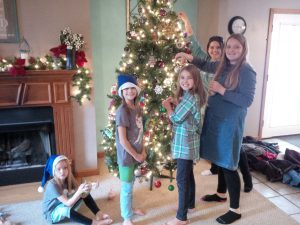 Then at night time, we went down to our local Tuxedo park for the annual tree lighting ceremony.  The temperatures warmed up and some of my children took their coats off. We sang Christmas songs around the tree and enjoyed our friends.  We then walked over to the church and saw a live nativity.  We ended it with hot cocoa and popcorn.  They also did mule drawn wagon rides for the children.  Like Little House on the Prairie.  It was fun.
Sunday we had church and home for just a few hours and then back at night for the children's Christmas drama.  I am going to put a little compilation together of them, but I don't have the time right now:)  They did so great. Love hearing all my girls sing.  Such beautiful voices.  Afterwards we had a fellowship meal that we got to share in with our friends and church family.
I made ranch veggie pizza and took some salted caramel cheesecake.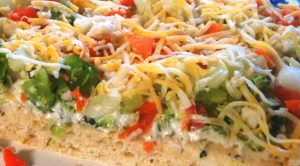 I came home and climbed into bed.  I was exhausted.  Slept all night and here I am.
Today will be a day of  chocolates and candy, Monday chores, laundry, and school.  I pray you have a blessed day today.  Remember when that tiredness  or frustration kicks in, keep focusing on the positives of your day.  Ask God what is the most important things you are to do and do it!    Love you ladies, see you tomorrow!