Since wanting to start this blog, I thought to myself, "How can I show people plain and simple living with a large family when I feel so scattered myself?"  It took me back to my first post on accountability. It reminded me that it was time to get back in my game  and organize this large family of mine—–something I really like to do.
I also had just finished reading Kim Brenneman book Large Family Logistics and I was like, people do want to hear about how to organize a large family.  I know myself, I was curious at ways in which to help my household, so I decided to write how we do ours.
It has been a long time since I have felt I have any "real" time to do anything.  Now that the babies are getting older, life does get easier.  For awhile it seemed my life was nursing, changing diapers, cleaning up, nursing, changing more diapers, and more cleaning up, all day every day.
Nowadays, I still have the nursing, changing more diapers, and cleaning up, but with less demands.  Now I have some time to focus on more than just keeping up with daily life, I feel like I can tackle the household.  
I hope to take you through a glimpse of our household and show you how we do large family organization.  Lets get started with our hallways……
When you have a household, especially with 12 people, things can get out of whack real quick.  If you do not have an "everything in its place" rule, then most of your time is spent feeling quite harried.    Which by the way I have done many times over the last few years.
With all large family  organization projects they take time.
Time to actually weed out the junk and get it organized into something you think will work.
Time to realize that it isn't working.
Time to redo the organization and get it just right.
Over the last few years having so many little ones I have realized that some of my organization methods were not working.  I had to re-do things a few times over.  One of these areas is our bookshelf.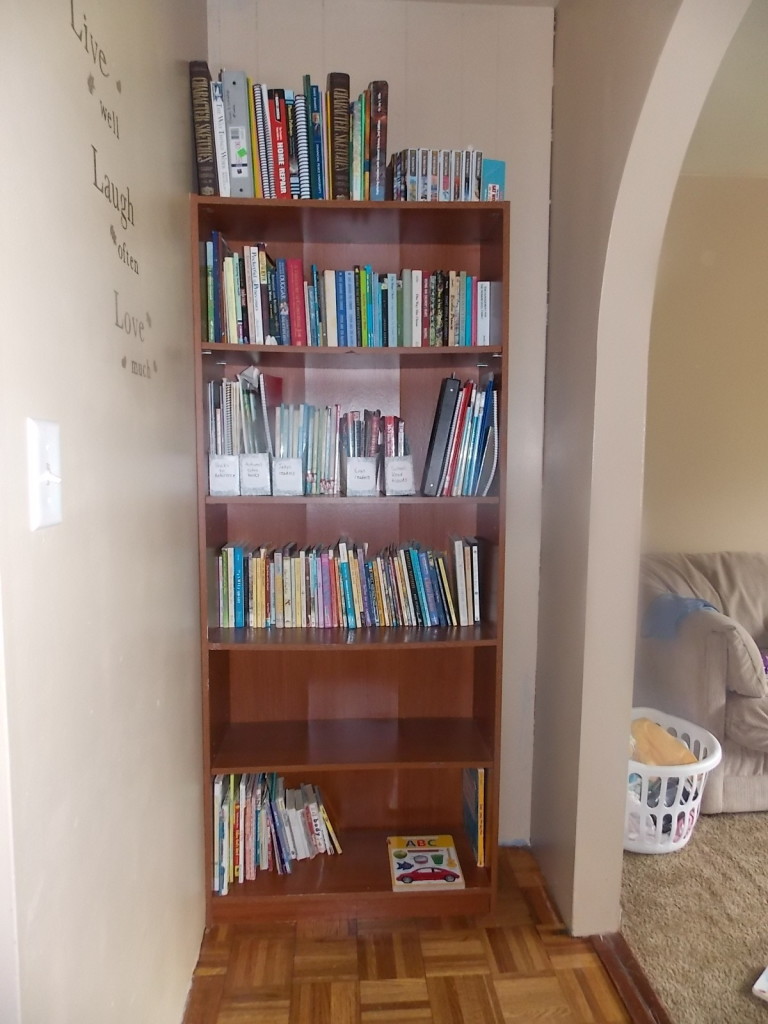 We  bought the bookshelf at a furniture store pre-assembled, heavier duty, and paid about $20 more than the generic put together shelves that you find at your local Walmart.   It is sturdier and has held up over the last 10 years of our marriage.  And trust me, after having 10 children we don't have many items that last a long time in our household.  I have gone through numerous "cheaper" bookshelves over the years.
Whenever I try and purchase something I generally think heavy duty, industrial strength, "is my child going to break this is a month?" mentality.    Which is important to have especially in a large family household.   Buy nice quality one time, otherwise you will replace it over and  over.
Being of the mindset of minimalist,  I feel the need to weed things out occasionally if they start becoming a messy problem.  When I first started homeschooling, we had collected enough books and materials to fill 3 bookshelves in our household.  Some of the books we used more than once and others we rarely touched.  My thought was that one day I might need that.  That only led to me holding onto many books and taking time to go through the bookshelf several times a year when it got messy.   When you have a large family you want to minimize the amount of time that you have to organize and clean something.  The bookshelf was one of those "time consumers."  Time to weed it out.
How do you go about organizing a bookshelf for a large family that wants to cut down on things?
Most reading books are available free from our local library.  Get rid of the books that are readily available to you from that source.
Nonfiction books—if you have access to internet you have access to millions of nonfiction subjects.  My children would rather watch a video or read the latest news on subjects for school. Ditch the books that can't update themselves.
Any books that we haven't read in the last 2 years, pitch.  I used to hold onto books thinking that one day I will read it.  If it has been 2 years and I haven't read it, I probably won't.
I do keep books that I can't borrow for free.  Many of our good moral lesson books from private publishers I hold onto the ones that I want my children to read one day when they are older.
We hold onto favorite children books that I want to read to my grandchildren one day.  Like A Pig Tale,  Love you forever, and Pigsty.—get them from your library I am sure they will be a family favorite.
For toddlers and babies, we try and keep hardcover books.  I look for them at our Goodwill and then I don't feel too badly when they become destroyed.  Having many little ones is a guarantee for ripped books, save yourself some sanity and buy hardcover only for them.
If you have magazines that you hold onto for that one recipe, or one great article–rip it out and put it in your household binder.  That way it can be put to use instead of taking up space.
Here is a photo before I started organizing my bookshelf and before I painted our walls.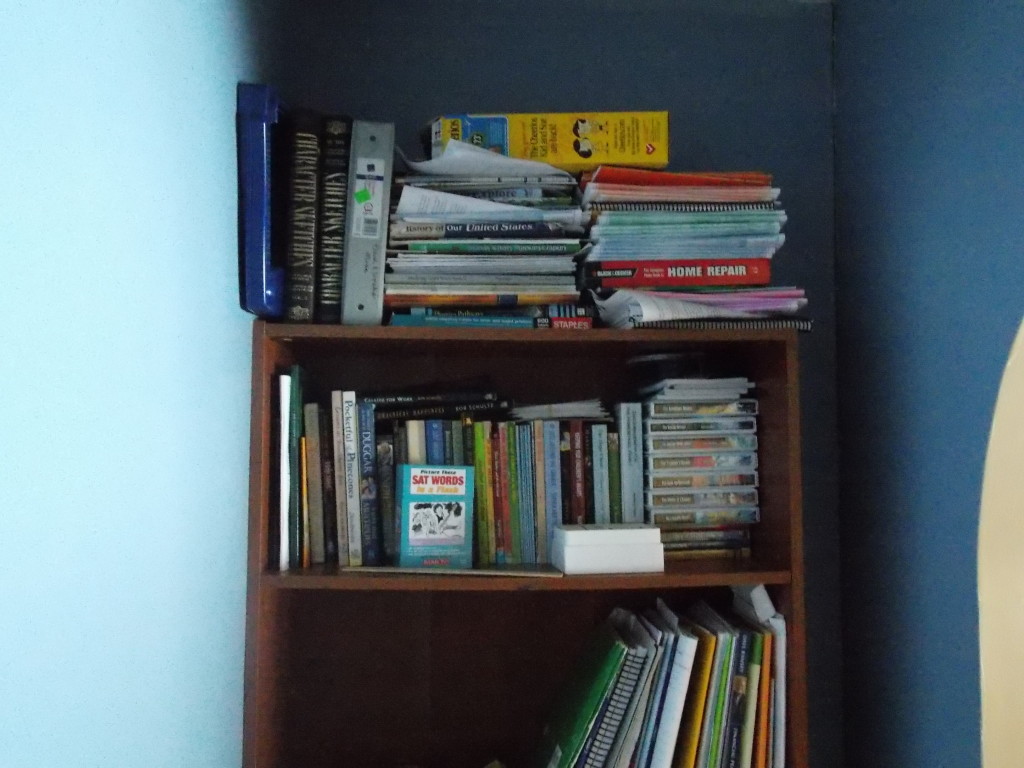 When I organized my bookshelf last year for the school year, I put everything where I thought it looked good.  Figured children would see this nice and neat way and follow suit.  But I was wrong, halfway through the first month, workbooks were taken out and shoved wherever they saw fit.  Cds and books that I ordered for specific lessons  got lost among the regular books.  Most of  everyday children were searching for their books.
I had had enough, time to get simpler.
I first placed all books vertical not horizontal, to make the bookshelf look  taller and neater.
I used old cereal boxes, cut into book holders. I covered the fronts of them with dollar store contact paper. Wrote the children's names on the front. Now everything has a place 🙂  If I had school text books that I would not be using for a few more years, I put those in a box in the basement.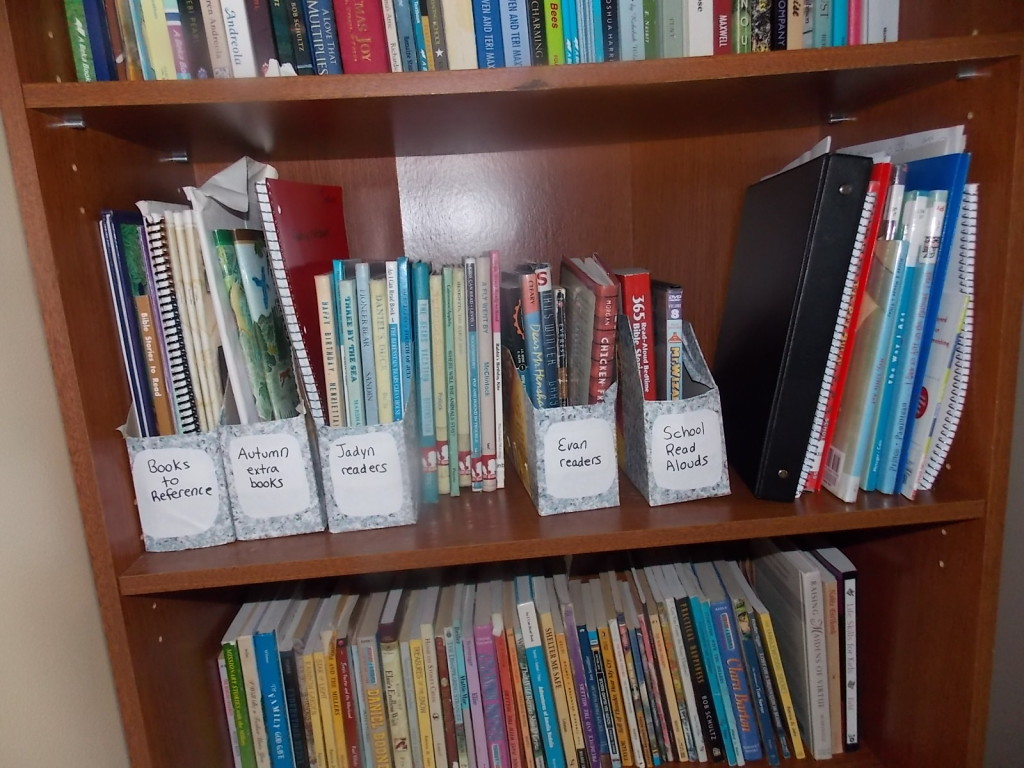 I weeded out unused items. Threw out ripped books.
Found a permanent place for library books instead of wherever the fit.
Found an easy spot for toddlers little books.
If you notice we have an empty bottom shelf. At the moment we have a curious toddler who seems to enjoy pulling down all of my books daily. I found the best way to combat that is just remove the books. All of the others eventually grew out of it, I am sure he will too. So for now it remains empty, I put some of this toys on it while he is playing during the day. We usually reserve it for library books and will one day again soon.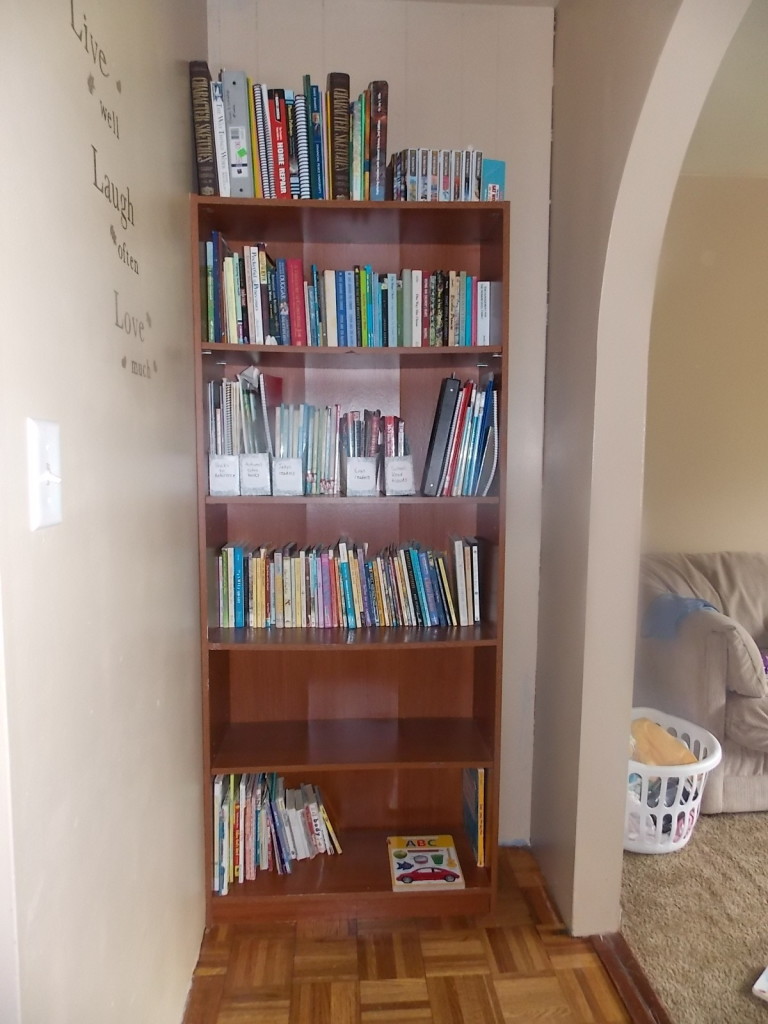 Bookshelf completed.
The other part of our hallways contain our homemade Modge Podge clipboards. I love these because I can put any paper or notes that belongs to each child on their clipboard. No more notes scattered on my counter tops. Very inexpensive and easy to make.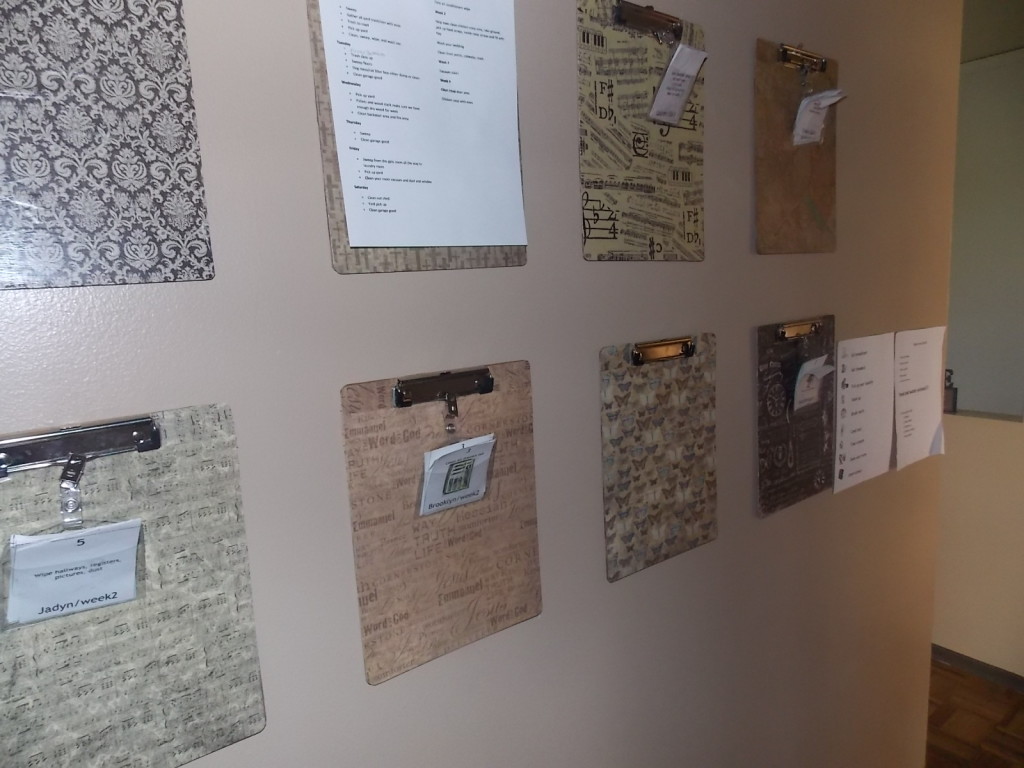 The rest is still very simple. We made our $10 shelves. Adorned them with photos in Dollar Store frames.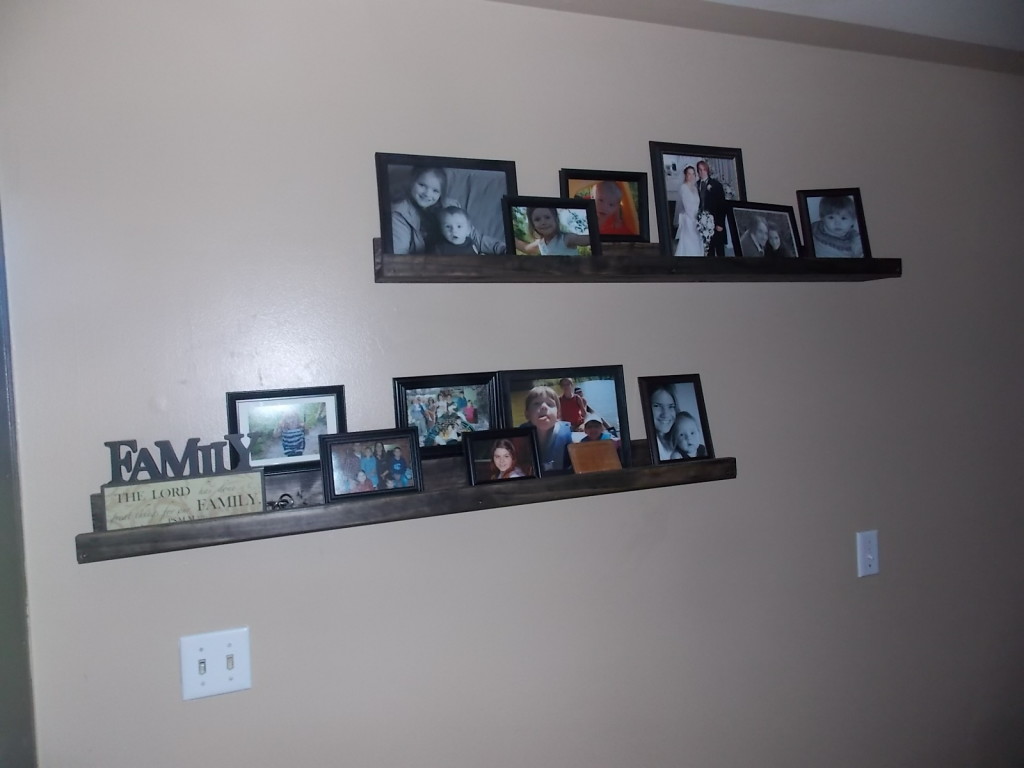 The walls are lined with our Modge Podge photo collages.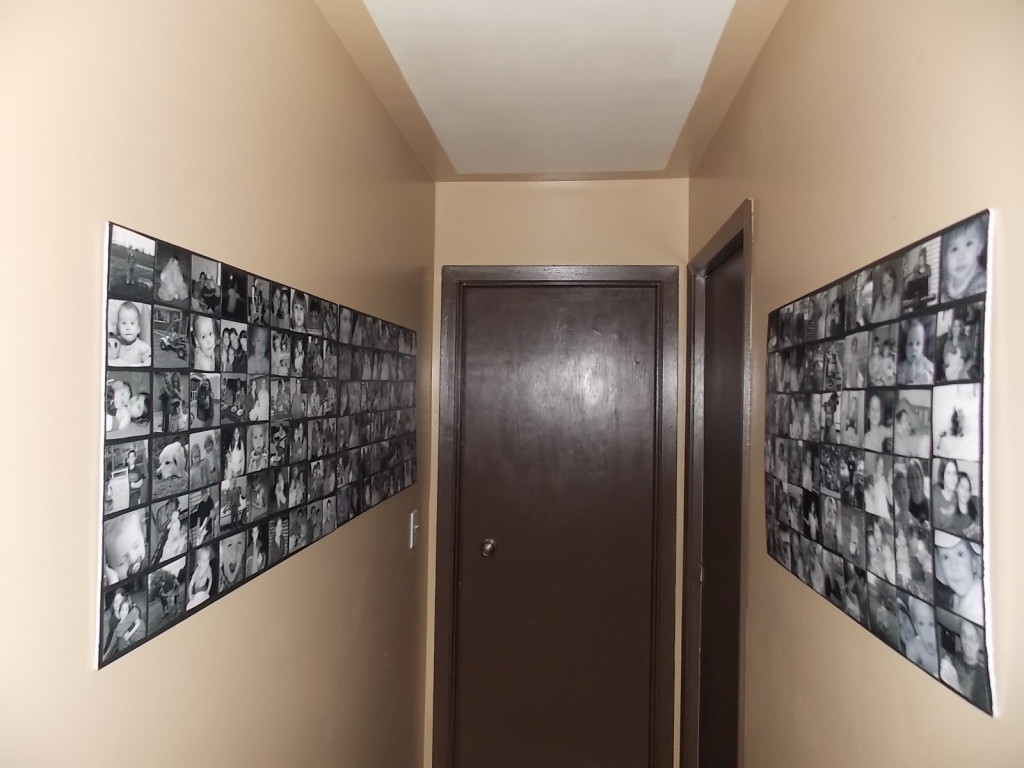 This is my favorite spot to stand and stare at all my beautiful babies faces.
I found the inspirational word plaques at our local Christian Book Store on clearance for around $4.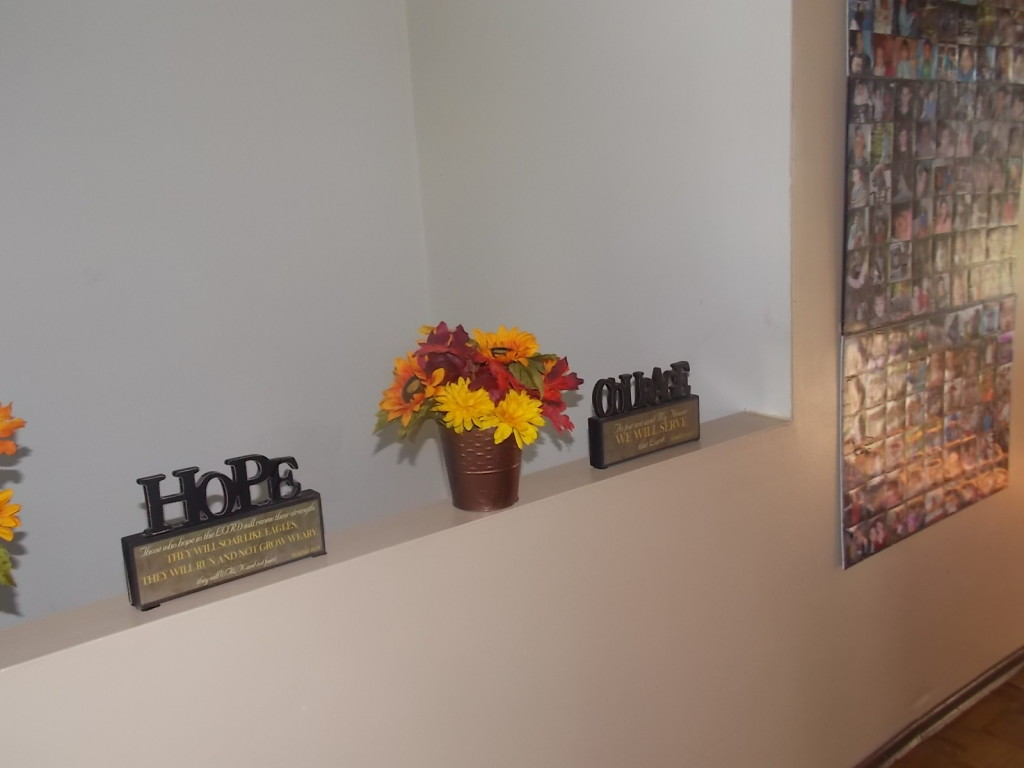 The flower pots I got at the Dollar Store and arranged some fall flowers.  I will be changing those flowers for every season.

Here are my winter/spring flowers.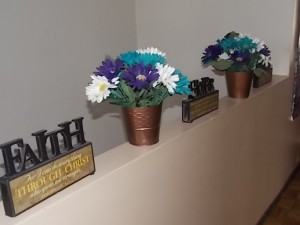 If you wonder how I get my plaques to not get accidentally knocked down over down the stairs— Velcro.  I use it to hang up all my pictures as well.  It is my new favorite way to hang things. We have only had one of the plaques get knocked off while we were doing a teen open mic at our house, someone accidentally knocked it over:)  But my children have never knocked them down.  Velcro the way to go!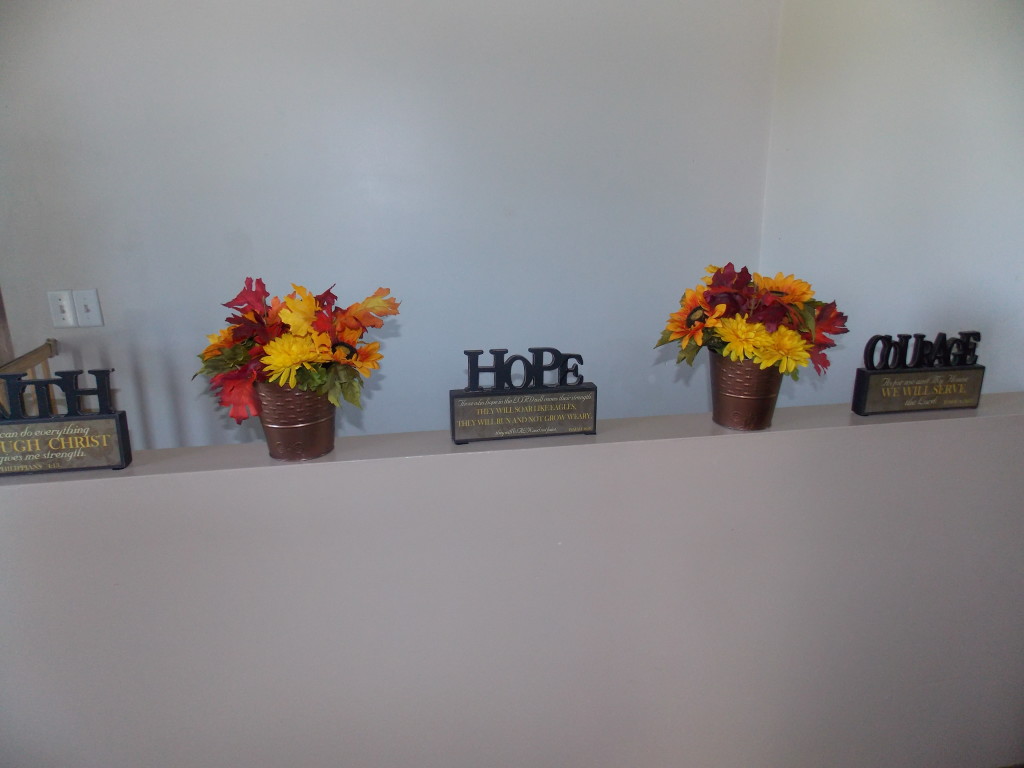 Also in our hallway, we have a front door closet. We rarely use it for anything but our major cleaning tools.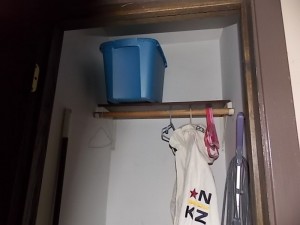 In it we keep our vacuum, steamer mop, broom and dustpan–hung on nail, 5 gallon water jugs–we get filtered water, and a plastic storage bin that we take with us when we go anywhere in the van.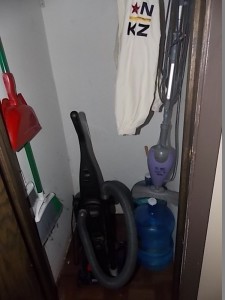 I put all of our items, like diaper bag, my purse, drinks, snacks, etc into this box.  When we leave the van I just grab the box instead of armfuls of stuff.  This closet will hold our extra coats that we have in the winter time or it is a place that we can hang guests coats.
**a note about vacuums.  Vacuums are something that we have owned many of over the years.  True, we never paid for a really expensive one like over $300 but who has money to spend that much on a vacuum??  When we did invest and spent the $150-200 on a better quality vacuum,we were shocked when it stopped working.  Frustration, well I had had enough. I finally went to Walmart and bought the cheapest one that they had–cost me $25.  Well I am happy to say that we have had the same vacuum for over 2 years now, and it is STILL sucking at the same rate that it did when we first bought it.  I realize vacuums are over rated.  Maybe I am wrong, but I will let you know in a few years from now if we still have it:) ***Note we just replaced our vacuum it is 9-2016.  This $25 vacuum has worked for over 5 years.  I only replaced it as the locking mechanism to make it stand upright or bend for when you push it, has broken.  I just bought a new one at Walmart and paid $36 for it.  The 2nd cheapest one.  🙂  We will see how it holds up.
Hallways all set.
Check out part 2  ……..the living room
Part 3….the kitchen
part 7 ….the little boys room/family clothes closet
photo attribution sweetclipart.com