Here is another large family food ideas for snacks…energy bites
This is something that our family enjoys very much.  Very simple, healthy ingredients.  I can't even feel guilty feeding it to my children because I know it is good for them. This also works great for those of us who are trying to lose some weight, because it takes away those "sweet" cravings that we have.  When I was losing my 70 lbs, there were times when I just craved junk food.  These energy bites were the key to helping me not gorge on something unhealthy.
This recipes makes about 175 golf ball sized bites.  We store these in our freezer and just grab one when we need a pick me up.
If you want the "smaller family" version scroll down to the end.
Energy bites
15 c oatmeal
6 c unsweetened coconut
5 c flax seeds
4 c mini chocolate chips
5 c (40 oz) peanut butter
5 c honey
Place the oatmeal in a large bowl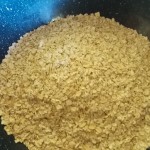 Next add the coconut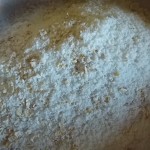 Then the flax seeds–you can use either type golden or the darker one…I have used both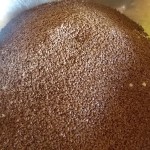 And the mini chocolate chips, you can add regular ones, the smaller ones make the balls more uniform.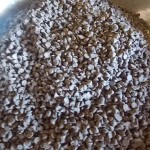 In a separate bowl mix the peanut butter and the honey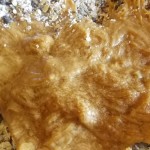 Pour the peanut butter/honey mixture over the rest of the mixed ingredients.  Stir until well combined.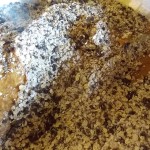 Here are the ingredients that I used.  I used a whole 40 oz jar of peanut butter.  Our honey I get from a local source and they sell it in 1/2 gallon milk jugs.  I used 1/2 of the container.  For next time, it is easier to just pour directly into the bowl, instead of having to measure sticky honey.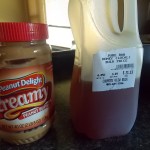 I purchase my items at a Mennonite bulk food store.  This is from the flax seed.  It was 1.5 lbs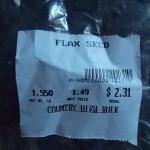 The unsweetened coconut was 1.3 lbs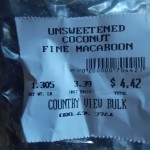 The mini chocolate chips was 1.75 lbs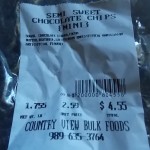 For the honey I used half of the container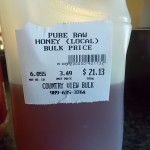 The oatmeal we buy in a 50 lb container and the peanut butter was purchased at Aldis.
Ok back to our energy bites……after you have thoroughly combined your ingredients, it is time to roll them into balls.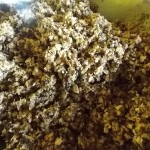 This works best if you just slightly dampen your hands.  Then grab some of the mixture and form it into golf ball size balls.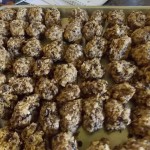 I put them on a cookie sheet and freeze them individually.  After completely solid, I place them in tupperware containers and store them in the freezer.
Energy bites for the "smaller family"
1 cup oatmeal
1/2 cup peanut butter
1/3 cup honey
1 cup unsweetened coconut
1/2 cup flax seed
1/2 cup mini chocolate chips
Mix as in above and store in freezer