Back in February, my daughter turned 18, my other daughter turned 5, and I turned 40.  We have a tradition that we decorate the marker board with a birthday message to the recipient.  Well this was the board this year.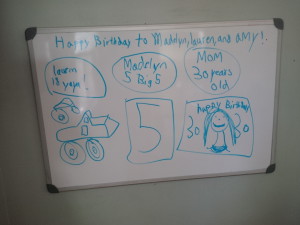 My children call me young even though I am 40.  40 hasn't been something I dread.  I didn't even blink.  My husband and I kind of joked about it, but I like that I am getting older.  I hope that my life is maturing and that I am learning new things and becoming a better person as I age.  I feel better physically at 40 then I did at 30.  Those were my baby bearing years and I had a lot of extra weight to carry around.  But now I can stay active and feel physically better than I did back then.   My favorite thing to do is get up in the morning and just when the sun is coming up I walk.  I walk down the mountain that we live on and walk back up it.  I did an elliptical machine for years as I lost my weight, but a few trips up and down that mountain are intense. A good workout.  When I do it consistently I may throw in a few jogs on my way up.  It is nice having that available right outside my house.  God knew before we moved that I would miss my exercise machine (because I couldn't take it with me) but he still provided me with even a BETTER way to get my exercise in.
This past year through some routine blood work, I noticed that my iron level was low.  Yes, it was my own fault by not eating enough iron in my diet.   I wasn't consciously noting what I ate as I was just busy and didn't want to take the time.  I did an easy trick and had bought raw,organic, grass fed beef liver from our local co op.  I cut it into chunks and would swallow one like a pill everyday for a few months.  I know sounds disgusting, but it worked.  By the way you don't even taste anything it was frozen and you just drink it down.
Then after a few months, I was like "okay I just need to consciously eat iron everyday."  I threw out the liver pills and embarked on eating something each day.  In the morning, I would grab some oatmeal, or granola and eat it.  If I was busy and didn't have time, I would grab a handful of cheerios and eat that.  Then I started just opening a can of garbanzo beans and leaving them on the counter to eat.  My youngest loves them and we grab a few as we walk by the bowl.  Then on my birthday we took the two girls out for dinner.  We love this good Chinese Buffet in Arden.  It is called Asiana.  It has something for everyone and is good.  Well there was another one in the town of Brevard called The Twin Dragon.  We decided to try that place out. I don't mind new places, but when you have your heart set on enjoying certain foods for your birthday and then you don't get it, it is disappointing.  At the Asiana restaurant they have little beef and chicken on a stick that they grill and it is delicious.  I love good steak bites when they are cooked almost burned.  It has good iron and I know I am eating something that my body needs.  At the Twin Dragon restaurant they had something similar where they cook it for you, but I sent my steak back two times because I tried to explain I wanted it well done, but it was still pink when I went to eat it.  So then that set me up for yuck!  Nothing tasted good after that.  The food was cold, things were overly deep fried, they had a huge selection but it did not compare to Asiana.  My advice to anyone living in this area…..stick to Asiana:)
Ok, now that I have made my restaurant review—not my intention……I am going to give them a positive.  They did have one thing that I went back and got a second plate of.  It was a Kale Asian Salad.  I had never had it before. I like to incorporate Kale into my diet as I know it is high in iron but it becomes blah when you just make plain salads.   This salad was delicious.  I knew I had to make it at home, so I did.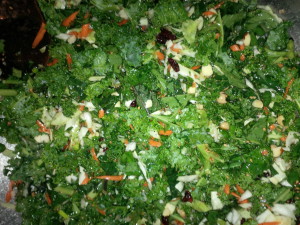 I had to go off memory when I made it at home.  This is what I put into my salad the first time:
kale, chopped up into small pieces
shredded cabbage
sliced almonds
green onions
a handful of cranberries
a bottle of sesame ginger Asian vinaigrette dressing from Walmart
It was my favorite salad of the week.  I made it on a Monday and would just eat bowls every night.  The salad stayed nice and I knew I was getting my daily iron in for the day.  Then I shared it with a friend and she recommended putting in some garbanzo beans for more iron.  Genius!!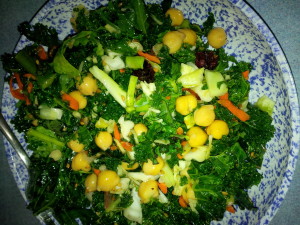 Then I came up with this.  Same ingredients but with a can of Garbanzo beans.  I actual add more shredded cabbage, I just had a small bag at home this day, but I normally add equal amounts of Kale and coleslaw shredded cabbage.  It is my new favorite salad. I have it made each week and I just grab out a bowl for a meal.  I have tried various brands of dressing all Asian sesame ginger type and they were all good.  I decided instead of spending the $3 to make my own:
1/2 cup olive oil
1/4 cup vinegar
2 T soy sauce
2 tsp garlic minced
2 T honey or brown sugar
2 T minced ginger
1 t sesame oil
water –as much as you want for the concentration.  I add more to stretch it, you may want less if you just want to drizzle it on your salad as you serve it.
An easy–good for you–salad.  That takes minimal amounts of work to prepare.  I usually buy the chopped Kale in a bag but they were out so I got a stalk of it and that was easier to prepare.  I usually chop the bag stuff again to make it smaller and it is hard to handle the pieces.  But when it is a stalk you can chop right down as small as you would like it.
Hope you enjoy this!  Take a moment to feel the sunshine on your face today, even if it is for a few minutes.  Sit, have a cup of coffee, tea, or favorite drink and relax for just about 10 minutes during your chaotic day.  Take a fifteen minute break and do a pedicure. Whats a pedicure Amy?!?!?!? I know I have been there, who has time to do frivolous things?  We should be.  Take 15 minutes, trim your nails, and give them a coat of polish.  Even if your still in your pajamas  nursing a baby.  Taking those few extra moments for yourself is worth it.  It gives you a little step in your day and we ALL need that. Be blessed as you go about doing what it is God has called you to do.
Amy