I have two young crafty girls.  They have depleted most of my craft box, creating numerous things out of glitter, paper, and popsicle sticks.  They just love creating things.   Having a large family doesn't leave me much time to make room for structured crafts.  You know those ones that require Mom, to be right next to them the entire time, to guide and direct them through their crafts?  I need ones that I can explain to the girls how to do it, and then walk away, periodically checking back to see if they need any help.  These following ornaments crafts are perfect, self directed ones.
This idea we got from our neighbor, she supplied all of the ingredients and my daughters loved making them.
Glitter bulbs
What we did first was to take our clear glass ornament bulbs and pour in some of this Pledge Floor care.  We swished it around inside the bulb and then dumped out the extra liquid.  My daughter then poured glitter inside of the bulb.  She turned the bulb over and over to spread out the glitter.  Then we put the caps back on and they dried.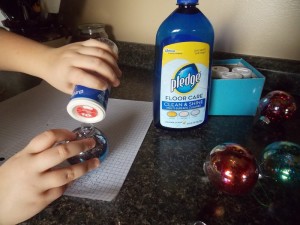 She even used two different colored glitters.  They look so pretty.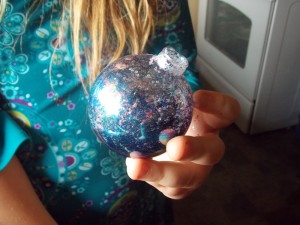 We had some extra glass bulbs and decided to fill them with foil tinsel.  We just took the caps off and shoved strands of tinsel inside the bulb.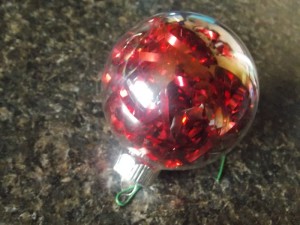 So quick and cute ornaments.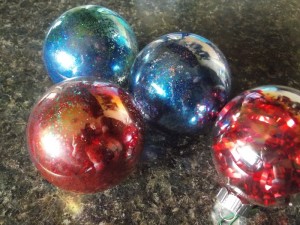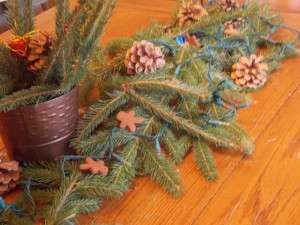 These were another, self directed ornament.  I mixed up the dough and then let the girls make themselves.  These smell wonderful among the pinery branches.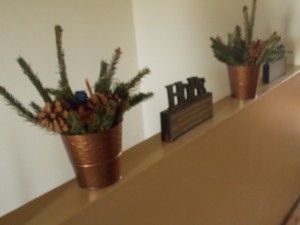 Glue ornaments
These were probably the most creative of all the ornaments we made so far. Again, very easy and self directed.  I layed a piece of waxed paper on top of a cookie sheet.  I gave the girls a bottle of glue and said make some shapes.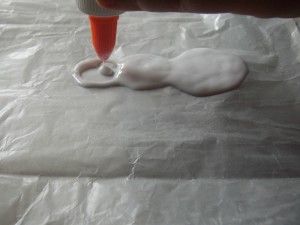 They made snowmen………………………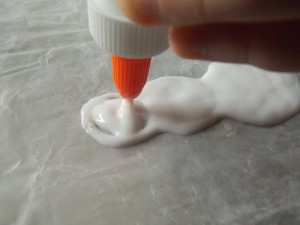 Be sure to fill in all of the body, you want mostly a solid figure.  They are easier to pull off the paper then unfilled ones.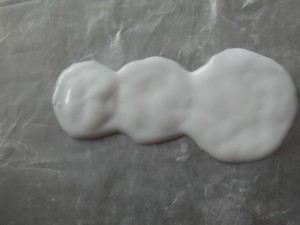 We also did some snowflakes too.  My daughters are glitter happy.  So we sprinkled glitter onto the glue.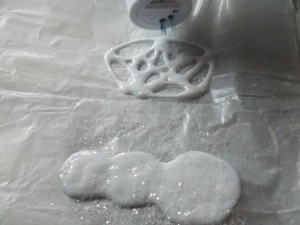 Make sure you make as solid lines as you can.  If you make too many thin lines, when you goto pull them off they break easily.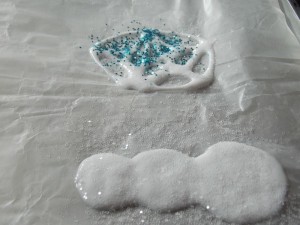 Here were some other snowflakes.  What you could do for a younger child, is draw out the shape onto the wax paper for them to trace with glue.  Then you let these sit.  I had mine setting for about 2-3 days in a warm room.  You can start peeling them off the paper, and if you notice that the glue is still wet, just wait.  Let them dry completely and then pull them off.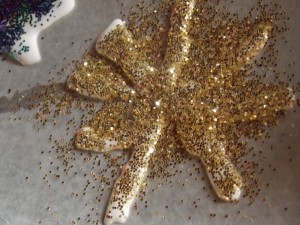 They make cute ornaments.  I had my daughter poke holes with Dads drill.  I know, not for everyone, but you forget Dad has a shop that the girls LOVE to work in.  But for the "normal" person, just paper hole punch a hole,or  use a pin to "dig out " a hole.  Here you can see the beautiful guitar and music note that they made for their siblings:)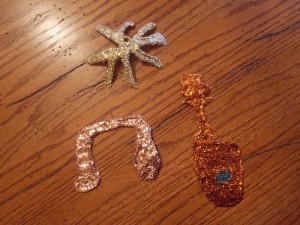 Very easy, self directed and inexpensive.