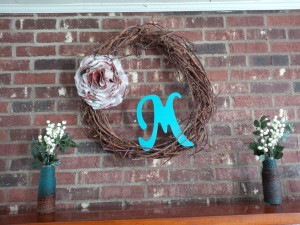 I have this space above my mantle that I have never quite figured out what to put up on it.  I kept looking for different ideas and watched while I was at my thrift store shopping, but nothing came about.  Then my friend gave me this grapevine wreath for Christmas and I filled it with greenery from the pine trees here in North Carolina.  Well I am used to pine trees from Michigan and they are a bit more heartier.  My pine branches were quite flimsy and did not fill my wreath up very well and within a week the needles were falling off!  Needless to say, my Christmas wreath was only around for a short time.  I do not like pine needles all over the house.  I like simple, after googling images of grapevine wreaths, I created mine.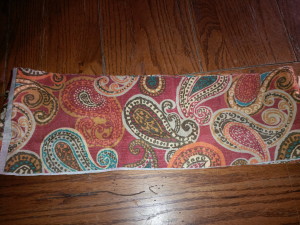 I started with leftover fabric from my bookshelf makeover to a benchseat and cut it into strips.  They were about  2 1/2 inches wide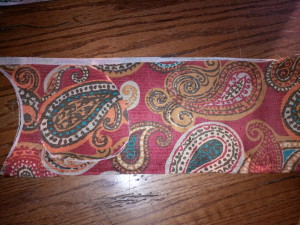 I then cut out circles.  Nothing perfect or exact just circle shapes:)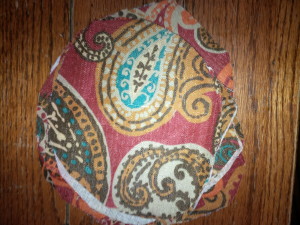 I had a big stack of them–about 40 rounds and then created this.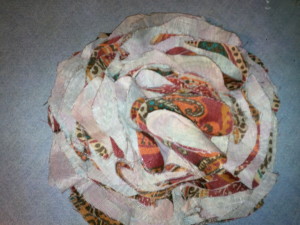 I didn't do step by step  photos—but here is the site where I found how to make these. Very easy and simple.  I decided to do mine with the wrong side of the fabric showing more because I wanted to see it better on my darker colored mantle.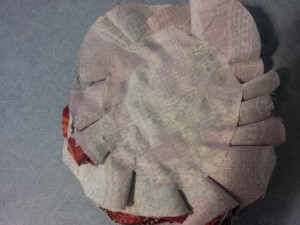 Here is the back view of it.  We made fabric hair bows like this one time too for Christmas gifts.  Was easy and immediate—my qualifications for a DIY project.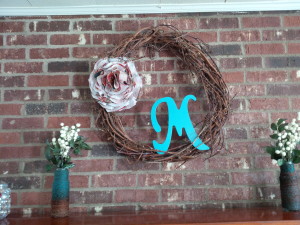 I then had my husband cut out our initial on his machine and I spray painted it with leftover paint used on my bookshelves.  There was no nail holders in the brick, but up on the top moulding there was a tiny nail.  I took some fishing line and tied it around the wreath and hung it down from that.  I hot glued the flower and the letter to the wreath.  Simple and easy.  I can easily pull off the flower bow and change it for seasons if wanted.  I will definitely invest in "fake" greenery for next year's holidays:)
If you have some leftover scrap material try making these bows, very cute and easy to do.  Be blessed today.