We had my daughters sweet sixteenth birthday party this past week, thus the reason for me being non-existent online.  We did a birthday party/open mic night at our home.  Once a month my teenagers do an open mic night at our home anyways to help encourage others in their pursuit of music ministry and this happened to be at the same time as our scheduled open mic.  It was a great turnout, fun gathering of friends and family.
We did a Mexican buffet for food.  It included:
nacho chips
nacho cheese
rice
fajita chicken meat
taco hamburger meat
refried beans
lettuce
green peppers
tomatoes
pico de gallo–homemade delicious!!
guacamole–homemade delicious!!
salsa
sour cream
ranch
black olives
We had coolers filled with cans of pop and bottled water.  We used snow to keep the drinks cold.  We have plenty of that in the North here:)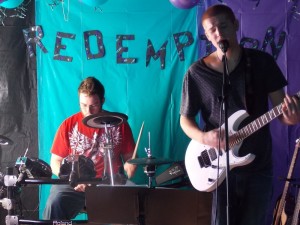 This is my teens band–Redemption.  They really know how to rock it.  They did a great job.  Then after they play their songs, they open it up to any teens that want a chance to play.  We had quite a few talented teens show off their skills.  It was a fun night.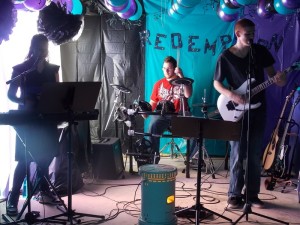 To decorate the walls of our basement, we bought 20 plastic tablecloths from Oriental Trading.  Her colors were black,white, turquoise, and purple.  So we alternated around the room the different colors.  Over the candy buffet we hung 4 tablecloths on top of each other.  Then we cut through the top three of them about 3/4 of the way up and then braided them about 3 inches down.  It gave the walls a really cute backdrop.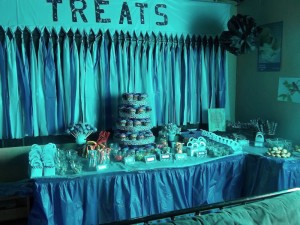 We had fun making our candy buffet.  You can view how we did it here.  We also made a cupcake tower for the 100 cupcakes that we had.  You can view how we did that here.
Since our basement is not finished my goal was to cover every square inch with party decorations.  We got all the walls covered with the tablecloths, but the ceiling was next.  I ordered 350 balloons from Oriental Trading and we blew them all up.  Yes we did!!!  It wasn't as bad as I originally thought it would be.  I gained a small blister from tying them, but we did it.  We used fishing line to string the balloons onto and then stapled gunned them to the rafters.  We then hung icicle christmas lights in between the balloons.  It gave it a pretty glow.
We also made about 20 tissue paper poms.  Hung those with fishing line.  You can view here how I did that.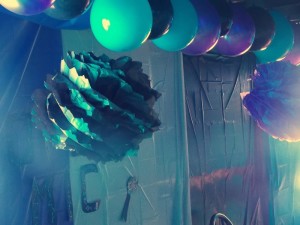 We decided to make a photo booth for all of her friends to take crazy pictures.  We made a picture frame out of 2 layers of posterboard with dowels hot glued in between them to make it sturdy.  We then bought Dollar store props.  Glasses, hats, feather boas, big glasses, hair extensions, etc.  We made sure to keep the colors with the theme of the party.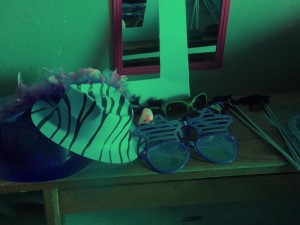 We decorated the photo booth with the same backdrop as the Treats table.  So simple to make and looks great in photos.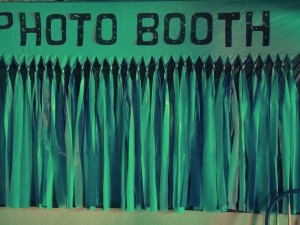 I apologize for the dim color on these photos.  The windows were covered in tablecloths and it gave the room a bluish/purple glow and I did not change my camera settings.  We wrapped tulle strips around christmas lights to wind up the basement poles.
As you can see we got creative when it came to seats.  We took out all of our 15 passenger van seats!!!  People loved them!!  Thank goodness for a large family:)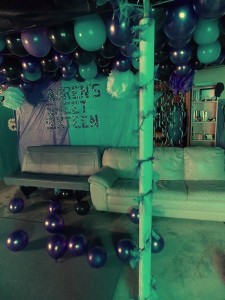 Here are more of the balloons with fishing line.  My son did a great job of patiently stringing those all up.  Thanks Collin.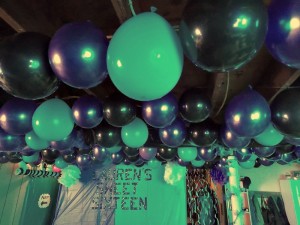 We cut out letters from black posterboard and then covered them in blue and purple glitter.  We made the following signs:
Lauren's sweet sixteen
photo booth
treats
open mic
party's this way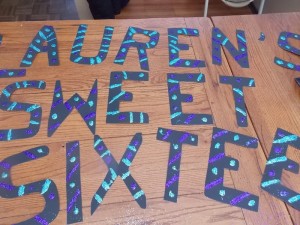 I cut the letters out of scrap paper first and then cut them out of posterboard.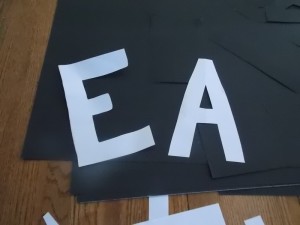 The little girls had fun decorating them.  Glitter, glitter, everywhere:)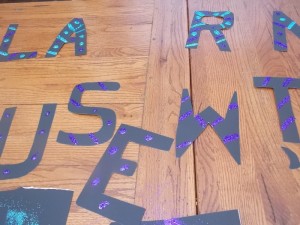 We actually made the rest of these words downstairs on the basement floor, which made most of the glitter get on the unpainted floor.  It looked really neat with the christmas light reflection and the bits of glitter on the floor:)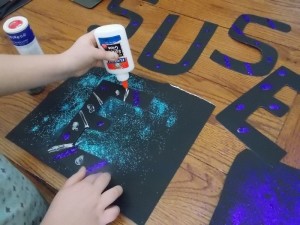 what a great time that we had.  It was a long day but a well worth it party.  I think all my little ones enjoyed the candy buffet the best, I just kept seeing them run back and forth to picking up a new piece of candy:)  Definitely a once in awhile party.  But we did it inexpensively.  Made all the decorations ourselves, made all the food and most of the treats ourselves.  It made it a budget friendly birthday that turned out to be special.
Happy Sweet Sixteen Lauren, excited to see what the Lord has in store for you!!