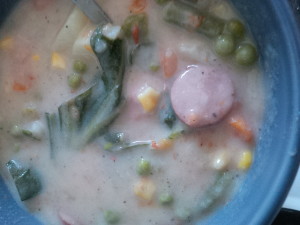 After moving down to the south, my husband kept saying, "you should embrace some southern recipes."  Now knowing my husband, he was referring to deep fried foods.  I even saw deep fried pickles at the store?? Interesting. Well as a wife who cares of her husbands health,  I avoid deep fried anything.  But I noticed that they sell collard greens very inexpensively at the stores.  I started looking up collard green recipes.  I came across multiple soup recipes and have tried a few, but I came up with my own rendition and this suits us great.
The first one we did contained northern beans and it looked like this.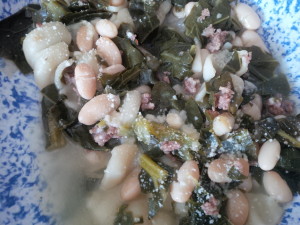 What I did for this recipe, was to fill a pot up with chicken stock.  If you don't have that you can use bouillon cubes and water mixed together.  I added an onion chopped up as well as a few spoonfuls of minced garlic.  I let this come to a full boil and then added my 2 cans of northern beans.  For my thickener, I added mashed potato flakes.  I add a cup at a time, until my favorite consistency.    I then added one bunch of collard greens, that I chopped up into bite sized chunks.  I let it simmer another 1/2 hour and then served it.
When I served this, I sprinkled some parmesan cheese over it. I enjoyed it very much, but my children were less than thrilled.  Especially with all the new "green" stuff.  I had to switch it up a bit.
I came up with this: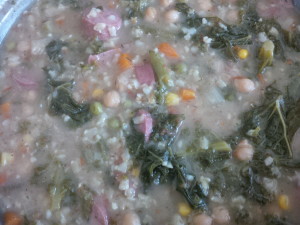 I started out with the same pot of chicken stock, added an onion, few scoops of garlic and a package of mixed frozen vegetables.  I let that cook for about 20 minutes.  I then added some beans, I actually had Garbanzo beans on hand and added those.  Whatever you enjoy.  We cut up some smoked sausage and added that as well.  I did the same thing for the thickener—used potato flakes. But I mixed it with some milk before I added it.  Equal amounts—-2 cups milk, 2 cups potato flakes—then whisk it in.   I added pepper this time, to make it a little more spicy.  After at a good consistency I added a package of cut up collard greens.  I put in the entire big bag.
This made a big batch of soup, I was able to freeze it into containers for later on.  I actually got the collard greens cheaply,because they were going bad, so I made soup that day and froze it for later.  Whenever we want soup, we just heat and serve.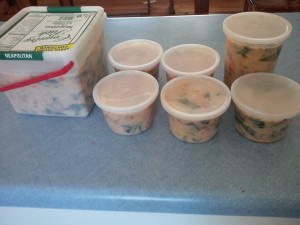 I have found that my children actually enjoy this kind.  Yes, I have those that still dislike the collard greens, but most of them will eat the majority of their soup.  It is a keeper and a new regular rotation in our food menu.