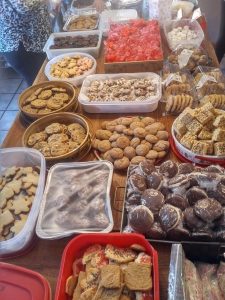 Last weekend, we enjoyed our annual Christmas cookie exchange.  It was a good time to invite everyone that you might only see a couple of times a year or just in passing.  This year was great because we had such a variety of women from all over our area–each one has made a positive impact in our lives in some shape or form.
I had everyone bring 5 dozen of the same cookies.  We ended up with 20 women so we each got to take home 3 of each kind.  This gave us a great variety when we were finished.
I also had everyone bring an appetizer and we enjoyed a nice afternoon lunch.
We played a couple of games.
Clothespin game—gave each lady 5 clothespins when they first arrived.  If you heard someone say "cookie" or "Christmas" you got to take their clothespin.  The person who had the most received a prize.
The best Christmas tree–I gave each woman a piece of green construction paper and some foil stars.  They had to put it behind their backs and tear a Christmas tree and decorate with the stars. We then voted on which one was the best.
We also placed various number of jingle bells in 3 identical boxes.  They had to guess which box had the least, the next, and the most.
We then wrapped gifts up multiple times.  We added layers of paper, placed them in boxes, used lots of tape, etc.  I gave a couple ladies oven mitts to wear and then we gave them the presents.  The person next to them had a pie tin with a pair of dice.  The person with the mitts on had to start unwrapping the present until the person rolled doubles.  Then they passed the present to them and the person who had the dice got to unwrap and the person next to them got the dice.  We continued around the circle until they were all opened.
I also had some questions printed off like…if you had unlimited funds, who would you give a present to and what?  If you could only play one christmas song for 24 hours which one would it be?  Questions like that.  This was our ice breaker and how we introduced everyone to each other.
Here is another game called "pick a side" that is fun to play.
Then it was time for cookies: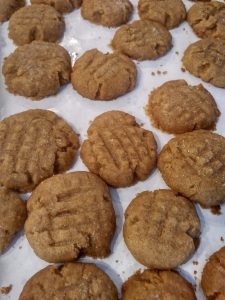 Jadyn made our peanut butter cookies.  These are super simple and I made them back when I took home economics in 6th grade!
Brooklyn made molasses cookies.  These are always a great treat to make and eat with a nice cup of coffee.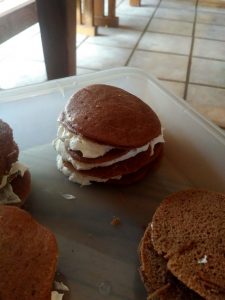 I made a batch of whoopie pies and failed on them—the first time around.  They were too flat.  So we turned them into a dessert. My girls layered the pancakes cookies with cool whip and that was a treat!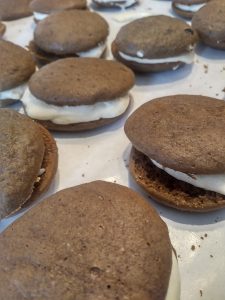 Then I got them right the second time around.  I haven't made these in years.  They are like a Suzy Q treat—remember those?  You can click here for the recipe.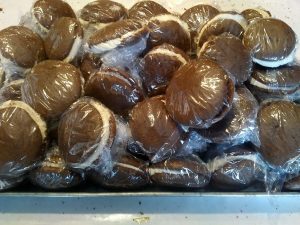 You have to wrap them all individually so they don't stick.  Then you can put them in the freezer and eat whenever.  They are delicious and once you make them, you have tons:)  I got the recipe from some Mennonite friends years ago back in Michigan and I was reminded about them from a new Mennonite friend here in North Carolina –thanks Karen:)
This was one of the only photos I got of the ladies. There were more  people elsewhere in the house—but it was busy—so no photos:)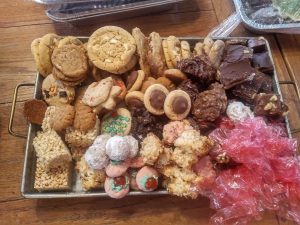 This was what my tray of cookies looked like when I received them.  They are all so yummy!