This meal is super easy to make and tastes delicious.  At about $.50 a serving not bad for a quick meal.
You will need the following to make sausage, beans, and rice
pkg smoked sausage

2 cans diced tomatoes
2 cans chilli beans
2 -8oz cans of tomato sauce
2 lb package of rice
these spices are extra if you cannot afford them leave them out but if you have them, they enhance the flavor immensely.
1/2 chopped onion
2 stalks celery diced
a teaspoon of each basil and oregano
First take your smoked sausage.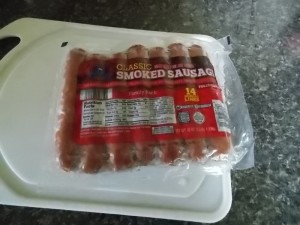 Cut it into chunks and then place it in your skillet over medium heat.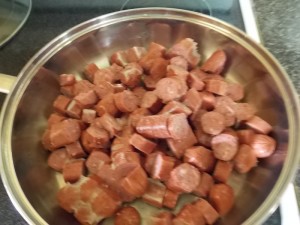 Time for flavoring. You can cut up half an onion and add to skillet.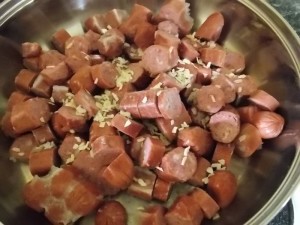 Dice up 2 stalks of celery and add to your skillet.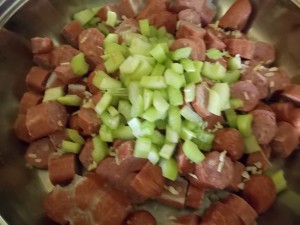 Continue cooking over medium heat until your vegetables are soften.
While that is simmering, you can make your rice.  We usually eat brown rice, we have 5 gallon buckets full in the basement.  But we were given this rice and decided to use it, was very good with the meal.  We mixed up the whole bag according to package directions.  The secret to non sticky rice is to not stir it once it is boiling.  Do a quick stir when first mixing it with water and then after that just put the lid on to simmer and leave it alone until serving time.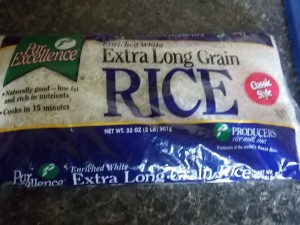 After the meat and veges are cooked, add your 2 cans of diced tomatoes, 2 cans of chilli beans, and 2-8oz cans of tomato sauce.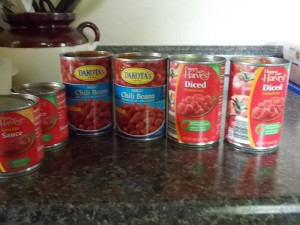 I like to add a teaspoon of oregano and basil, but skip this step if you do not have it.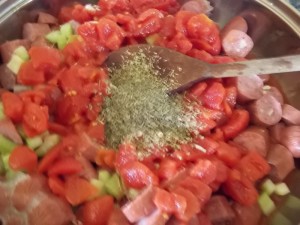 Stir until combined and continue cooking over medium heat for about 5 minutes.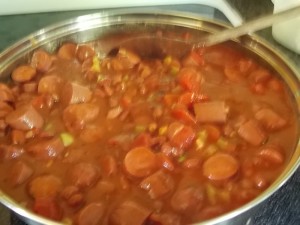 Serve over rice–delicious.
This recipe is enough for two meals for our family.  You can freeze the sausage, beans and tomatoes mixture if you were not able to eat all of it at a time.
bag of rice $1
sausage $4
2 cans diced tomatoes $2
2 cans chilli beans $2
2 cans tomato sauce $1
total cost about $10
total servings 20
cost per serving $.50