We planted our garden this year about 2 weeks after the "normal" start date.   We haven't been able to enjoy our produce just yet, except for one zucchini we did get.   My neighbor has a wonderfully huge garden and blessed us with some of her "extras."
What we did was make a cabbage vegetable soup.  Easily made out of tomato juice, chicken bouillon, shredded cabbage, a bag of frozen soup vegetables and of course zucchini.  We make a big pot of this and then I freeze it into individual containers for a quick and easy low calorie lunch for myself.
The other thing we tried this year was zucchini chips.  They were delicious, tasted like a french fry says my children.
First I sliced the zucchini in my food processor.  Note you don't want them paper thin or they will stick to your pan, not too thick or they will take hours to dry.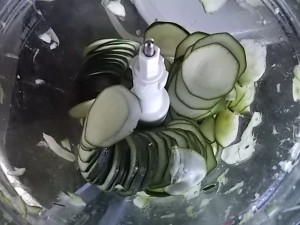 I then sprayed my cookie sheet with olive oil, and then laid the slices on top.  Sprayed them again with olive oil spray and a sprinkle of salt.  You can use garlic salt as well.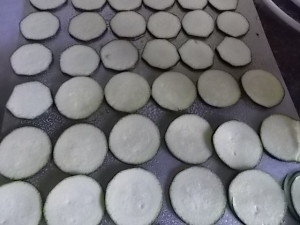 Dry in the oven on 275 for about 2-3 hours until slightly browned.  Then serve.  Delicious! I can't wait for our gardens abundance of zucchini so that I can make more of these.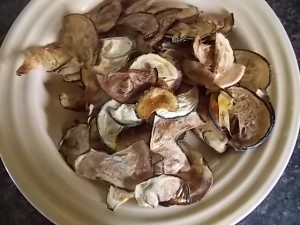 A healthy alternative to potato chips.