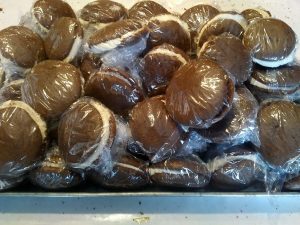 Cream together:
1 1/2 cups shortening
3 cups sugar
3/4 tsp salt
3 tsp vanilla
3 eggs
Mix together in measuring cup 1 and 1/2 cups hot water and 3 tsp baking soda.
Mix in a bowl:
6.5 cups flour
1 cup cocoa
In another measuring cup make some sour milk.  Add 1 and 1/2 cups milk and 1 T of vinegar. Mix and let sit for couple of minutes.  This will make it sour.
Then alternately add flour mixture, hot water mixture, and sour milk mixture altogether with the creamed mixture.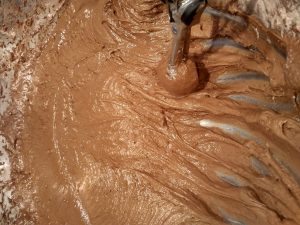 If not thick enough, add more flour.
Drop on cookie sheet and bake 335-350 for about 15 minutes.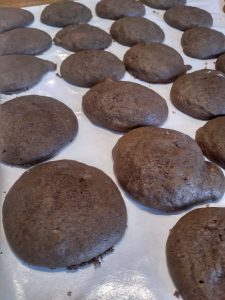 For the  filling:  Cook 2 cups milk and 6 T flour on the stove over medium low heat, whisking constantly until thickened.  Remove from heat and cool.  Cream 2 cups sugar, 2 cups shortening and 2 tsp vanilla.  Then add the flour mixture and finally 5 cups powdered sugar.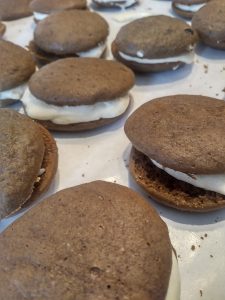 Frost the bottom of one cookie and place another one on top like a sandwich.  Wrap each one in plastic wrap and freeze.