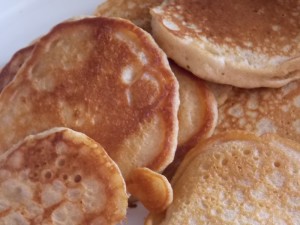 Something around our home that we can make that isn't too costly is breakfast for dinner.  With 15 laying hens we almost always have eggs that need to be eaten up.  Once a week we make breakfast for dinner meal to help with this endeavor.
This recipes has been proven to be our favorite so far.  We make it times 6!!  yes you saw correctly times 6:)  That allows lots of seconds, and thirds, and plenty for next day snacks.
1 1/4  c white whole wheat flour
3 tsp baking powder
3/4 tsp salt
2 T sugar–we use raw
1 c milk—we use powdered mixed with water
2 T oil–we use coconut oil
1 egg
Mix all the ingredients together and then delegate the job to a responsible child and let them creatively make pancakes on your griddle.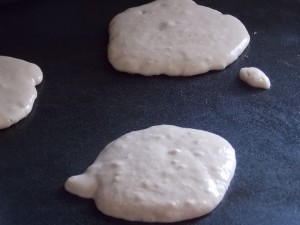 Sometimes they come up with some great shapes, but not today.