For those that do not know me personally, I don't like clutter.  I watched the show "Hoarders" and it made me cringe.  I don't like stuff.  Too much of it is such a waste.  You will find me cleaning and weeding out my house 3-4 times per year.  Having a large family, I find that things do accumulate and unfortunately things do get messy most of the time.  I try and be organized but I realize that there is always room for improvement.
Well this past spring I went through and painted our entire house.  It has been 5 years since we have moved into our home and we painted the rooms when we did move in.  But with 10 children, walls get scratched, paint gets dull it was time to freshen up the place.  For about $100 I was able to repaint our entire house.  I decided to go with a more neutral color this time around, the first time I used lots of colors and then found when I needed to touch up something, my paint was usually gone and I didn't want to go spend $20 for a new can.  This time I used the same color in multiple rooms of the home and it has given it a nice neutral, warm feeling.  I went with browns–dark brown for the trim, and a lighter tan colored for the walls.  Anyways with all that new paint, I decided to redo my wall decorations.
I haven't had much on the walls, because I have had so many little children in the last few years, who has time to decorate their house when they barely have time to get a shower each day.  Well this year things are seemingly getting easier, my youngest is 1 now and life does get better.
I found that within my day, I write multiple to do lists and have different notes and papers for the children.  I was so tired of having them all over my counter space in the kitchen.  I decided to make these clipboards to hang on the walls, out of the way.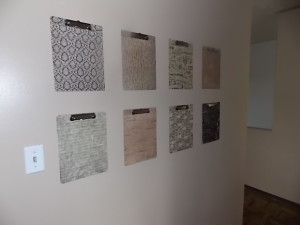 Each clipboard is designed for each person that needs a note.  I have one for 8 of my children, as the littlest ones do not need one yet.  It was so simple to make and cheap too.  I put it together in an afternoon.
For the project you will need
a bottle of modge podge $8 –I used about 1/3 of the large bottle
clipboards to hang $1
scrapbook paper to cover the boards $.25 on sale at Hobby Lobby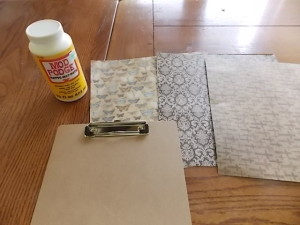 First you need to cut a pattern out of your paper.  I lined it up to the clipboard and cut out the rectangle to fit.  Then made a pattern to see how to cut the top to fit.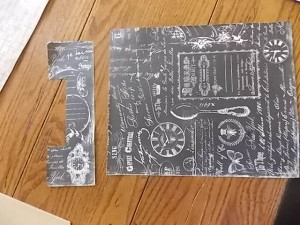 I put the Modge Podge in a bowl and wiped a layer onto the clipboard.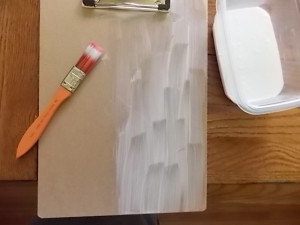 Cover it completely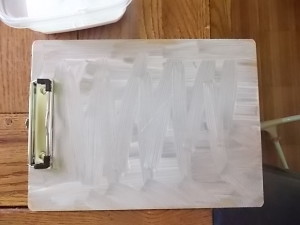 I then put the top piece of paper on and smoothed it.  
I then put the large square piece to fit the bottom.  I had to put some more Modge Podge at the top over the fitted piece.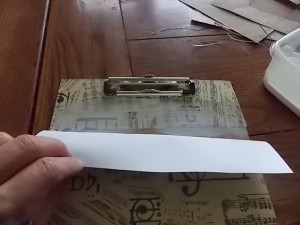 Smooth out the wrinkles as best as you can.  I found the lighter scrapbook pages did bubble up and show a little more than the darker colored ones.  When the Modge Podge has completely dried, about an hour, turn the clipboard over and trim the excess paper with small pair of scissors or a very sharp exacto knife.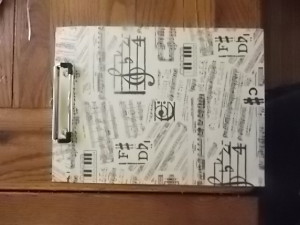 Then apply 3 coats of Modge Podge onto the top of the clipboard.  Let them dry in between coats, I did them about one every hour.
Then when completely dry, overnight, I hung them up.  How do you hang up something that has no hook?? Velcro. I applied 3 small squares to each  clipboard and stuck them to the wall.  Genius.