This is something I should of posted many months ago.  But when life gets busy, blog posts get left behind.  But I did want to document it, because it is something I may want to reference sometime in my future.
Valentines Day is Madelyn's birthday in our home.  I decided to make it a point this year and plan some form of a real party for each of my children.  What I mean by "planning a party,"  We have many birthdays to celebrate and sometimes life just gets busy and a birthday will come up and we just go do something. Especially if it is near a holiday or we are really busy at that time of year.  But this year, I wanted to make sure that every child had games, and decorations.  Just a small goal of mine:)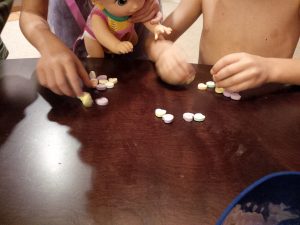 For one of our Valentine birthday party games, we stacked conversation hearts.  You try and see how many you can stack in one minute.  If it falls over, you keep stacking until someone says "Stop!"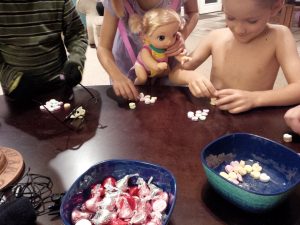 Another game we played, which I don't have photos for because….life:)  Was to have each child wear a pair of winter gloves and then you give them a wrapped Hershey kiss and they have to unwrap it as fast as they can.  You should do it in a relay style race, but my little ones didn't want to get that concept, so we just did individual.
We always do a pin the tail game as well—again no pictures:)  Jadyn made a Ms. Valentine and we had to pin the lips on the Valentine. They always love that game.
We then just improvised some games and did charades.  I will probably for the next birthday, print off some simple things to have them act out. They all laughed and thought this was the best game.  We acted out movies, things, places, etc.
We also did a get together at our local library with our homeschool group.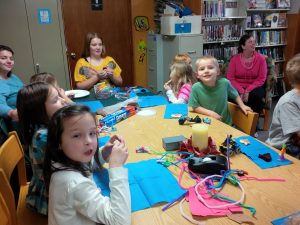 We brought a bunch of craft items and let the children make heart beads, pipe cleaner people, tissue paper crafts, whatever they wanted.  It was a "create your own Valentine craft."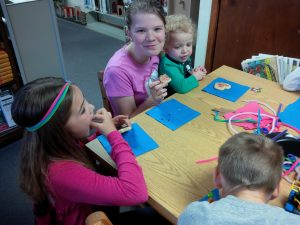 We then had heart shaped cookies and frosting.  Always a treat. We also made some Jello jigglers.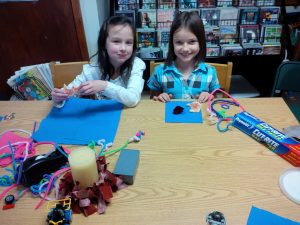 Some games that we played were famous pairs.  I would say "peanut butter" and the children would have to guess the pair.  Answer is jelly.  Some others we said:
eggs and bacon
Mickey and Minnie
Barbie and Ken
crackers and cheese
Batman and Robin
Fred and Wilma
Chip and Dale
Chips and dip
King and Queen
ice cream and cake
socks and shoes
spaghetti and meatballs
peter pan and wendy
macaroni and cheese
Donald duck and daisy
miss piggy
Tarzan and Jane
romeo and Juliet
Cinderella and prince charming
Adam and Eve
We had them shout out others that they could think of as well. It was a fun way to stimulate their brains:)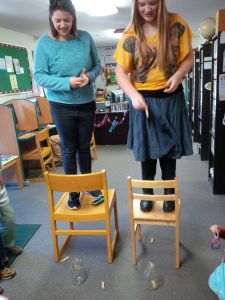 Then we did the clothespin drop game.  Any one do that when they were a child?  Take a mason jar and clothespins and see how many you can drop into the jar.
Sometimes it is harder than you think.  We stood on a chair to make it more difficult.  We gave everyone 5 clothespins to drop.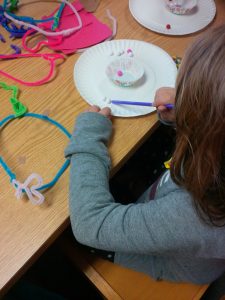 Then our friend Summer, came up with this game.  She had the children glue a cupcake liner to a paper plate and gave each of them a pack of Sixlets.  They are like mini round M&M candies.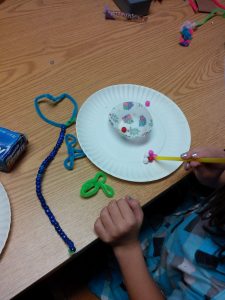 They then had to use a straw and suck up the candies from the plate and place them in the liner with no hands.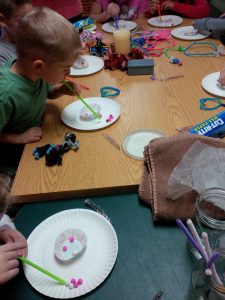 The children did a good job! We did it a couple of times and then they got to eat them.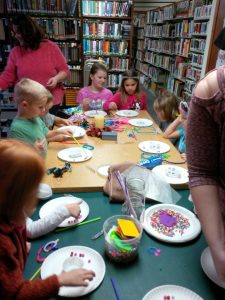 We had a great time with our friends for Valentines Day.  We then exchanged Valentines with each other.  The mom's were creative and gave out applesauce and goldfish with cute labels that said things like "you're a great catch!" on the fish bag.  I thought giving treats with labels was a great idea–next year:)  As always, we have a great time with our friends.
Thanks for reading my post of our Valentines fun in April:) Be blessed today!