Having a large family, we do things a little differently than most.  When you need something, you just make do with what you have an figure it out.   When we bought this home, the only thing that was missing was a closet space for the five girls.  There was a large office -type room that they all sleep in downstairs and that works great for holding the quadruple bunk beds and a loft bed for my older daughter, but no space for clothing.  We went back and forth on what we were going to do for the clothing issue.  I didn't really want to be looking at hanging clothing downstairs as it is our entertainment area, so we came up with this option.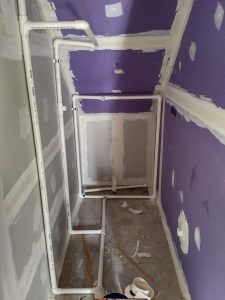 This area is under the stairs.  It was an unfinished spot so we decided to transform it into the girls closet.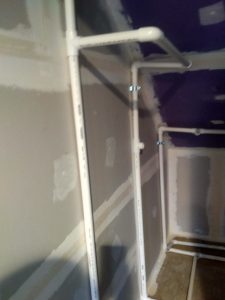 We mudded all the corners and holes—is that what you call it?!?!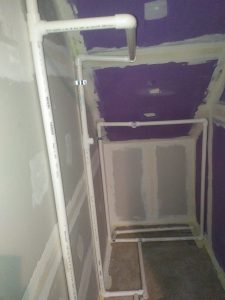 Then we made a PVC hanging rack for each girls' clothing.  We attached it to the wall with bolts from the other side–as it is the garage and cemented the tubes together.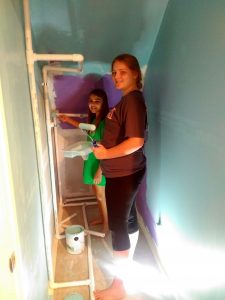 Then we went to work.  Remember I had that big gallon of turquoise paint that I used for my pantry and laundry closet.  We had just enough to finish this closet as well.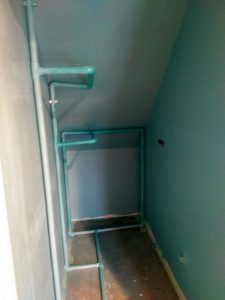 As we were working, I decided to paint the tubes as well.  We actually had some turquoise spray paint and that is what we used for the part where the hangers slide across. I knew that would withstand scraping better than the latex paint.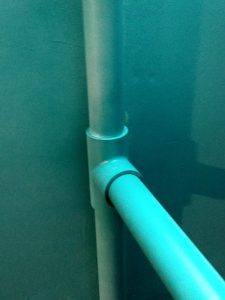 Word to the wise…..make sure to close the area you are spray painting….it travels long distances in the air?!?!  My husband did it and then as we were walking on the wooden floors, I was wondering why our feet were so blue, yikes!!!  We steamed mop real quick:)  So keep the door closed or cover the area with a sheet.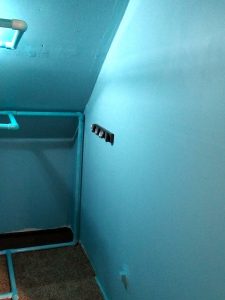 This was the finished room.  The pictures don't look so well as there is no lighting in this closet.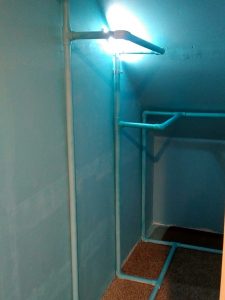 We use a sensory light wand that I bought off Amazon for around $10 it turns on as they come into the closet.  I recharge the batteries usually every two months.  Then on the opposite wall we placed these LED lightswitches that turn on like a lightswitch.  I found them at Harbor Freight and they cost around $4.  Super bright and amazing.  We bought two and placed them on each end of the closet.  The floor has leftover carpet squares from their bedroom.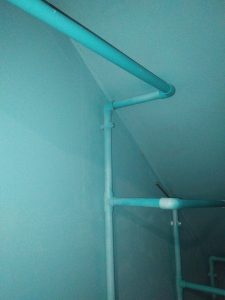 The tubes are connected and tight.  We didn't do this at first and of course, clothing would fall off every once in a while….cement them:)  It looks white in the photo, but it is just the bad lighting.
Each girl has her own "tier" from the oldest up high to the youngest, down low.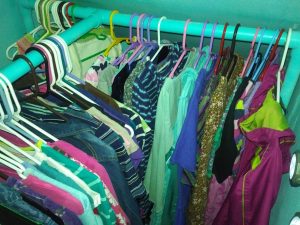 These are the two youngest girls spots.  I hang clothing that they don't use as much in the back left hand side .  Any clothing that doesn't fit or is out of season, we put in plastic storage bins up in my bedroom closet.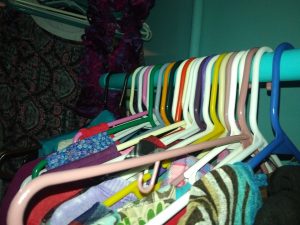 They only hang their shirts and dresses in here.  They each have cloth storage bins that they use to store in leggings, underclothing, socks, pjs, etc.  I have that outside of this closet and it looks like a piece of furniture but holds a lot of clothing and shoes.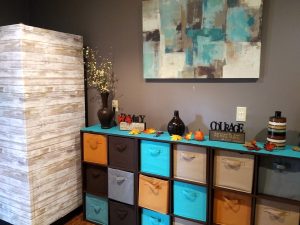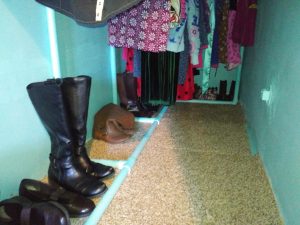 Under each girl's spot they can store their nicer shoes and boots.
It works!  We use what we have and make it happen.  The PVC pipes are inexpensive and work great as clothing rods.
I hope you are all having a great day today, I am off to finish up our once per month shopping and then I will be home to make our once a month freezer cooking day.  I can't believe it is already that time again:)  Have a blessed day!