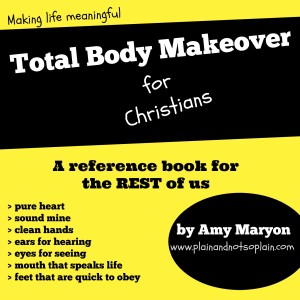 One of my favorite bible verses is Psalm 24 and it states:
Who may ascend into the hill of the LORD? And who may stand in His holy place? He who has clean hands and a pure heart, Who has not lifted up his soul to falsehood And has not sworn deceitfully. He shall receive a blessing from the LORD And righteousness from the God of his salvation.…
If I could figure out how to play" Give us Clean Hands" in the background, I would. But I am not that technically savvy.  You are going to have to look that song up, if you don't know it already.   Anyways…..
What exactly is meant by having pure hands? It can mean a number of things, but it ALWAYS goes along with having a pure heart.
As Christians we do things with clean hands because it will be seen by others.  But having a pure heart with those  actions VALIDATES it as it is seen by God.
Clean hands will do right things in front of men, BUT a pure heart will do them for the right reasons.
Clean hands are our actions towards others, BUT having a pure heart is our motivation.
Having clean hands is what we do as Christians, BUT having a pure heart is WHY we do it.
Having clean hands expresses our care, BUT having a pure heart is what EXPRESSES our character.
It is important to have clean hands in all that we do.  Our job on earth is to do the will of the Father.  God's motives are pure.  We are to glorify God with our actions.  How are we going to be an example to the world around us, if we do things deceitfully or with our own motives?
We can't walk around worried about what others may think.  We need to ONLY do what it is God has us do.  We then leave the rest up to God. It isn't our worry, it is His.  God says to place all of our worries over unto Him.
1 Peter 5:7

Casting all your anxieties on him, because he cares for you.

Are we doing that?  Or are we so concerned about what others think and that is our motivation for doing things?  We are doing this series so that you can evaluate all of the different areas of your life that we need work on.  We do it so that we can get more lined up on God.  We don't do this stuff because we WANT to.  No, we would rather do what WE feel like doing.  We are doing these changes so that we can get lined up with God and receive His anointing.  God's anointing is the Holy Spirit.  We WANT the Holy Spirit to be evident in our lives so that we can receive clear direction, help, guidance, and discretion to make the right choices for our journey.
For myself, when I wasn't walking right with the Lord, I didn't have the anointing of the Holy Spirit in my life, I am like "what is that?"  I would listen to preachers who would speak on receiving God's anointing.  In my mind, I was offended—wrong thing to do!  My thoughts turned to, "Oh they are doing this for the money."   What is the first thing that Satan does as soon as the seed is planted???  He comes to steal the seed.  That is exactly what he tried to do.  For myself, I am not a preacher, I am not even an evangelist, I am a Mother of lots of children.  But I have received God's anointing and walk with it daily.  It guides me and I would NEVER want it any other way.  It has completely changed the way that I live my life.  It affects every area and it is awesome!!!  I am not saying this because I want money, my blog is FREE, I don't have annoying pop ups, I don't have advertising, I try and make it about God.  I let Him bring me the money I need to continue with things and He does.  I write this stuff because it is part of my life.  I have always wanted to help others but wondered how could I do that in my situation in life.  Well God provided a way and it is through this blog.  I am thankful to be able to share what it is that helps me get through my life.  I get excited and want to share that with others.  Because I know how much it is CHANGED MY LIFE FOR THE BETTER.
Evaluate your actions, are they done for God or for yourself?  This part goes hand in hand with having a pure heart.  If our heart is pure and lined up with God then our hands will be clean.  It can't be done any other way.