We have completed our Thanksgiving crafts and books for the month.  Every few weeks, I like to order all sorts of books from our local library that pertain to the topic we are studying. I ordered many different Thanksgiving ones and as you can see from the list below, we had many that we enjoyed.  I read these books to our under 8 years old group.
We also completed some Thanksgiving crafts.  We made some pinecone turkeys.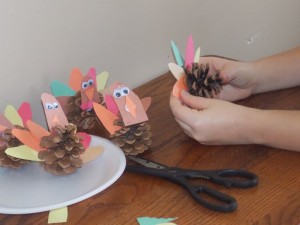 I had my older daughter precut turkey feathers and faces from construction paper and then we had the little ones glue them onto the pinecones.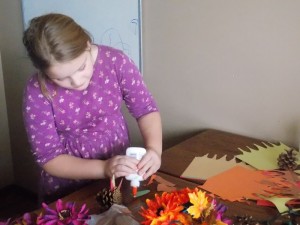 It worked good to just drizzle the glue onto the pinecone and then just stick the construction paper in between the layers of pinecone.  Remember we are dealing with many little ones, we need something easy and fast:)
I don't think they turned out too badly for a toddler through kindergartner..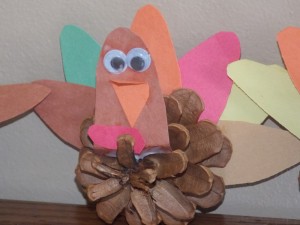 Another fun craft that we did was to make pumpkin pie slices out of paper plates.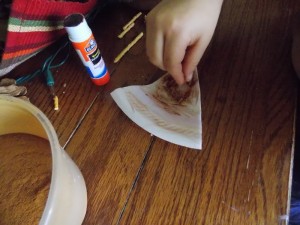 I cut the plates and then let the children color them with markers or crayons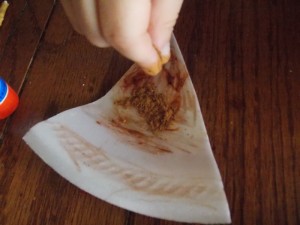 We then put some glue stick on the center and sprinkled nutmeg and cinnamon on it.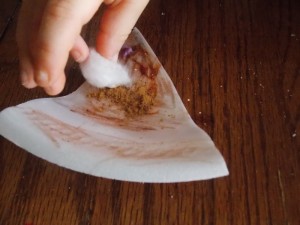 Some thought it would be fun to add some "whipped cream" so we dipped part of a cotton ball in vanilla extract and then glued it on the pie.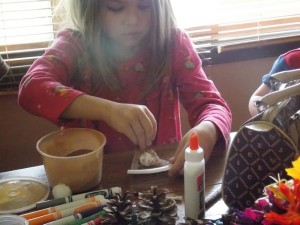 They sure had fun making crafts.  It is always a big mess whenever we do something like this.  Now I know why I haven't been able to over the last few years.  But that time is gone and now I can enjoy making them with my little ones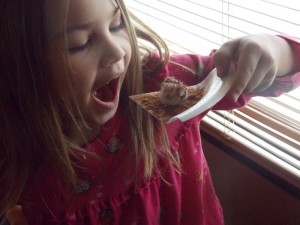 Our next activity was to make some Indian items.  We decided to make necklaces.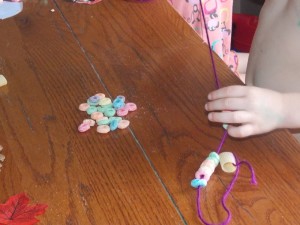 My children do not know how wonderful Froot Loops taste:)  They were very surprised to know that some children eat these everday for breakfast:)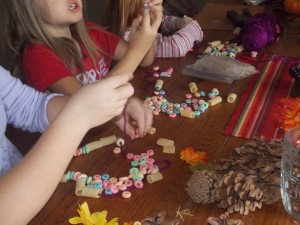 We cut some yarn, and I put some masking tape along one edge to help guide the yarn through the cereal.  A hard task for a 1 1/2 and 2 year old to do:)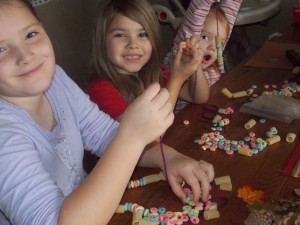 We also added some Rigatoni noodles.  I would have liked to dye them.  I saw that somewhere on the internet but of course it is always a time constraint.  Maybe next year.  I think I saw that you use food coloring and alcohol to make the colors deep.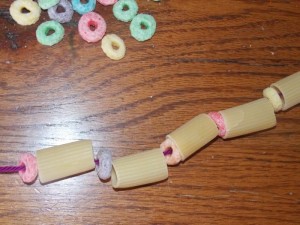 This was fun for them to do.  Easy craft, and the end result lasted for most of the day.  The older children decided to keep theirs for Thanksgiving, while the younger ones nibbled away on cereal until all that was left was noodles.  Then that became a fun noise shaker:)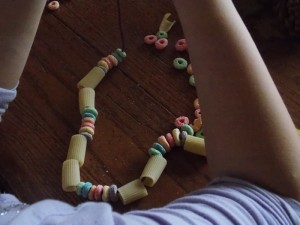 We also made some Indian headbands.  First we cut out some feathers and then fringed the edges.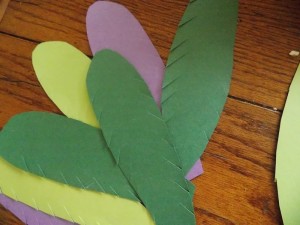 We started to glue some to the headband, but some grew tired of waiting, so we decided to just staple them on.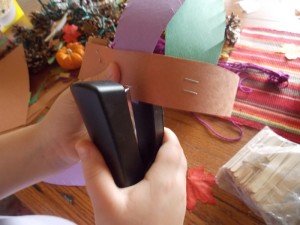 Here is Jadyn practicing her Indian skills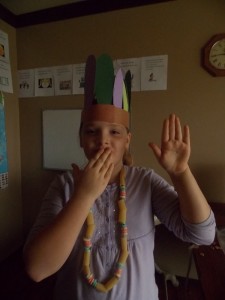 I also wanted to make some Indian vests.  Where you cut them out of brown paper bags and decorate, but again a large task when you have many little ones.  But good ideas:)
Here are some other things we have done over the years:
These are super easy to make and if you have little ones, they will enjoy playing with them like playdough.  For your older ones, they will enjoy creating wonderful mini pumpkins.  Cute decoration that your children will enjoy putting out every year.  Mine would use them to decorate their dollhouses with.  Good fun.
Make a turkey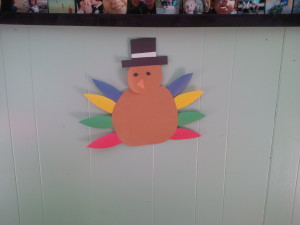 My children make these every year, simple and easy.
Make turkey apples.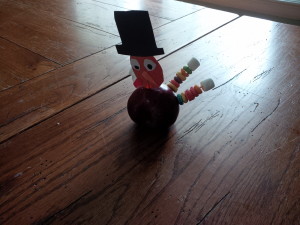 If you have an abundance of apples to spare, this is a great filler activity.  Create some turkey heads before hand, if you have little ones and glue onto toothpicks—I reinforced mine with tape.  Then give your child some toothpicks, colored marshmallows and colored cereal.  Let them make turkey feathers to decorate.  These are cute for your table, unless your children eat all the pieces off!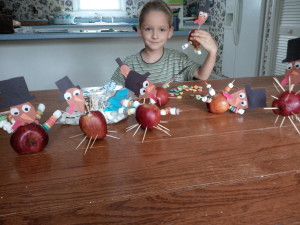 Turkey glove
Take clear plastic gloves and fill the fingers with colored candies—M&Ms or Skittles.  Fill the palm part with popcorn.  Tie shut and glue a turkey face on the thumb area—neat party favor.
Make a thankful tree
Cut out a large tree out of paper bags.  Precut leaves and have each member of your family write what they are thankful for on them.  Tape them around the tree on your wall.  If you are super creative, grab a tree branch and paint it.  Stick it in a jar with some rocks and attach leaves with twine to your tree with your families thankful things.
Be sure to print off my FREE Thanksgiving pack-–to keep your children busy while making last minute preparations.
Along with the crafts we have read many Thanksgiving books these last few weeks.  Here are the ones that made the cut of being our favorites:
 Alberts Thanksgiving by Leslie Tryon
t's time for the great Thanksgiving feast in Pleasant Valley, and there's so much to be done! There are hats and Indian headbands to be made, as well as decorations of dried cornstalks and bright-colored leaves. But who will make the new harvest table and the cross-legged turkeys? And what about the vegetables? These must be harvested if there's going to be a feast, but everyone has forgotten about them! Luckily, Albert the duck hasn't forgotten. He'll make sure this is the best Thanksgiving feast since 1621!
 Alligator arrived with apples.
In rollicking rhythms, Crescent Dragon wagon sets out a fabulous feast with an animal for each letter of the alphabet bringing a dish–apples from alligator, dates from deer, and lemons from llama.
 Arthurs thanksgiving
Duck for turkey day
It's almost Thanksgiving, and Tuyet is excited about the holiday and the vacation from school. There's just one problem: her Vietnamese American family is having duck for Thanksgiving dinner – not turkey! …
Little bears thanksgiving
When Little Bear receives an invitation for Thanksgiving dinner he is afraid he will sleep through it, but the other animals promise to wake him in time.
 Mousekins thanksgiving
Mousekin and his forest friends struggle to survive the winter together with a wild turkey.
An  old fashioned thanksgiving
Reminds me of the Little house on the prairie type books.  A must read for reminiscing of bygone eras.
One is a feast for mouse
Perfect for Thanksgiving, this warm and humourous picture book gently reminds us to give thanks for the little things. The Thanksgiving feast is over. Leftover turkey and pumpkin pie litter the table. Mouse peeps out of his hidey-hole and spots a small green pea. the perfect feast for one mouse. Yes, one green pea, one red cranberry, one plate of mashed potatoes, and one roasted turkey, that should make a very fine feast for Mouse. But can he get it all back to his hidey-hole?
One tough turkey
Recounts the "real story" of the first Thanksgiving when the Pilgrims pursued such tough turkeys for dinner that they had to settle for squash
Over the river and through the woods
A great story based on the favorite tune but ends with Thanksgiving day.
P is for pilgrim
Across the Atlantic Ocean, a lone ship on a vast sea. Ablaze with new hope, all praying to be free. " From the lives of our early settlers, who established the foundations for American freedoms and ideals, to today`s celebrations, " P is for Pilgrim" colorfully examines the history and lore of Thanksgiving.
Sarah mortons day
This is a great picture book showing the day in the life of a pilgrim girl.
Setting the turkeys free
A young boy uses his hands, paint, sequins, and everything imaginable to make beautiful turkeys in his picture. Soon his imagination takes over, and the turkeys take on a life of their own. But Foxy the fox is on the prowl. How can the boy hold tight to the turkeys he loves and keep them safe from harm? A child's voice and bright bold artwork capture the sweetness and humor in this warmhearted story.
Ssometimes its turkey sometimes is feathers
Oh! What a fine Thanksgiving Dinner we'll have!" Mrs. Gumm says when she finds a turkey egg and decides to raise it. But her simple plan turns out to be more than she and Cat bargained for, making Thanksgiving dinner a happy surprise
Thanksgiving mice
t's Thanksgiving and four adorable mice are putting on a play for their woodland friends in this delightful read-aloud, the fourth book about the holiday mice. Lively verse introduces beginning readers to basic words and rhyming sounds and tells the story of the very first Thanksgiving, when the Pilgrim mice traveled across the sea and settled in America. The simple story-within-a-story format, accompanied by colorful, action-filled illustrations of mice in costume, also serves as a basic introduction to theater.
Thanksgiving on Plymouth plantation
The children time travel back to what it was like on the first Thanksgiving feast.
Three young pilgrims
When Bartholemew, Remember, and Mary Allerton and their parents first step down from the Mayflower after sixty days at sea, they never dream that life in the New World will be so hard. Many in their Plymouth colony won't make it through the winter, and the colony's first harvest is possible only with the help of two friends, Samoset and Squanto.
Richly detailed paintings show how the pilgrims lived after landing at Plymouth, through the dark winter and into the busy days of spring, summer, and fall. Culminating with the excitement of the original Thanksgiving feast, Three Young Pilgrims makes history come alive.
We Gather Together…Now Please Get Lost!
When Gilbert gets stuck with annoying tattletale Philip as his partner for the class trip to Pilgrim Town, he wishes Philip would just get lost! But when Gilbert hides from Philip in the bathroom and can't get out, he's sure he'll have to spend Thanksgiving there all alone. Luckily, faithful Philip comes to the rescue.
The Pilgrims First Thanksgiving by Ann Mcgovern
This is another excellent book filled with good colorful photos, for reading or explaining to little ones about the pilgrims.
 10 Fat Turkeys
A great rhyming story, fun for little ones.
 Thanksgiving by Laura Alden
A good story with good family values.
The Night before Thanksgiving
A good fun story retelling the traditional poem of the "night before christmas."
Pumpkin Fiesta
Story sharing forgivness.
Pumpkins
Great photographic story depicting pumpkins.
Thank you Thanksgiving
In this exuberant Thanksgiving story, a little girl goes on a last-minute errand for her mother. Along the way, she thanks all the familiar things she loves—her warm boots, the song of the birds, the pretty clouds in the November sky. And when she gets home from her errand, her family thanks her for what she has brought.
 Thanksgiving is for Giving Thanks
Sure, Thanksgiving is about pilgrims and history–and turkey, of course!–but most importantly, it's a holiday all about everything that we are thankful for.
**please note most of these descriptions I copied from Amazon or Goodreads to give an adequate knowledge of what the book is about.  If you cannot find the books at your local library, I am sure you can order these from Amazon.