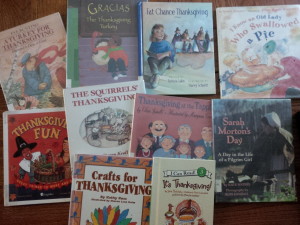 In our family, we are regular supporter of our local library.  I believe our stack of books each week is huge:)  I think any homeschooling parent can relate.  Now that it is time for Thanksgiving, I wanted to search out some good books for my children to read.  I do have another list here , and also here, but since we have moved the books offered at our current library  are different from the ones before.
I recommend signing into your library website and doing a search for any of the books mentioned and have them sent to your local library.  What a great time saver for us Moms.
Older elementary reading books
Eating the plates    a Pilgrim book of food and manners
Cranberry Thanksgiving
How many days till America
Gracias the Thanksgiving turkey
If you were at the first Thanksgiving   –this is full of historical information and facts.
Younger read to me books
I know an old lady who swallowed a pie
Squanto's journey
turkey surprise
The squirrels thanksgiving
Thanks for thanksgiving
Fat chance thanksgiving
A turkey for thanksgiving
Duck for turkey day
thanksgiving at the tappletons
sarah mortons day—good picture books of pilgrim life
samuel easton day—good picture books of pilgrim life
early readers
its thanksgiving
thanksgiving mice
Movies
An old fashioned thanksgiving
craft books
crafts for thankgiving
thanksgiving fun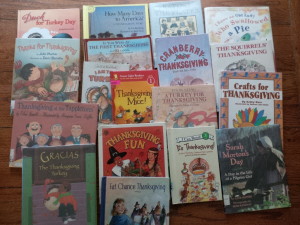 Happy reading!