Having a large family, has meant that we try and do as much preserving as we can.
When it comes to putting up food for the winter months, my first choice is to freeze it.  This year we did strawberry jam and froze it.  We picked blueberries and froze them.  We made applesauce, around 200 quarts and froze it!  We also did tomatoes.
We love to eat spaghetti, at least once per week.  I have found that we can easily make a sauce with a few cans of diced tomatoes and one can of tomato sauce.  We then add basil, oregano, onion, green pepper, and garlic.  Let it simmer on the stove and add your meat.  Delicious, homemade flavor.  Once I realized that I would be able to get away with that kind of sauce for my family instead of the "store bought" version, I wanted to put up some tomatoes for the winter months.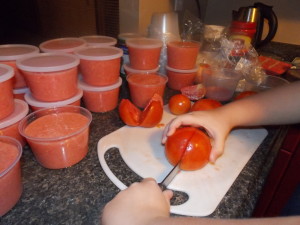 I have realized that the easiest way to preserve tomatoes is by freezing them.
I used to can it into jars and it would be a long process of skinning the tomatoes and smashing it—no more of that, I do not have time.  I have found this method to be super easy and the best, quickest version for our large family.
I actually had a fussing one year old, while I was trying to do this so our 8 year old took charged and did it all for me!
The tomatoes that we had purchased were a thick meaty type, so we chopped the tomatoes in quarters..
Then placed them into the food processor, skins and all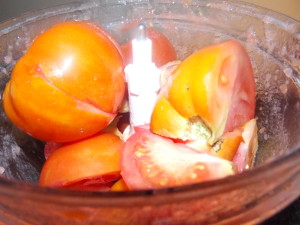 let it whirl, until pureed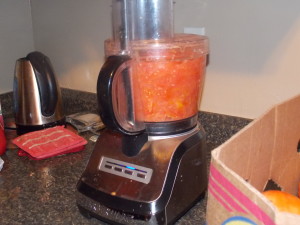 We then poured them into quart sized containers.  Put them in our freezer until ready to use.  Simple and easy.  Makes a delicious, fresh from the garden flavor spaghetti sauce.