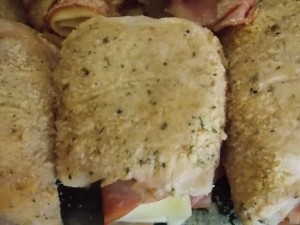 I have always loved the packaged chicken cordon bleu that we bought at the store.  What I didn't like was that it cost $1.25 per chicken.  When you have 12 people to buy for, that makes this dinner very costly.  So we stopped buying it.  I was sharing with my neighbor Kathy what we were having for dinner and she said she was having homemade chicken cordon bleu.  I was like, "really?" you made it?  I didn't realize how easy it was to make, so for my daughters birthday this year we decided to  make it for our family dinner. f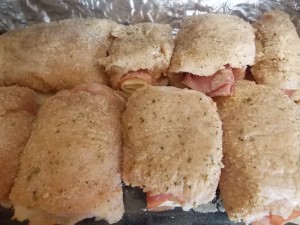 For each person you will need 1 boneless skinless chicken breast.  Pound it as thin as you can get it.  This I failed on a bit and as you can see my chicken was a little plump—live and learn.
Then take 2-3 thin slices of deli ham and  a piece of provolone cheese and wrap it all up together around the chicken.
Dip the chicken in bread crumbs and place seem side down in a glass baking dish.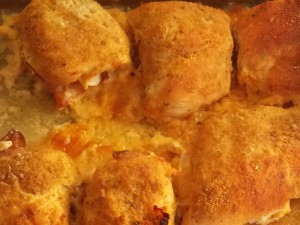 Bake 350 for about an hour, test your chicken for doneness.  We like to serve ours with fettuccine noodles and alfredo sauce. A great meal that is for sure added to our monthly rotation.