Good morning.  Hope your day is off to a good start.  I am working my way back into some sort of routine after our busy month.  I am staying on track for two days now!  Go me!  As you know, the day after Christmas is my time when I take down every sign of Christmas in my home.  I can't possibly start organizing new things if I have to work my way around a big ol tree and decorations everywhere?!!?  My predicament this year was how to store my tree.
We have done a live tree over the last few years.  When we moved out of state, that was one thing we were not about to transport.  It was a good thing because there wasn't much room for storing an item you use once per year.  Myself, I would not do a tree. But I know that my husband and my children enjoy it.  To me its one more thing to store, one more thing to keep picking up the ornaments from, and not the focus of my Christmas.  Every year my friend and I send text back and forth about the heathen practice of going into the forest and cutting down a tree and decorating it with silver and gold.  I'm like there is my reason for NOT having a tree:)      Okay but back to my children's love of this time of year.
This year, we were looking around for a tree.  We were going to do a real one, but some of the children have been dealing with allergies since moving to this part of the world and I thought it probably wasn't a good idea to get a real one.  Then looking at the stores they were like $100 for a tree!! Who wants to pay $100 for a tree when that money can go for gifts or some other special treat?  Seemed ridiculous to me.  Then Lauren, who hunts down deals, found a discount store that had tons of Christmas trees. She came home one day with one for our upstairs room.  It was nice and didn't cost much.  Then the following day, she came home with another tree for the downstairs room of the house!  So now we have two trees to decorate, yeah?!?!?!
The problem with these two trees is that they didn't come with boxes.  I was thinking that I would go to Walmart and buy a tree box to store them in.  But the more and more I thought about it, the box I was going to get is big.  I didn't know where I would store it.  My husband was going to put it in the garage, but the garage is his work shop and Collin's garage to do his cars in.  I didn't want them to have to finagle a place for a tree box.  I know I didn't want to store this under our beds or in our closets, been there and done that many years ago.  The reason for having a real tree.  Then I woke up the other day with the idea of using our huge roll of plastic wrap to wrap the tree in.  BINGO!  That was it!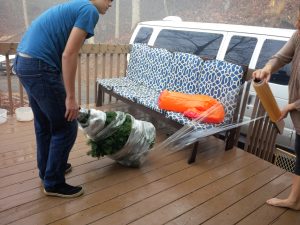 We had bought a huge roll at Sams Club and used it when we did our tailgate markets a couple of years ago.  I don't use it normally, so to me, it has been sitting in my pantry wasting away.  I used  a bunch for a game at our cookie exchange—Saran wrap gift ball.  Now I could use up some more.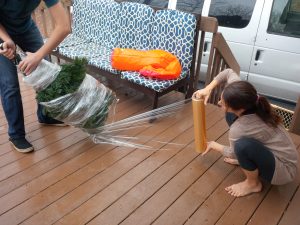 Evan and I went outside and put the tree in sections.  He pushed all the branches one way and then we started wrapping it.  It was working!  It seemed it was easier when I was holding the roll up higher and he was twisting the tree on the ground.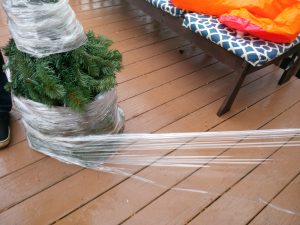 I figured I used about $5 worth of plastic wrap to wrap up two Christmas trees.  We then opened up our attic—which we don't store anything in and pushed them up over the ledge on the inside.  BANG!  DONE!  Out of sight out of mind.  To me, the best way to store your Christmas tree.  Way less space and protected from dust and dirt.  It works!
Now onto my day…………………….
This is what I have been "forcing" myself to eat every morning.  My coffee—a given:)  and a bowl of oatmeal with some dried Michigan cherries.  I ate the oatmeal when I had lost all my weight a few years ago and then I got slack.  I didn't put it all back on but a few pounds have been creeping their way back onto my hips and stomach over this last month.  Too many treats and me getting lazy.  I started eating this the day after Christmas.  I made 1/2 cup of oatmeal and then ate about half of that.  Each day I force myself to eat a little bit more.  It honestly has been helping me not to feel that enraged hunger feelings for later in the day when I falter and splurge on junk!  My goal is to continue this every morning—even if I don't like it.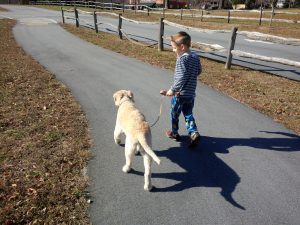 I am also going to prioritize that my children and I get out at least for 1/2 hour every day. It has been very nice here high 50s and 60s for the past few weeks.  I just need to load them up and drive 4 minutes to the park to ride scooters and walk.  It is all about the drive and motivation and it has to come from someone—-MOM!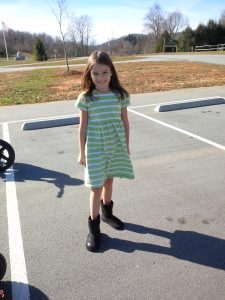 I was getting out myself every morning and walking my driveway–which is very steep.  But my children need to see that exercise is important for them as well.  They would be very happy to stay inside all day and play and watch videos.  I need to take the step and initiate it.  It is hard at times, I get it.  I would much rather go do something that I NEED to get done instead of losing what—- a whole half hour out of my day—smile.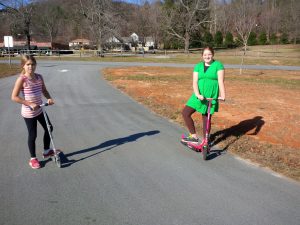 This is going to be my priority. If we can't drive to the park then we will have to get out and walk our driveway—which if we did that two times we would be tired:)  But the park is more fun for them.  It will show them that exercise isn't drudgery.  It will make all of us feel better.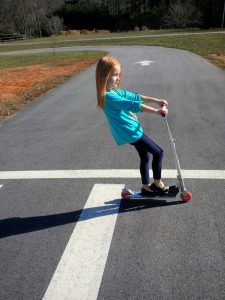 Plus it will help lose those few extra pounds put on this month.  We have no school for the rest of the week.  I did get in some of our history books and DVDs from the library, so we are reading those each day.  The rest of our week will be enjoying our new things, getting ready to get back in routine of school next week, and taking care of things that I normally don't get to do.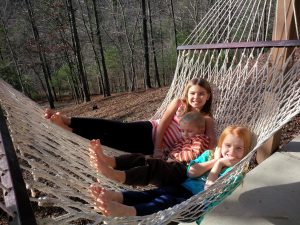 Like sit on the hammock.  My brother installed our hammock when he was here visiting.  We used to have this back in Michigan but never had any place to put it at our old house, now we can put it right over the front of our house.  You can lay and look up at the mountain views and enjoy the mountain breezes.  Seems relaxing.  My children love to do it, I haven't yet.  Maybe this week.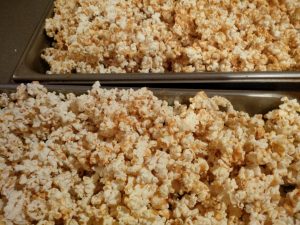 Today I will make up a batch of caramel corn to snack on.  I know, I know, I said no more treats.  But my husband mentioned to me last night that my caramel corn was delicious and would I make some more?    The good thing about this is that you can make more popcorn and that will help spread out the sugary topping.  Then it isn't so bad.  It can be a nice treat for us and inexpensive.  Try some.  Very easy to make and tastes so good.
Have a blessed day today.  I hope you get some things done that you have been wanting to.  Take some time with your children.  Make something special for that hubby of yours and enjoy being a Mom!  Love you guys.  Have a great day!