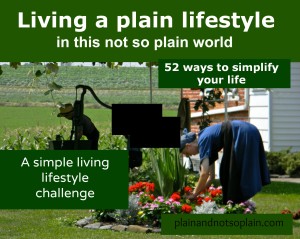 The challenge: to plan a week of simple dinners.
Around the dinner hour, do you find yourself stressed because you are scampering around the kitchen trying to quickly thaw the meat,  cook the noodles, and chop the vegetables?  Let me guess, you didn't plan and prepare for dinner? When your husband walks in the door, you have to say, "sorry honey, I wasn't able to get dinner made today, it was WAY too busy of a day."  Is that the truth? or is it that you just didn't plan ahead?  By simply planning a menu and preparing some simple tasks, you can have a dinner on your table every night, ON TIME!
Why make the change:
If figuring out what you are going to have for dinner each night is a "stressor" in your home, consider creating a weekly menu.  Decide on a week's worth of simple dinners, set on a specific day of the week. Make a grocery list of what you need for each meal and then purchase the ingredients.  Sounds simple, right?!?!?  Then why isn't dinner made on time, more than once throughout the month??  NO MORE EXCUSES!
How to make the change:
Okay, we are going to make this simple.  We are going to plan for one week.  Let's try this approach…..
Sunday–larger heartier–complete meals
Monday–casseroles
Tuesday-soup, salad, and sandwiches
Wednesday–Italian
Thursday–chicken something
Friday–crockpot cooking
Saturday–fun family meal
Let me suggest one very important rule
Keep all of your recipes simple.  Stay away from the ones that have a bunch of  ingredients.  Save the extravagant meals for a later date.  This week think easy.  STAY AWAY FROM PINTEREST.  Even though there are many yummy recipes, try to avoid them.  Keep it plain this week.  It will be much easier. Oops………I actually retract that statement…….If you do a Pinterest search do so with "quick dinner ideas" or "under 5 ingredients", something that will help you choose plain dinners.
Here are some very simple basic meals :
Sunday—the heartier meal
salisbury steak chicken and rice made simple Here are some complete meal plans from our Home economics course
Monday–casserole
Tuesday–soup, salad, sandwiches
Make a simple salad, lettuce with a few vegetables chopped up makes it easy.
For sandwiches, you can make them simple.  Choose a tuna fish melt, grilled cheese, a wrap with basic meat, vegetables, and dressing.  Keep them simple, something that takes no time to prepare.
Wednesday–Italian
This one is easy, make spaghetti.  Need an easy version??? Buy the jarred sauce, pasta, and a pkg of hamburger—-very simple.  For those who want homemade click here. or boil some fettuccine noodles and pour some jarred Alfredo sauce over top of.  Serve with some baked chicken.
Thursday–chicken something
Here is a link from our Home economics course for chicken dinners
Friday is crockpot cooking day
Here is a link from our Home economics course for crockpot dinners
Saturday–choose a fun family meal
homemade pizza Click here for some recipes made with ground beef Okay if all else fails, our large family foods tab has lots of different ideas as well.
The goal this week is to make your dinner meals plain and simple.  Get rid of the stressful dinner hour in your home and learn to enjoy this time.