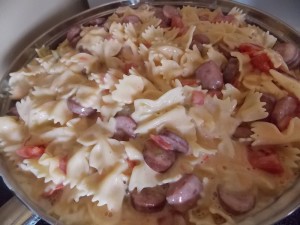 This recipe was originally called "Jared's casserole" but it has since been changed to sausage bowtie casserole.  I didn't think anyone would understand if I gave it that name.  A guy from my husbands' work gave me a slightly different version and as with all my foods, I tweaked it to give it a version that my family would enjoy. We make this on a monthly basis and it is quick and easy to make.  Thank you Jared for the inspiration.
You will need the following:
1 pkg smoked sausage cut up into chunks
2 jars Alfredo sauce
2 boxes bowtie pasta, cooked
2 cans of diced tomatoes pureed–if your children have an aversion to red chunky things;)  I like them whole myself
1/2 green pepper chopped
1/2 red pepper chopped
1 small onion
2 T minced garlic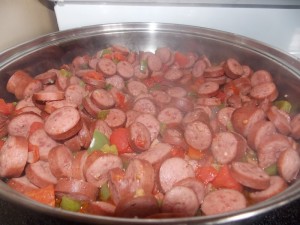 In your skillet heat the sausage, spices, vegetables and tomato puree over med heat for about 15 minutes.  While that is heating up you can cook your pasta.  Drain the pasta, add it, the meat mixture and 2 jars of Alfredo sauce.  Stir and heat until warmed.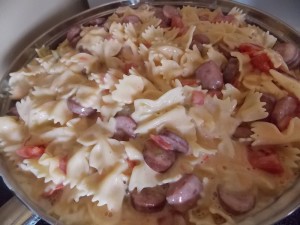 Simple, easy and delicious.