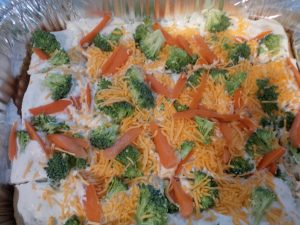 We made this in 9×13 baking pans to transport to a gathering.
We flattened one package of crescent rolls into one tin.  Do another tin with one more package as well.
Mix up one 16 oz container of sour cream and one package of ranch.  Spread on top between the two pans.
Top with shredded cheddar cheese, chopped broccoli, chopped cucumbers, shredded carrot, and peppers, any type.
Cover and refrigerate.