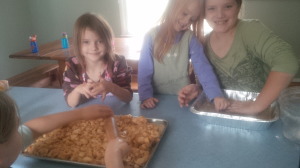 We enjoy doing lots of baking around here.  I have many little hands that like to mix things up and eat them too:)  We had some guests for Thanksgiving weekend and we needed to plan for some easy breakfast meals.  These quick breads were easy and quick to mix up and tasted great for a breakfast meal.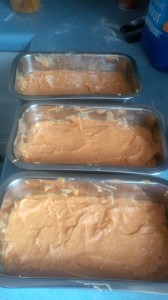 Pumpkin bread, how can you go wrong with that?  We enjoy making chocolate pumpkin muffins on a regular basis but I have some that enjoy the taste of bread with butter.  Jadyn enjoyed mixing up this treat.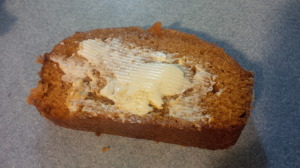 You can click here to view the recipe.  We made these and then wrapped them in tin foil.  They tasted moist still after sitting out for 5 days on the counter.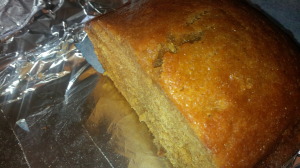 Brooklyn with the help of Jentzen helped mix up the cinnamon quick bread.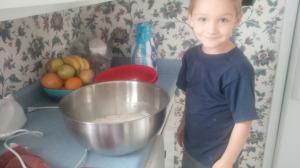 This was easy to mix up and tasted very good.  We wrapped it in foil like the pumpkin and it tasted very moist still after 5 days on the counter.  We will be making both of these breads again for special morning meals.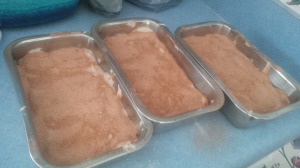 We also mixed up some apple dapple cake to go along with our breads–this cake gets more moist as the days go on.  If you have never tried making this before, you should, it tastes delicious.
We set out some fresh fruit to go along with our breads.  Oranges, grapefruits, and bananas were the choice.  I also had our homemade yogurt with strawberry sauce for anyone that would like that.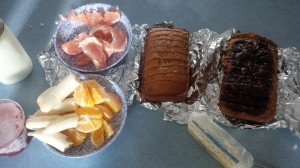 Here was Brooklyn's sample plate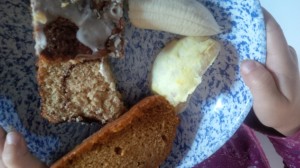 Clean up was easy, just wrap up the remainder breads, put away cold foods and wash a few plates.  No scrubbing of pans or big washing jobs—something I do not enjoy early in the morning hours.  Here is a snapshot of how our serving bar looked after the destruction.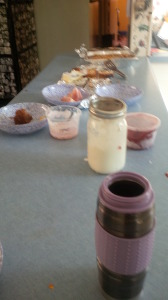 An easy meal and tastes wonderful.  We will be making these again when I need a quick breakfast to feed many people.