In our home, we once a week do some baking.  I plan for Wednesday to be my baking day, based on my large family management.
It helps to have a set day to do things, otherwise my weeks get all crazy and by the end of the week, I find myself trying to hurry to get things accomplished that I did not do earlier on.  A must for all Mom's.
Click here to see our large family management series 
This week, I let my 2 daughters make our dessert for the week.  We usually choose 2 desserts to make so that each weekend we have a nice homemade treat.  This week's kind were pudding desserts.
Brooklyn chose to make oreo cookie pudding dessert.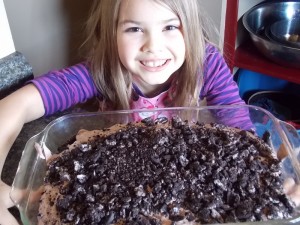 Jadyn, chose to make Dad's favorite dessert, banana pudding.
Actually it has become more than just Dad's favorite dessert, the bowl doesn't stay too full for long.
Click here to view the recipe to see how Jadyn made it.