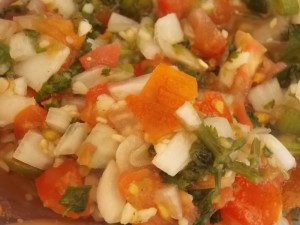 For my daughters 16th birthday party we had a Mexican buffet.  This was one of the recipes that we did new and it was fabulous. I have since made it as we enjoy eating it.  I put it on top of my spinach salad.  I put it on tortilla chips.  We top it on our Mexican dishes.  It is sooooooo delicious.  The only thing that will make it taste better are fresh tomatoes from the garden—cannot wait for summer.
You will need:
1 medium onion, chopped
1 tomato chopped
1/2 jalapeno, seeded and diced
2 sprigs of cilantro chopped
1 green onion chopped
1/2 tsp garlic minced
1/8 tsp salt and pepper
This was the basic recipe and then we did it times 6.  For that recipe we only added 1 jalapeno as it was spicy enough!!!
This is the ONLY time that I really take the time to finely chop up my onions and tomatoes, it is well worth the extra work.  It tastes great and lasts a long time.  I have had mine in the refrigerator for about a week and it still tastes fresh.