We used to have pancake on a stick for Sunday morning breakfast when my older children were younger.  They were perfect to cook and then take on the drive to church. I knew it wasn't the healthiest option for breakfast, but getting all the children to church was a tough job with lots of little ones.  So I compromised.  Then we started having more children and the cost for pancake on a stick got quite expensive, so we did away with it.
I was reminded by my older daughter of how much they used to enjoy pancake on a stick, so I figured there has to be a way to make an item similar to that and WAY healthier.
There was……
pancake muffins
3 c flour
1 T baking powder
3 T sugar
3/4 teaspoon salt
2 1/2 cups of milk mixed with 1 T vinegar to make sour milk
2 eggs
1 T maple flavoring
4 T butter melted
Mix all the ingredients together to make your pancake batter and then you can start filling those tins.
We decided to make mini blueberry pancake muffins.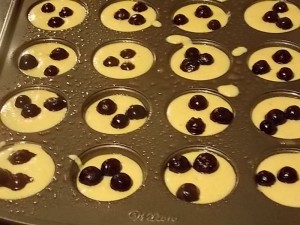 We poured the batter into the greased muffin tins using a cookie scooper.  We then placed 3 blueberries onto each muffin.  I had to use frozen blueberries—not in season yet.
Bake in a 400 oven for 10 minutes until done—stick a toothpick in the top, if it comes out clean it is finished.
For the next batch, we decided to make a replica pancake on a stick but in a muffin tin.
We cooked sausage links and cut them  in half.  Placed 2 inside the muffin tins that we sprayed really well.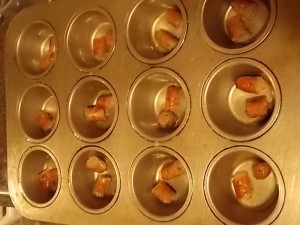 We then poured the pancake batter over top of the sausage.  Fill those muffin tins 2/3 of the way.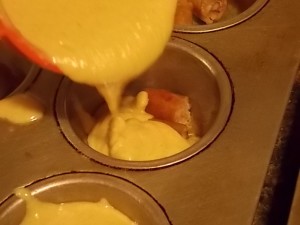 Put them into a 400 oven and bake for 20 minutes or until done.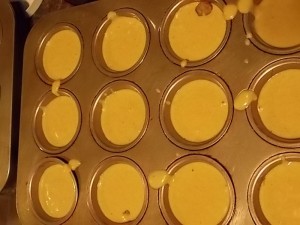 We made numerous batches of these.  After completely cooling, we put them onto cookie sheets and placed in the freezer.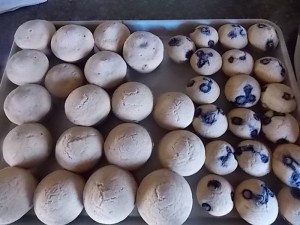 Once frozen solid, we placed them into freezer plastic bags and filled our freezer.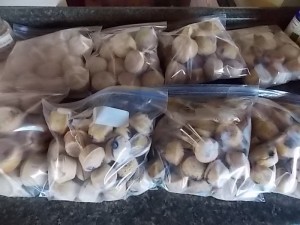 I can either take these out the night before and throw in the oven for about 15 minutes on 350 to thaw, or if I forget, I take them out from a frozen solid state and cook 350 for about 30 minutes.
My children like to eat them plain, but you can dip them into maple syrup for extra sweetness.