Breakfast for me over the last few years has gone through many changes.  I don't usually enjoy making breakfast in the morning time.  While having my little ones, be so little, I resorted to an easy method of serving breakfast…..cheerios and milk EVERYDAY.  I would serve a breakfast for dinner one day per week just for fun.
Then I wanted to lose some weight and started serving oatmeal for breakfast instead.  It was easy and good for us.  Well my children got tired of oatmeal.
Now, I get up in the morning and make eggs for breakfast.  Yes, usually each morning, unless I had a bad night, I get up and prepare breakfast beyond oatmeal.  Some of the children prefer that and I can do that, but MAKING breakfast that is big for me.
Now I haven't gotten to making pancakes and waffles just yet, that takes up WAY too much mess.  I did come across this recipe that is similar.  Another large family  friend of mine told me about a way she used up her eggs by making Swedish pancakes.  Since we have 20 dozen sitting in our refrigerator, I figured I had better use them up!!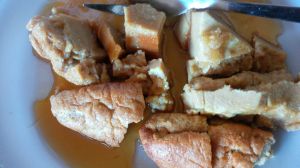 If you do a internet search for oven pancakes or dutch oven pancakes, or baked pancakes or Swedish pancakes most all of the recipes are about the same.  I will just call them oven pancakes.
They are so simple to make and require no work, except for mixing. Blend the following together in a bowl:
8 eggs
2 cups flour
2 cups milk
1/2 tsp salt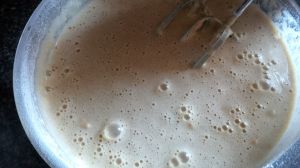 In oven, while you are mixing up your ingredients melt 1 stick butter.  I doubled this recipe and made it in my turkey roaster pan!!!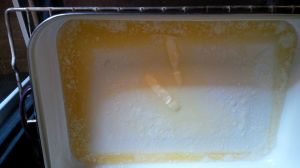 It used alot of butter, for future reference I will probably cut out some of the butter maybe down to 3/4 of a stick instead of a whole stick.  I don't like my stuff greasy.  Even if the butter is good for you.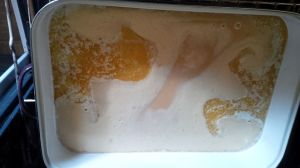 After melted, pour in your batter and put in the oven.  That is it!! Now let the oven do the work.  400 degrees for about 30 minutes.  The batter poufs up in the pan and it looks something like this.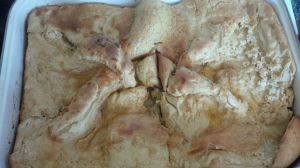 Strange huh?  Yes, but has a wonderful chewy eggy taste.  We actually went through the entire pan with our family.  It was definitely something that they enjoy.  Plus I used up 16 eggs for one meal!!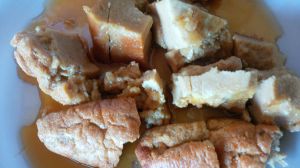 We served ours with real maple syrup. I am thinking next time I am going to sprinkle some cinnamon and sugar into the buttery mass in the pan to cut back on the need for syrup.  Possibly sprinkle with some powdered sugar or even serve with our strawberry sauce.  Hmmmm lots of possibilities.  Definitely something worth trying.