Hello everyone, I hope you have had a great week and are ready for inspiration into "real meals" for the week.  This week we started out with: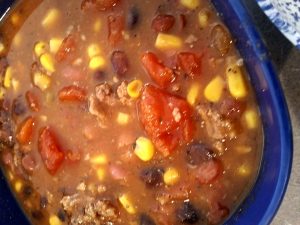 Taco soup. We always make more of a chili then the actual soup. But this time we kept it more soupy.  It was good.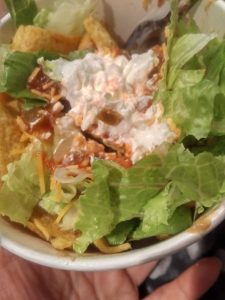 We served it with taco toppings.  An easy meal and everyone ate something out of it:)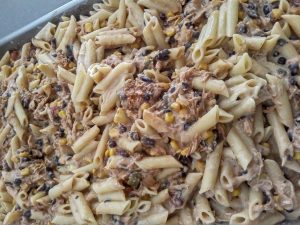 The next night we tried something different.  The older ones really liked it alot.  I have some going through a "I don't like pasta phase?!?"  But it was a keeper for us.  It is southwestern pasta.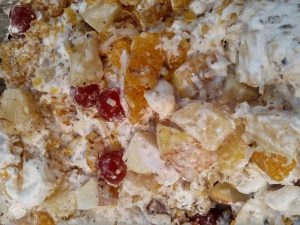 Then I wanted to make a side my Mom use to make. Ambrosia salad.  It was good and tasted like I remembered.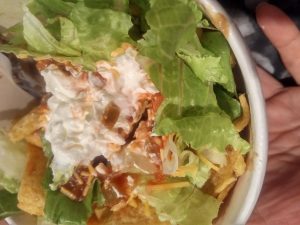 We actually served the pasta like we did the taco soup the night before.  Topped it like a taco. It was good.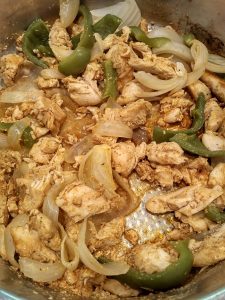 We then did some chicken fajitas.  I used chicken tenders sliced up.  Pour on some taco seasoning and you call it done and easy.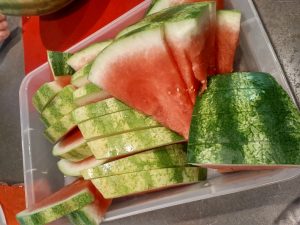 We got some more watermelon and ate that with it.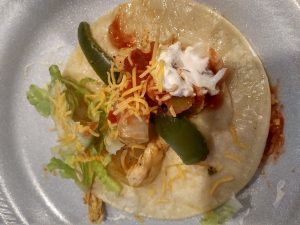 This was an easy meal for today.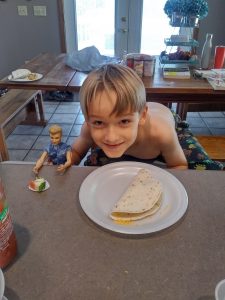 We had fun making mini  meals for the children's toys.  They enjoy watching youtube videos where people make mini foods.  So we cut out a small plate and cut up some watermelon and cut out a taco for Ken.  We call him Action Man instead of Ken:)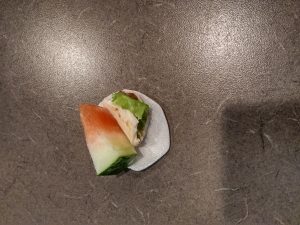 It busied the children while I was doing some food prep. So it worked:)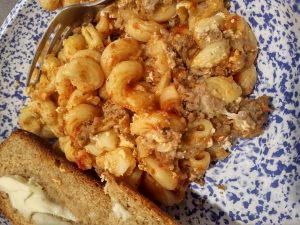 The next night we made another new dish and it was DELICIOUS. If I did Pinterest and had a board, I would put this on it.  It is called Million dollar casserole.  So good. Make it exactly like it says, do not stir the casserole and use the same noodles. I think it made it taste great. It is almost like lasagna but without the noodles. Some of my children don't like lasagna, but they loved this!  Make it, you won't be disappointed.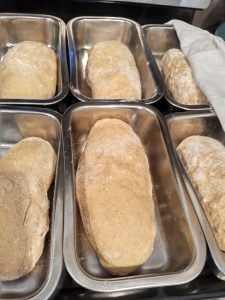 We  baked this day so we made some homemade bread to go along with it.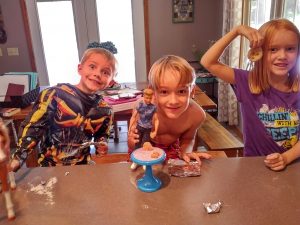 The children also had fun making their own bread creations.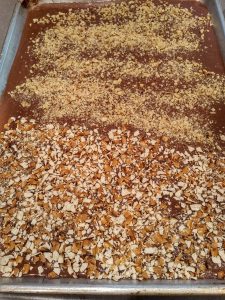 We also baked some brownies.  We have been watching cake boss lately and he used potato chips, pretzels, and caramel corn inside his cakes?!!? So we thought we would try the pretzels on top of the brownies.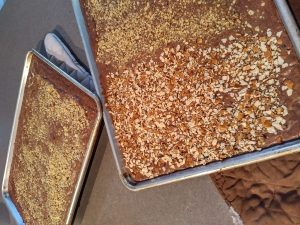 I can say we really like it and will cover the entire brownies next time.
Here is Action Man showing off the children's baked goods:)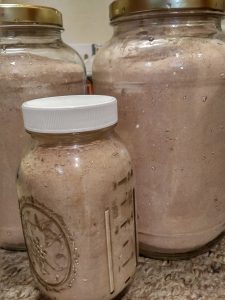 I then mixed up some hot chocolate mix for the children to drink.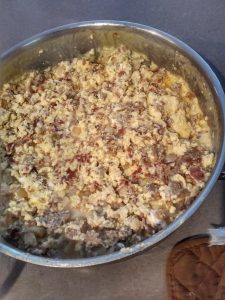 We then did a breakfast meal for a night as well:)  Eggs with sausage and bacon and diced potatoes. 
We made our banana chocolate waffles as well.  Serve it with strawberry sauce this time.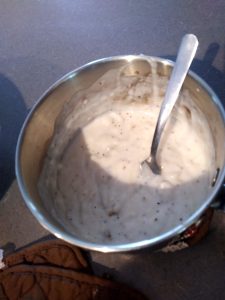 I mixed up a packet of biscuit gravy to go over the eggs if they didn't want the tortillas and salsa.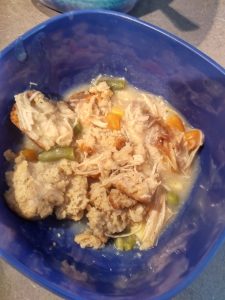 Then we hit sick mode.  🙁 So I made a big pot of chicken and gravy over biscuits.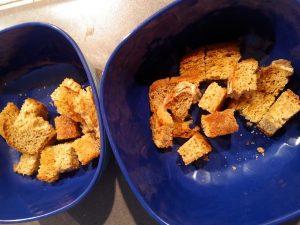 The week ended with some little ones being sick with vomiting.  Yuck. So after that vomiting stopped, we went for some sick foods.  Ice chips, vernors, and the next step was toast. I cut them up for them to eat small pieces.
Then we just ate some leftovers.  It worked.  I didn't have to cook and I was able to tend to children.
What sort of "real meals" did anyone else have this week?
Be blessed!