Time sure can fly by….I took most of these pictures over this last month to try and "remember" to document what we have done to save money in the area of food–it is already time to do our once a month shopping again and we have pretty much kept our same menu for the month.
This is how I planned our menu:
Sundays—we have church. On the way home, I usually make sandwiches for the children in the van.  Peanut butter and jelly is easy to get something in their  bellies to avoid the question as soon as we walk in the door…."What's for food?"  I used to have something in the oven, but my children are fed good food at church each Sunday.  We have wonderful teachers, who feel that BoJangles is a staple for breakfast:)  I am thankful for that.  To have a light and easy lunch is good for me.  When we get home, we may go to the lake or just stay home and BBQ.  My plans for dinners were easy to have on the grill and take zero prep.  If we did have a pasta salad, I would make it the day before to have to eat.
Mondays are usually spent picking up from the weekend and getting ready for the week.  I kept it simple.  Breakfast foods or I did put in a casserole at the end of the month–because they all like tater tot casserole.   Eggs are cheap now, so to have scrambled eggs is economical, when the price was high, we kept it to waffles and pancakes.  When our chickens start laying eggs in the fall—I am sure we will have more breakfast foods plans for the month!
Tuesdays–we are home, I did stuff that might take more prep work as I knew I would be home all day.  Even though I think it takes forever to make homemade pizza—it doesn't.  If you get your crust done in the morning, all you have to do is put the toppings on before dinner and your dinner prep hour is simple.
Wednesdays–we have church at night.  I wanted something on the grill during the week as well  My children love to grill.  We found a portable grill at Walmart and love it.  Since we live in a tourist area, it is hard to get a hold of a public grill at the parks in the summer so we always took cold foods to eat.  This year we bought a portable grill and it works.  It uses propane tanks and is easy to use.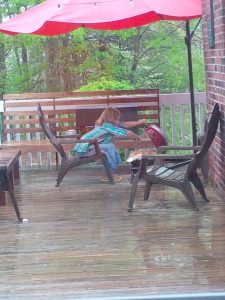 Here is Brooklyn in the spring time grilling outdoors in the rain.  It is nice to be able to pick up the grill and take it where we need to go.  It is large enough for our family and it costs around $40.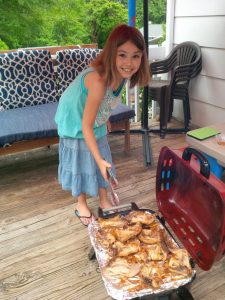 You can tell better from this picture how large the grill actually is.  This is a big bag of chicken and the entire bag fit on it.  We have to put a piece of tin foil down as the grease can get down and cause flames.  The first time we did not put down foil and as you can see it burnt the inside of the cover.  It would scrub off, but I don't mind.
Thursdays—this day we have our friends come over for the day. We call it our "sanity Thursdays:)"  We usually go to our local library for story and craft time and then back to my house and we have lunch together.  Lunch is simple,  we do easy stuff like tostadas, rice, sandwiches, noodle salad, or sweet potato fries and dessert.  We all bring something to share and it is stress free and easy.  This is our day to visit, encourage one another, and the children have fun playing in the pool while we talk.  I look forward to these days.  I was doing a soup/sandwich meal this day for us, but I found that it was stressing me out trying to get out the door to the library at 10 and having dinner made for my family.  Plus my children, ate most of the day and were not starved so I changed my Thursday's from soup/sandwich to casseroles.  This I can throw together in the morning and keep in the crockpot or in the oven on low.  Then after everyone leaves, I don't have to race around getting dinner—it is already done.
Fridays—we do our errands this day.  I wake up in the morning and get a pot of soup going and I have one of the children help me make sandwiches of some sort.  This works and then after shopping, we may pick up some fruit or other special treat to add to our dinner.  Leftovers work great for Saturday.
Saturdays—I kept simple as well.  My husband likes "traditional" foods so that is what I have for this day.  Anything made,  we usually have leftovers for Sunday in case someone wants a meal instead of a peanut butter sandwich.
I have learned to be more simple over the years.  I loved to try to new recipes out and have something different every night of the week.  My husband likes the same.  To me that was BORING.  But I tried it.  Guess what? It makes my life easier.  My large family foods menu doesn't  have a lot of additions to it because those are the meals that we eat.  I like trying new recipes, but they have to go through all the families palettes and be approved—-which sometimes it is easier just to have what they like:)
Now that it is summer time and the days are much warmer, I don't like to use my oven as much as I did throughout the year.  I try and base our meals as simple as we can.  We do lots of soups and sandwiches, casseroles, and grilling to save on heating up the house.  This past month, a wonderful "southern" lady from church has been sharing those good food ideas that can only come from the south.  When she started talking about bacon grease—-my children are like, "Mom buys turkey bacon!"  But I understand now the value of the flavor of bacon grease.  But I don't think I will be having my jar of bacon grease in the cupboard—still going to buy turkey bacon!!! She had given me a bunch of Paula Deans magazines to sift through and get recipes from. We took a few days and skimmed through them picking out a few recipes to try this month.  We made them and decided what to tweak, what to leave the same, and what we won't make again.
Here is some of the prep work that we did this month: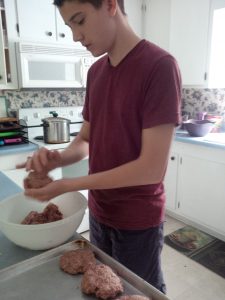 I buy my ground chuck in bulk from a local butcher shop.  This is the BEST meat I have ever tasted.  It is like ground sirloin.  The Fresh Market in Hendersonville has it for 2.99 per pound on Tuesdays so that is when we go.  I get 20-30 pounds and make it into all kinds of foods for the month.  Here is Evan making our hamburger patties up.  We freeze them and put them in plastic bags.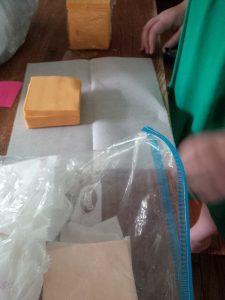 I also found that when I buy the big package of cheese slices from Sams Club that my children like to "sneak" in the refrigerator and eat a few slices here and there.  Which is fine, but when I go to make a meal, I don't have the cheese I need.  This month I wrote down how many pieces I need and for what meals.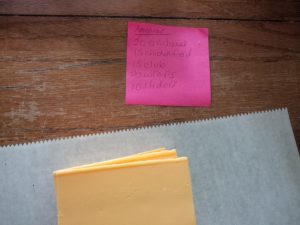 I had my daughter Jadyn, separate them and mark them so that anyone who went into the refrigerator would not eat the cheese marked for meals.  This worked great!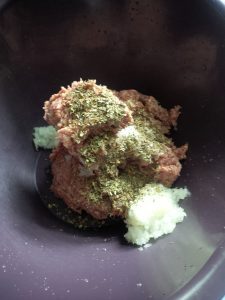 We made some Italian meatballs to go in our spaghetti this month.  This has chopped onion, basil, oregano, and garlic mixed in it.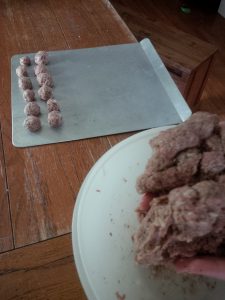 I have many little hands now that can help make mini meatballs to freeze.  When I was doing this type of work myself, I would do large meatballs as I didn't have the time to roll tiny ones.  It is a nice change of pace to have more help these days and it tastes better I think.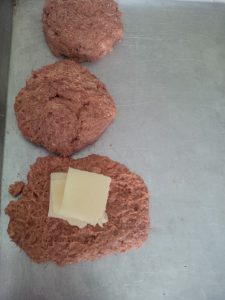 Evan saw a recipe online that was for pizza burgers.  We thought we would try it.  You mix in your hamburger mixture, pizza sauce, basil, oregano, onion, and put a piece of mozzarella cheese in between the patties.  It was good.  Not our favorite, but worth trying.  We actually did it again and kept the pizza sauce out and spread that on top of the burger while serving and that was better.  See link above. But, we prefer plain old cheeseburgers with onions—keep it simple right?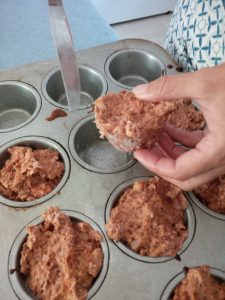 I also saw how to make meatloaf in muffin tins so we had extra meat leftover and I thought I would make some.  I haven't baked it yet but it is in the freezer.  I didn't put into consideration that you would have to cook it in the tins again—which would make a mess cleaning up.  So I think I will just put them in a baking pan and bake them.  I should have made more hamburgers as it was the same meat mixture and it would of saved from heating the oven.  But I tried something new—see just stick to simple.  We like burgers—why change it?!?!?  I might do like  a Salisbury steak with these over noodles.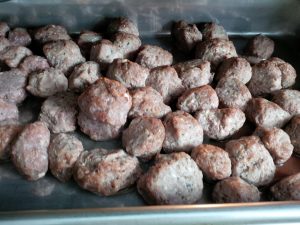 We also made some meatballs and put a chunk of Mozzarella cheese in the center to have with a baked Rigatoni recipe that we found.  They were yummy.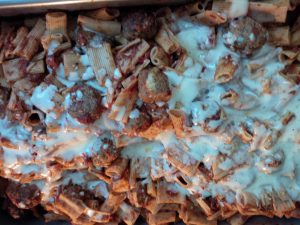 We made some homemade garlic toast with some Texas toast that we had in the freezer.  Simple and delicious.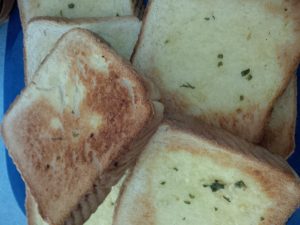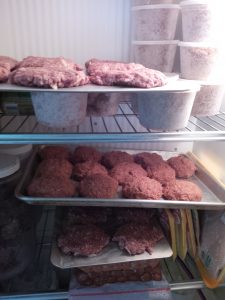 Here is everything in the freezer.  It usually only takes a few hours and by bedtime,I can put them into bags.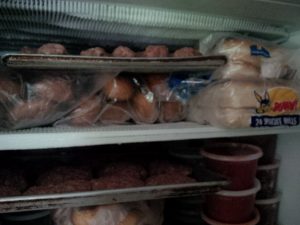 We pack it full:)
Here are some meals that we enjoyed having this past month: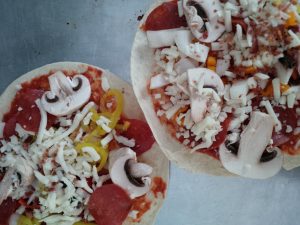 Pizza on tortillas.  We had an abundance of tortillas so we made pizzas on them.  We usually get pita bread and have this for lunch, but tortillas work well too.  Nice for an easy meal that everyone loves.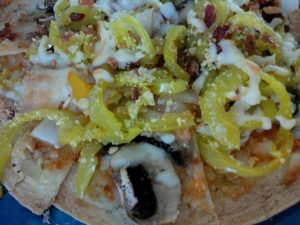 We made some chicken in the field sandwiches that were yummy.  We had these at a Mennonite wedding and they were delicious.  It is basically marinated chicken with BBQ sauce/mayo—we like ranch.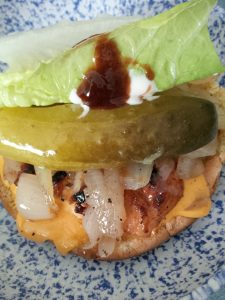 It isn't the south if you don't have coleslaw to go with it!! I was never a big coleslaw eater in my life, but I really like it now.  I get the bags at Sams Club for $3 and make a simple mixture with Miracle Whip.  The southerners only use Mayo, but I like Miracle Whip:)
This was a new recipes that we found in the Paula Dean magazine. It was for Bacon Swiss Burger Casserole.  We did one similar to it, but this used Swiss cheese and that makes all the difference.    We tweaked it a bit for us but it is a keeper for this next month.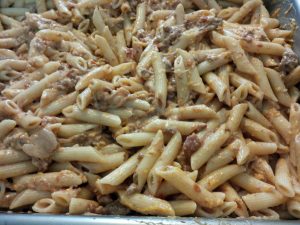 Another favorite I have learned to enjoy recently is fried onions!  Can you hear the southern twang in that:)  My daughter started making these and they smelled so good, I had to have some.  I put a little bit of olive oil in the pan and my cut up onions, salt and pepper.  Simple and yummy—-I can eat a whole onion and then some!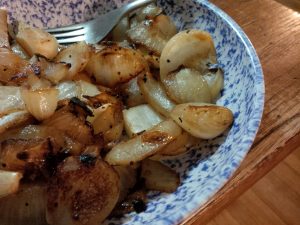 I planted a salad garden this year.  It is simple, different types of lettuce, a tomato plant, and some sugar snap peas.  I tried cucumbers and onions, but those did not come up.  It is very nice to be able to go out and pick some lettuce for my salad each day.  I have been eating my Kale Salad with lettuce instead of cabbage these past few weeks.  I added feta cheese this time around too-delicious!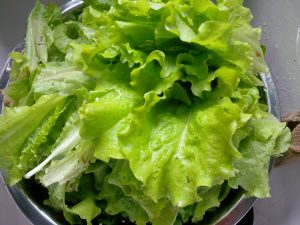 We also have an abundance of sweet potatoes right now.  Did you know that North Carolina's state vegetable is the sweet potato?  Must be why we have a bushel of these:)  I usually make these every few days at our home. I put about a tablespoon of olive oil in the bottom of my cookie sheet and cut up a bunch of sweet potatoes.  Sprinkle a little salt and pepper and bake at 400 for about 45 minutes.  Easy and yummy.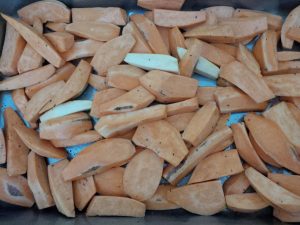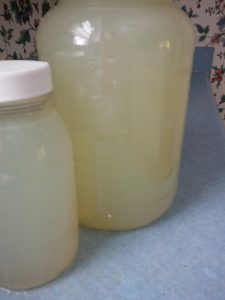 You can't live in the south if you don't make your own sweet tea and lemonade.  I don't do sweet tea but I can do lemonade.   I made this by making a sugar syrup and using lemon juice.  You need to try it!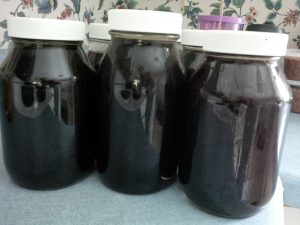 Another thing I made up a batch of was my cold coffee.  We all know that I love Starbucks.  I just wish there was one in my backyard.  Instead I love to make this cold coffee drinks.  I did it a few years ago and it was good, but now I have learned to make it simple and it tastes great. I serve it with a sugar syrup and some coconut milk.
This might be a random thought here….but I am a mom…I am entitled to random thoughts:)  We buy our food in bulk, but here everyone keeps their staple foods in the freezer otherwise they go bad from the heat.  I didn't want to use up my freezer space on staple items, but I still wanted to be able to have 50 lbs of oats and flour to use throughout the year.  I researched online and found mylar bags on Amazon.  You put your foods in them along with an oxygen tablet—like those things you find in bacon bits from the store—and seal it shut.  It worked.  I kept out what I would use in the next few months in smaller containers and the larger amounts of :  white whole wheat flour, oats, cocoa powder, wheat germ, bulgur, and rice I sealed shut.  Now I don't have to worry about my food going rancid.  When you seal it, the oxygen tablets put nitrogen into the bags and take out the oxygen—kind of neat.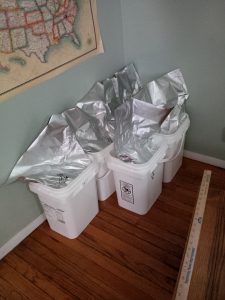 How is that for my monthly wrap up for this summer?  My other time has been devoted to writing schooling for my children.  I am in the process of printing it all off right now.  I will keep adding more stuff next week, so be watching.  Have a blessed rest of your weekend!