Hey everyone!  I hope you  had a good New Years celebration with your family.  We had a wonderful week of celebrating with the entire family together.
You can watch our New Years Eve celebration here:
We started the day attending church, then coming home for a quick bite to eat.  We just did some sandwiches because we were going to start making munchies for the rest of the day to eat.
The the kiddos and I started making all of our munchie foods.  We opted not to do this for Christmas since we were going to all be together for New Years….and would much rather spend the extra money for that time.  I don't have an image of the food?!?!  But there is a clip in the video:)  This year we made:
nacho taco dip
cheese ball
spinach dip
hummus
salsa and chips
cowboy caviar
vege tray
shrimp
pigs in a blanket
bacon wrapped piggies
jalapeno poppers
carolina BBQ wings
pizza rolls
pizza bagels
cheesy, bacon ranch fries
ham sliders
pierogies and alfredo
Hawaiian bread and cheese
pink party punch
tray of Christmas cookies and treats
The rest of our day was spent playing games.  We had chess tournaments  and learned some new games like Blokus and GOPS.  Old favorites likes Mancala and Rummikube.  It was fun because the competitive nature was coming out in many of us:)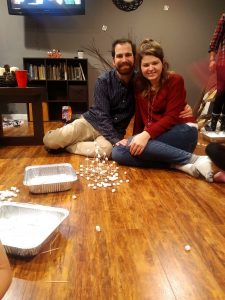 Then we did some family games like who can build the tallest marshmallow tower in 15 minutes.  Ashlyn and Paul were engineering up a grand tower, but it did not match…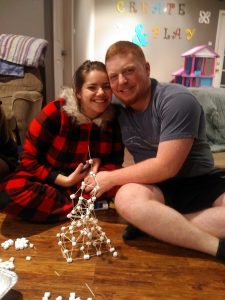 Lauren and Matthew's!  They were our grand champion:)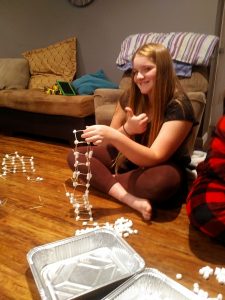 Jadyn did a good job….as long as she held onto hers:)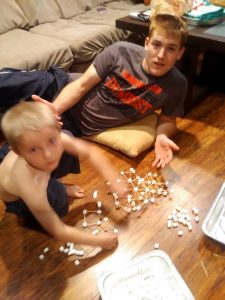 Collin had a great thing going as well, then it came crashing down:(  I think Stephen was enjoying eating them more than building:)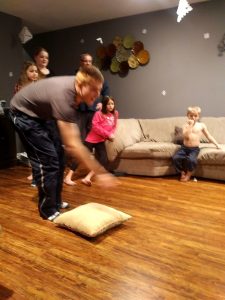 Then we played quarter toss.  We gave everyone $1 worth of quarters and they had to toss their coin and get the closest to the line without going over.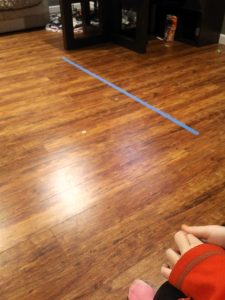 We did 4 rounds and it was fun.  We broke up the younger ones with the older ones.  This was probably everyone's favorite game.  Daddy's idea:)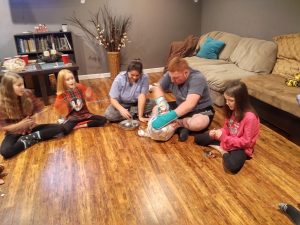 Then we did Saran Wrap ball game.  I rolled up:
hot cocoa packets
oreo cookie packets
cheez it packets
$ bills
chocolate candy
flavored water bottles–opt NOT to do this because it crushes the other snacks:)
The older ones had to wear oven mitts to unroll and the younger ones got to use their hands.  This came in 2nd place as the game most enjoyed:)
We also played charades.  I wrote down things that you do on a daily basis—to make it easier for the younger ones.
We watched the ball drop on tv and had glow sticks and party poppers for the family.  One of Lauren's clients gave her some sparkling apple cider so we had that this year.  Then it was time for bed and we woke up early at 7 to take Ashlyn and Paul to the airport .
It was a wonderful time together and THEN I was able to take my Christmas decorations down and put them away!  I really like to do that the day after Christmas but I left them up so that we could enjoy them through New Years.
I went shopping in between Christmas and New Years to stock up on clearance items.  I purchased enough paper, labels, ribbons, and bags for next year.  I spent $35 in paper this year?!?!?  I did NOT want to spend that again….half price is good;)  I also bought some new lights, ornaments, and tree decorations.  I am getting a new tree from a friend so we will be able to upgrade some decorations for next year.  I also bought a few decorations for the house.  After moving multiple times over the years, my stash it quite small. I will be glad to start adding to it more and more over the  years.
Now I am busy cleaning up and getting the house back in order.  I have LOTS of laundry to catch up on and many bedding sets to wash. It is FREEZING here  like 8 degrees this morning!  I love to put bedding out when it is so cold and sunshiny, it gives them a nice fresh scent.  I hang them in the sunshine for most of the day and then bring them in….they are usually a little stiff and I put them in the dryer for a few moments until dried.
We have LOTS of leftovers so no need to cook much:)  Now that the house is cleaned, laundry taken care of, and kids enjoying a break…..school doesn't start till next week….I am going to take the time to learn my new laptop and work on getting everything transferred over.
I look forward to the New Year and ALL of the wonderful things that will happen!  Be blessed today!