Hello everyone, I have been working diligently on getting every grade level's  complete years worth of curriculum books ready for sale by the new school year and I just finished up the 3rd grade one.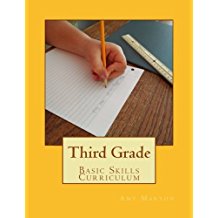 You can purchase this on Amazon here.
It includes all the basic skills you need to pass third grade plus some cursive writing practice and many practice test questions for standardized testing.  These are  the courses that I have for FREE on my site and a few extra pages so that I can call it "complete."  It just takes all the hassle out of printing off and organizing the courses yourself.
It is over 600 pages, the maximum allowed by Amazon so I am including the answer key to the book on my site here for those that need to reference it.