Hello, I hope your day is going well.  I am up early today to get this posted and available, for those that are starting to get your schooling planned out for next year!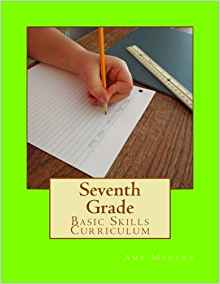 This is 36 week school curriculum.  For 7th grade the main focus is on basic math/pre algebra, writing skills, English and reading.
You can purchase this on Amazon if you click here.
I also have a PDF answer key for this book under the homeschooling resources section.  This will also allow you to take a look at what this book contains.
I hope you all enjoy your end of you week and I thank you for your continued support.  I truly am blessed!!!