Hey everyone! I hope you are having a good week.   We have had a busy one: had to get bulk shopping done this week, finish up polishing this book for you, plus just life with a large family —that took all week:)  But I enjoy it and now I have it finished.
This is the complete Second Grade Curriculum course altogether and in order.  It contains over 550 pages of worksheet learning.  There is enough schooling to do four days of worksheet learning for 35 weeks.  I would recommend the other day, you do hands on schooling.  Then you will have a total of 175 days worth of schooling to record.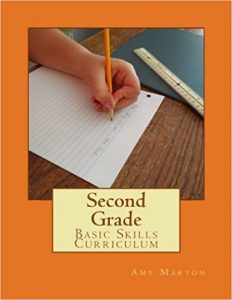 This includes all that I have for FREE on my site and I added a few more pages so that it would be a complete years worth.  I also included lots of test practice so that they would be knowledgeable on what is required for a standardized test.
Everything is in order, if you don't want to sit and download, then sort and organize each course that I have on here, you can just click ,purchase from Amazon, and it comes complete ready to go!  I think I might do that for a few of my children–just for the ease of it:)
If anyone is in interested in bulk ordering, contact me at plainandnotsoplain@gmail.com and I can get you a cheaper price by the case.
Again, if you need anything, it is all available for FREE under homeschooling resources.  This is just for those who don't have the resources to print off the pages or anyone that would like to support what I do here:)
Click here to go to Amazon to purchase it!
Have a blessed end to your week and a wonderful start to your weekend!