Okay, you asked for it!!! Some of you mothers (and fathers) have seen a need for their sons to grow up with some man skills.  Maybe you are a single mom, maybe Dad is away at work all day, or maybe you just don't know yourself how to teach your son some basic skills.  Whatever the reason, this course is designed to help you overcome and help train up your young man.
We all want to see our boys do more than just sit and play video games right??  This course goes through and teaches them some real life skills that they will need to know to further themselves in life from the basic to the complex.  It covers a lot of ground from personal grooming all the way to survival skills.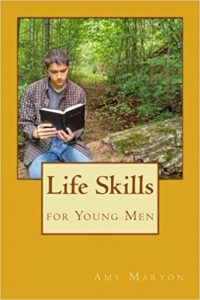 If you would rather purchase the book in its entirety, you can do so from Amazon. Click here for that book.
**Update I am finally doing this in a printable format.
You can get week 1 personal grooming here
Week 2 manners and social skills